RMS Samaria Passenger List - 9 September 1949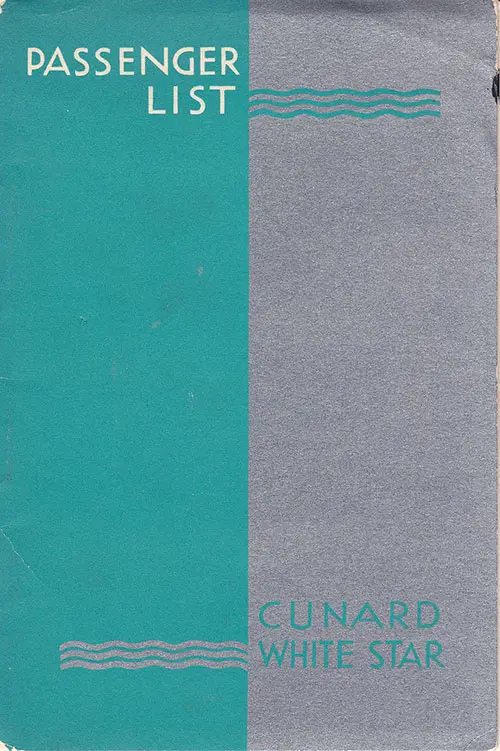 Front Cover of a Youth Argosy (Students) Passenger List from the RMS Samaria of the Cunard Line, Departing 9 September 1949 from London to Quebec via Le Havre, Commanded by Captain A. B. Fasting, R.D., R.N.R. GGA Image ID # 1729a23e69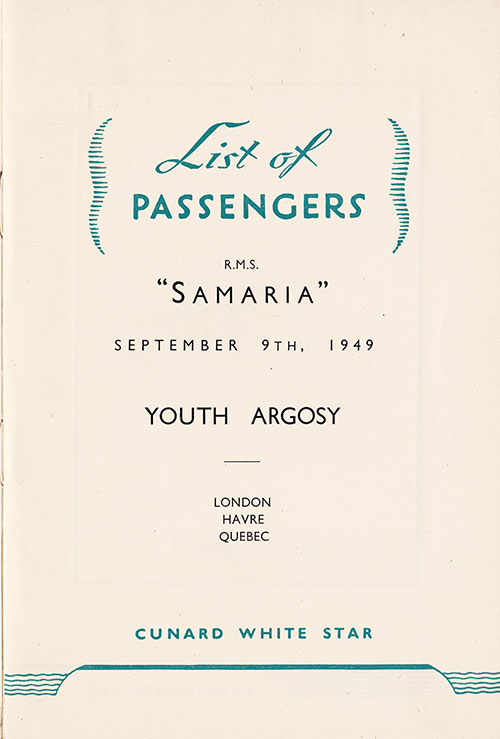 Title Page to the List of Passengers on the RMS "Samaria" 9 September 1949 - Youth Argosy - London, Havre, Quebec - Cunard White Star. GGA Image ID # 1729f94c56
Youth Argosy was an organization dedicated to helping students travel internationally. The goal of Youth Argosy as to provide travel opportunities for worthy young people of slender means that they may enjoy the benefits of foreign study and travel, that they may engage in reconstruction work, and other helpful projects and that they may make worldwide friendships regardless of race, color, or creed. The organization considered a student anyone seeking knowledge without any age restriction.
Youth Argosy was successful at first, sending more than 10,000 students abroad in 1949. Their average price for a round-trip ticket to Europe was $375 and a round-the-world ticket was about $1,495. Students traveled alone or in groups. Youth Argosy went bankrupt in 1951.
Student travelers with the organization were referred to as 'Argonauts', although etymologically 'argosy' has no relation to Jason and the Argonauts.
Senior Officers and Staff
Commander: Captain A. B. Fasting, R.D., R.N.R.
Chief Engineer: R. D. Leslie
Chief Officer: P. A. Read, D.S.C., R.D., R.N.R.
Surgeon: R. Whitelaw, M.B., CH.B., D.P.H.
Purser: J. MacDermott
Chief Steward: W. J. Pimblett
Youth Argosy (Students) Passengers
Miss P. Aale
Mr. C. Abbe
Mr. P. Abel
Mr. K. Abell
Mr. E. Adams
Mr. G. Adams
Mr. W. Adams
Mr. B. Adkinson
Mr. S. Ahlstrom
Mr. V. Alanne
Mrs. K. Alanne
Miss K. Alfriend
Mr. D. Allen
Miss S. Allen
Miss J. Allen
Mr. P. E. Aloe
Mr. W. Alonso
Mr. A. Alonso
Mr. A. Althouse
Mr. P. Ambler
Mr. M. P. Ames
Miss H. Anderberg
Mr. S. Anderson
Mrs. S. Anderson
Miss E. Anderson
Miss M. Anderson
Miss J. Anderson
Miss J. Anderson
Miss M. Anderson
Miss A. Andes
Miss A. Andes
Mr. S. Andrews
Mr. S. Andrews
Mr. W. H. Appel
Mr. S. Arlton
Miss D. I. Armstrong
Mr. F. Aron
Miss M. Aronberg
Mr. D. Aronson
Miss E. Aronson
Mr. A. L. Asgood
Mr. C. Asp
Mr. D. Atcheson
Mr. E. Augustin
Mr. J. C. Aulicino
Mrs. L. Ayala
Mr. D. Babson
Mr. D. Bachman
Miss B. Bader
Miss J. Bader
Mr. K. Baer
Mr. V. Baer
Mr. J. Bailey
Mr. R. Bailey
Miss P. Baird
Mr. K. Bakke
Mr. R. Bamford
Mr. R. Bancroft
Mrs. R. Bancroft
Mr. H. Banks
Mr. P. Baren
Mr. W. Barker
Mr. D. Barnes
Mr. R. Barnett
Mr. W. Baron
Miss F. Baron
Mr. B. Barr
Mr. K. P. Bates
Miss A. Baxley
Miss D. Bayer
Miss Beach
Miss E. J. Beamer
Mr. N. I. Beauchesne
Mr. H. H. Beckwith
Mr. E. Belcher
Mr. G. K. Bell
Miss M. S. Bell
Miss L. A. Benchler
Miss A. B. Benner
Miss B. Benner
Mr. A. Benson
Mr. L. Bergman
Mr. I. Berkovitz
Mr. H. Berlin
Miss B. Berney
Miss M. Biddle
Mr. R. Billings
Mr. A. Billingsley
Mr. R. Bishop
Mr. Bjorklund
Miss J. Black
Mr. M. Blesky
Mr. N. Blinoff
Mrs. N. Blinoff
Dr. H. Bliss
Mrs. E. Bliss
Mr. H. Bloomberg
 Miss M. Boe
Mr. R. M. Boehme
Mr. J. Bogdan
Mr. S. Bogorod
Mr. E. Booth
Mr. J. Booth
Mr. W. Booth
Mr. R. Borgatta
Mrs. R. Borgatta
Miss L. Borowick
Mrs. A. Borresson
Miss R. J. Borst
Mr. A. C. Bourne
Mr. J. C. Bowen
Mr. R. Bowman
Mr. W. Boyce
Mr. M. Brandon
Mr. G. Braumthal
Miss D. Bregman
Miss A. Brinfenbrenner
Mr. H. Brokering
Mr. N. E. Brower
Mr. J. Brown
Mr. F. R. Brown
Miss J. Brown
Mr. S. Brubaker
Mr. J. B. Brummett
Mr. R. R. Brunn
Mrs. R. R. Brunn
Mr. J. Bryan
Mr. A. Buckley
Miss A. Buckley
Miss G. Buenger
Miss G. Buenger
Miss V. Buffington
Mr. J. R. Buford, Jr.
Mr. W. E. Bullock, Jr.
Mr. K. Bunnell
Mrs. K. Bunnell
Mr. N. Burgess
Mr. R. Burk
Miss S. Burnett
Mrs. M. Burns
Miss M. Burtness
Mr. J. T. Butler
Mr. P. A. Buttrick
Miss P. Callender
Miss J. A. Campbell
Miss H. Cantzler
Miss D. Caplen
Mr. S. H. Carpenter
Miss H. Carter
Miss D. E. Cassel
Mr. G. C. Cassna
Mr. W. Cates
Mr. C. E. Cayley
Mrs. C. E. Cayley
Mr. W. Chafe
Miss M. Chalif
Mr. M. Chasteen
Miss M. Chatfield
Rev. G. E. Cheek
Miss M. Chillingworth
Mr. R. B. Christie, Jr.
Mr. C. Clapp
Mr. E. E. Clark
Mr. H. Clark
Mr. F. W. Clark
Miss A. T. Clarke
Miss R. C. Clarkson
Mr. C. J. Clawson
Miss R. Cline
Miss C. Clover
Miss C. Clover
Mr. R. N. Coffin
Mr. S. Cohen
Mr. D. Colburn
Miss C. Colburn
Mr. H. Cole
Mr. J. Coleman
Mrs. J. Colman
Miss A. C. Colwell
Miss M. Conant
Mr. A. C. Coney, Jr.
Miss B. Cook
Miss M. Cook
Mr. M. Copeland
Mr. J. A. Copps
Miss R. Copps
Miss R. Cormer
Miss M. C. Corner
Mr. F. Coughlin
Miss F. Coughlin
Mr. G. Coulson
Mr. P. Coupey
Miss A. Courteen
Mr. W. Covington
Miss P. Cowles
Mr. A. E. Cox
Miss C. Cox
Miss M. J. Cox
Mr. C. Cramer, Jr.
Mr. F. Crane
Mr. R. Cressey
Miss E. Creswell
Mr. G. Crews
Mr. W. H. Crocker
Mr. W. Crocker
Mr. R. Cross
Mr. D. Curry
Mr. S. Curry
Miss F. Dabney
Mr. T. Dailey
Mr. F. J. Dallett, Jr.
Miss G. Dana
Mr. N. Dane
Miss E. Darling
Miss J. Davidson
Miss N. Dearnin
Mr. D. Del Pizzoli
Mr. P. Del Pizzoll
Mr. C. D. Demere
Mr. A. Dentz
Mr. B. De Rakine
Mr. H. Deresiewicz
Mr. R. Desme
Miss M. Desme
Mr. J. J. De Vidauriaza
Mr. P. De Young
Miss K. L. Dickason
Miss J. Diefendorf
Miss P. Diehl
Mrs. C. Diggs
Miss D. Dinnerstein
Mr. R. Dobson
Mr. B. Dodd
Miss J. Dohm
Mr. S. Dolins
Miss Dolz
Miss J. Dorflinger
Miss C. M. Dorn
Mrs. M. Downer
Mr. M. Do Driest
Miss A. L. Duffy
Mr. H. B. Dukes
Mrs. S. Dukes
Mr. J. Duncan
Miss M. Dunlap
Mr. J. Dunn
Mr. R. L. Dunn
Miss J. Durkatz
Mr. A. Eagle
Miss S. Eckhouse
Miss D. Ecklund
Miss E. Edgerton
Mr. J. Edman
Mr. T. Edwards
Miss S. Edwards
Mr. R. Eggers
Mr. J. S. Ellis
Miss M. Ellis
Miss M. Enders
Mr. A. Engel
Mr. A. Engels
Miss C. Erickson
Mr. R. Esterly
Mr. A. Eustis
Miss Z. E. Euverard
Mr. P. Evans
Miss F. Evans
Miss M. Evans
Mr. G. A. Evelenko
Mr. R. Everest
Miss B. A. Ezell
Miss F. Fagioli
Mr. I. Fagre
Mr. G. Fairland
Mrs. Fairland
Mr. K. Farman
Mr. R. Fecht
Mr. W. Feller
Mr. L. Felsel
Mr. C. S. Felsenfield
Miss S. Fields
Miss M. L. Fife
Mr. W. Fighter
Mr. S. Fillis
Miss J. Filmore
Miss E. Finck
Miss F. Finck
Mr. J. Fine
Mr. R. Fischela
Miss G. Fischer
Mr. H. V. Fisker
Mr. N. Fitzpatrick
Miss M. Forbes
Mr. G. Forell
Mr. R. Forsling
Mr. H. Foster
Mr. M. Foster
Miss E. Foster
Miss C. Foster
Miss S. Foss
Mr. L. Fox
Miss E. Freeman
Miss H. Freeman
Mr. L. Friedland
Miss E. Frost
Miss S. L. Gable
Mr. L. Galan
Miss G. Galland
Miss F. A. Gallop
Mr. R. B. Gamble
Miss C. Gardner
Miss R. Garner
Miss N. Garquette
Mrs. J. Garrels
Miss M. Garrett
Mr. M. Garrison
Mr. H. Gary
Miss G. Gaston
Mr. W. Gates
Mr. S. Gaul
Mr. J. Gavin
Miss F. Geeson
Mr. P. Geffner
Mr. H. K. Geiger
Miss E. Gellhorn
Mr. C. Geoffrey
Mr. R. C. Gerard
Mr. H. F. Gernet
Mrs. C. Gibert
Mr. C. Gilbert
Miss C. Gilbert
Mr. C. Gillen
Mr. D. Gilmore
Mr. R. W. Gilmore
Mrs. E. Gilmore
Miss L. Gingles
Mr. M. Gittelson
Mr. W. Gleason
Mr. W. Gleason
Mr. H. Gleason
Miss L. Gold
Miss A. Goldhammer
Miss L. A. Goldsbury
Mr. D. Goldstein
Mrs. D. Goldstein
Miss A. Golz
Mr. R. L. Goodale, Jr.
Mr. D. A. Goodwin
Mr. C. Gordon
Mrs. Gordon
Mr. L. Gordon
Mr. W. Gorman
Miss F. Gould
Miss D. M. Grabfield
Mr. H. Graebner
Mr. W. Graham
Mr. H. B. Grandin
Miss E. Gratwick
Mr. R. Grauman
Mr. E. Greenbaum
Miss H. Greenberg
Mr. L. D. Greene
Miss J. Greenlees
Miss B. Gregerson
Mr. R. J. Griffin
Miss G. Griffin
Mr. R. Grossman
Miss J. Gruber
Miss M. Gruber
Mr. D. Grubman
Mr. S. Grunwald
Mrs. J. Grunwald
Mr. T. Guicharnaud
Prof. G. Guillen
Mr. K. Gunderson
Miss E. L. Gutsche
Mr. N. Guttman
Miss A. L Hackney
Miss B. A. Hadley
Mr. C. Hagge
Mrs. G. Hagge
Miss S. Hale
Mr. C. C. Hall
Miss E. Hall
Miss M. Hall
Miss L. Hall
Miss J. Haller
Mr. H. Halstead
Mrs. M. Hamburger
Miss C. Hamburger
Miss L. R. Handel
Mr. E. Hannay
Miss H. Hanno
Miss N. Hansen
Mr. R. Hanson
Miss J. Hanson
Mr. N. Hanson
Mr. A. H. Hardwick. Jr.
Miss A. Hariton
Miss D. Harkness
Mr. T. Harmsen
Miss E. M. Harnet
Mr. G. Harris
Miss A. Harrison
Miss E. Haskell
Mr. L. J. Hauge
Miss D. Haugseth
Miss J. Haugseth
Mr. R. Hayes
Miss B. Heebner
Mr. J. H. Heller
Mr. A. Hennessey
Mr. R. Henry
Miss A. Herson
Mr. R. Hilgers
Mr. M. Hill
Miss K. E. Hill
Mr. W. Hill
Mr. A. T. Hirschfeld
Mr. E. Hirschmann
Mrs. E. Hirschmann
Miss J. Hodecker
Miss E. A. Hoepli
Mr. J. Hope
Miss M. Hogan
Miss K. Hogsted
Miss S. Hoien
Miss P. L. Holden
Mr. T. Holland
Mr. R. Holmes
Mr. R. Holt
Mr. J. Holum
Mr. C. Hough
Mr. W. Hough
Miss L. D. Houghteling
Mr. G. Hovey
Mrs. G. Hovey
Mr. R. J. Hubert
Mr. E. Hudson
Mr. C. Hughes
Mr. E. Hummell, Jr.
Mr. R. Hunter
Miss N. Hunter
Mr. E. P. Hurt
Mr. M. Hurvich
Mr. R. Hyde
Mr. N. Illsley
Mr. H. Inchen
Mr. R. M. Ingold
Mr. G. Isbel
Miss F. Isley
Mr. J. Istel
Mr. C. R. Jackson
Mr. W. Jackson
Mr. L. Jackson
Mr. S. W. Jacobs
Mr. J. Jacobsen
Miss E. C. Jacobsen
Mr. J. Jacobson
Miss D. Jacobson
Miss E. A. Jaeger
Miss C. R. James
Mr. J. Jamesson
Mr. Q. T. Jamieson
Miss M. Jammes
Mr. J. Jannach
Mr. J. Jeffers
Mr. J. E. Jeffrey
Miss M. Jennings
Mr. F. G Jewett
Mr. E. Johansen-Hoyen
Miss M. C. Johns
Mr. K. Johnson
Miss J. Johnson
Miss P. Johnson
Miss P. Johnson
Miss M. Johnson
Miss D. Johnson
Miss M. Johnston
Mr. B. Jones
Miss A. Jones
Miss E. Jones
Miss M. C. Jones
Mr. J. Jones
Mr. M. Jordan
Miss D. Jordan
Miss M. Joyce
Miss S. Joyce
Miss E. Jungton
Mr. C. Kaester
Mr. A. Kahn
Mr. J. S. Kahrl
Miss L. Kaplan
Mr. M. Katz
Miss S. Katz
Mr. C. C. Kaufman
Mr. J. Kayan
Mr. J. Keane
Miss I. Kehn
Miss J. Kelleher
Mr. P. Keller
Mr. D. Kelley
Miss R. Kelley
Miss K. Kelley
Mr. A. Kempe
Miss M. Kennedy
Mr. D. J. Kent
Mr. E. Kenyon
Mr. T. R. Keogh
Mrs. T. Keogh
Miss J. Kessell
Mr. J. Kesselman
Miss L. Kesting
Mr. V. Kian
Miss H. Kiklevich
Dr. F. Kittrell
Miss G. Kleiner
Mr. P. Kleinpell
Mr. N. Klekamp
Miss P. A. Klinger
Mr. N. S. Knight, Jr.
Mr. T. Knight
Mrs. H. B. Knudson
Mr. F. Knutsen
Mr. K. S. Knutson
Mr. J. Koelch
Mr. L. Kohlberg
Mr. N. Koppen
Miss J. Korgegi
Mr. J. Kraft
Miss H. H. Kramer
Miss E. Kristeller
Mr. A. Kroehler
Mrs. A. Kroehler
Miss A. Kubanis
Mr. H. Kuhn
Mrs. H. Kunn
Mr. D. Kunz
Miss H. Lafollette
Mr. L. Lais
Mr. W. Lane
Mr. W. Lang, Jr.
Mr. G. Lansing
Mr. T. C. Larimore
Mr. C. Larimore
Miss F. Larrabee
Miss A. Larrieu
Miss J. E. Larsen
Mr. D. Larson
Mr. B. Lasala
Mr. D. Laux
Mr. J. Law
Mr. J. J. Lee
Mr. J. C. Lentz
Miss E. L. Leonard
Mr. P. A. Lepercq
Mrs. C. Levenson
Mr. J. Levenson
Mr. H. Levin
Mr. R. Levin
Mr. H. Levine
Mr. M. Levine
Mrs. M. Levine
Miss J. Levine
Mr. N. Levitt
Mr. R. Levitt
Mr. H. Levy
Mr. L. Levy
Mrs. H. Levy
Mr. H. Lewenstein
Mr. A. Lewis, Jr.
Mr. O. Lewis
Mr. D. R. Lewis
Mr. L. D. Lewis
Mrs. O. Lewis
Miss A. Lewis
Miss P. Lide
Miss J. A. Liebenberg
Mr. A. Lien
Mr. M. Limburg
Mr. R. Lindell
Miss M. W. Lindsey
Miss I. Lindsoe
Mr. J. Lineweaver
Mrs. J. Lineweaver
Miss E. Lipshires
Mr. K. Lloyd
Miss A. Loeb
Mr. A. Loft
Mrs. M. Loft
Mr. J. C. Loftis, Jr.
Mr. A. E. Longo
Mr. E. Longo
Mr. N. Lonscheim
Mr. J. Lowenthal
Miss M. Lund
Mr. D. Mackenzie
Mr. W. Mackenzie
Miss A. Mackenzie
Mr. D. Magnus
Miss A. V. Magoun
Miss M. Mahoney
Miss L. Makepeace
Mr. D. Malamud
Miss C. Mali
Mr. G. Malone
Mr. W. Maloney
Mr. E. Margolies
Mr. M. Markell
Mr. A. J. Martin
Miss D. Martin
Miss C. D. Martin
Miss J. A. Martin
Miss J. A. Martin
Miss P. Mason
Mr. F. G. Masson
Mr. H. Masters
Mrs. A. N. Mather
Mr. P. Matson
Mr. C. H. Mattews
Mr. G. Matthews
Mr. G. C. Matthies
Mr. S. Mauriber
Mr. E. B. May
Mr. D. McAlpin
Mr. G. McCandlish
Mr. J. McClintock
Miss E. McClintock
Mr. M. F. McCormick
Miss M. McCormick
Mrs. C. McCoy
Miss K. McCoy
Mr. W. McCrary
Miss L. McCubrey
Mr. W. E. McCurdy, Jr.
Mr. J. McGuire
Miss G. McGuire
Miss A. Mcllroy
Mr. R. Mcllwain
Mr. J. R. McMahon
Mr. S. McNean
Miss B. McNeill
Mr. R. Mehling
Miss A. Melbane
Miss R. Melvin
Mr. R. Menninger
Miss M. H. Mervile
Miss M. Messinger
Miss K. Michaelson
Mr. A. G. Michel
Mrs. E. Michelman
Mr. R. Mickerson
Miss L. Migliacco
Mr. S. S. Miller
Mr. D. F. Miller, Jr.
Mr. L. Miller
Mrs. L. Miller
Miss M. Miller
Mr. R. Miller
Mr. M. Mills
Mr. W. Miner
Mrs. M. Miner
Mr. D. Minot
Mr. J. Minton
Dr. J. Mitchell
Mrs. M. Mitchell
Mr. M. Mitchell
Mr. F. M. Moffatt
Miss H. Mokotow
Mr. F. Mondale
Mr. A. Monke
Mr. P. J. Monnery
Miss M. Monson
Mr. F. Montague
Mr. J. Moore
Mrs. T. Moore
Miss C. Moreau
Mr. C. Morill
Mrs. T. Morinioto
Mr. R. Morgan
Mr. L. Morris, Jr.
Mrs. L. Morris
Mr. Morrison
Miss B. Morrow
Mrs. H. Morse
Mr. W. Murdoch
Mr. K. H. Murphy
Mr. A. Murray
Miss J. F. Murray
Mr. A. Muskin
Mr. R. H. Myers
Mr. D. Nathan
Mr. J. Nathanson
Mr. F. Navaril
Mr. W. Neal
Miss Neilson
Mr. J. C. Nelson
Mr. K. Netter
Mr. P. Nettle
Miss M. Newby
Mr. Newman
Mr. O. Nicholson
Mr. J. Nickelson
Miss M. B. Nieland
Miss M. Noble
Miss L. Noble
Miss M. Noel
Mr. J. Nolan
Mr. W. Nolen
Mr. E. M. Nordahl
Miss J. Norderg
Miss L. Nordwall
Mr. N. Norton
Mr. A. Novick
Mr. H. C. Noyes
Miss M. E. Nye
Miss B. A. Nyer
Miss R. Oakes
Miss G. Oberlin
Miss P. Ockene
Mr. N. O'Connor
Mr. P. O'Connor
Mr. G. R. O'Connor
Mrs. P. O'Connor
Miss H. Odegard
Mr. J. T. Ogilvie
Mr. F. P. O'Hara
Mr. D. J. Olivola
Miss D. J. Olivola
Mr. J. Olson
Mr. W. Olson
Miss P. Olson
Mr. H. Oppenheimer
Mrs. J. Oppenheimer
Mr. A. Organski
Mrs. A. Organski
Miss I. Ostroff
Miss B. Owen
Mr. C. Page
Miss R. Page
Mr. W. D. Palmer
Miss P. Palmer
Miss C. Parchen
Miss S. Parent
Mr. R. Parker
Miss F. Parsons
Mr. R. Patana
Mr. G. Patterson
Miss R. Pauker
Miss Pauknecht
Miss D. Paul
Mr. H. Payne
Miss H. Payne
Mr. D. Pearson
Mr. R. Pearson
Miss S. Pease
Miss J. Peck
Mr. D. Pelham
Mrs. O. Pell
Mr. M. Penther
Mrs. M. Penther
Mr. T. Persing
Mr. R. Peterson
Miss J. Peterson
Mr. F. Plano
Miss K. Pierce
Mr. E. Pierson
Miss M. F. Pierson
Mr. S. T. Pike
Miss J. Plowman
Miss Pomerantz
Mr. R. H. Pomeroy
Mr. T. F. Popp
Mr. N. P. Posert
Miss F. H. Potter
Miss J. S. Potts
Mr. L Poverman
Miss T. Pozniak
Mr. E. Prahl
Mr. S. Pratt
Miss A. D. Pratt
Mr. R. Prebble
Miss B. Prince
Miss E. Prokop
Miss M. Provost
Mr. C. B. Quinlan
Mr. F. Quinn
Mr. V. C. Rader
Mrs. V. Rader
Mr. E. Ramberg
Mrs. S. Ramberg
Mr. K. N. Ramstead
Mr. G. Ranlett
Mr. D. Rasmusser
Dr. M. Rauscher
Mrs. M. Rauscher
Master M. Rauscher
Master C. Rauscher
Miss E. L. Rauth
Mr. V. Ray
Miss J. Ray
Miss M. L. Read
Miss L. Redeles
Mr. J. A. Regard
Mr. C. Regen
Mr. E. Reid
Miss M. Reinke
Mr. E. Reisman
Miss C. Remer
Miss R. Revell
Miss C. A. Rice
Mr. W. H. Richards
Mr. C. O. Richardson
Mr. A. Ringer
Mr. J. Ringer
Mr. R. Rivers
Mrs. A. Rivers
Mr. Robbins
Mr. P. Robens
Mr. D. Robenson
Mr. P. A. Robins
Mr. S. Robinson
Miss M. Robinson
Mr. W. Rockwell
Mr. W. Rodewald
Mr. J. L. Rodgers
Mr. A. Rogatnick
Mrs. L. Rogers
Miss F. Romans
Miss P. Rooney
Mr. C. Roos
Mr. C. Rosberg
Mrs. C. Rosberg
Mr. R. J. Rosenberg
Mr. H. Rosenthal
Mr. D. Rosenthal
Mrs. P. Rosenthal
Mr. R. Rosenzweig
Mr. L. Rossbach. Jr.
Mr. W. Rossiter
Mr. W. J. Roth
Miss M. R. Rother
Mr. M. Rothman
Mr. B. G. Rothschild
Miss C. Rowan
Mr. J. Royce
Mr. H. I. Rundquist
Mr. F. D. Russell
Mr. J. Rutledge
Miss R. Salmon
Mr. A. Salmony
Miss M. J. Salvage
Mr. J. Samkoff
Miss I. Sanchez-Lazo
Mr. F. Sander
Mr. R. Saron
Mrs. R. Saron
Miss P. Saturne
Mr. L Saxon
Mrs. L. Saxon
Mr. R. Say
Mr. J. Say
Miss E. Sayford
Miss D. Schaefer
Mr. M. Schafer
Mr. I. Schahrer
Mr. D. Schmitt
Mr. P. Schniewind
Miss R. Schooler
Mr. S. Schwaats
Mr. M. Schwartz
Mr. P. Schweitzer
Miss M. B. Scovel
Miss A. Scripture
Mr. D. Scully
Mr. M. Scully
Mr. P. Seabury
Miss H. Searles
Mr. R. See
Mr. H. Seggerman
Miss S. Seidman
Miss R. Selleck
Miss V. Sellens
Miss T. Sender
Miss M. E. Severinghous
Mr. A. G. Shanley
Mr. P. Shaw
Miss E. Shaw
Miss B. Shay
Mr. D. E. Shefrin
Mr. A. Sheik
Miss A. R. Shenk
Miss M. Sherman
Mr. E. B. Sherwin
Mr. R. L. Shifrin
Mr. W. Short
Mr. M. Shreve
Mr. J. R. Shuman
Miss E. Shuman
Dr. E. Silberner
Mr. R. W. Simpkins
Mr. H. R. Simpson
Mr. R. Sivyer
Mr. J. Slade
Mr. J. Smail
Miss B. Smith
Miss G. Smith
Miss C. Smith
Miss E. K. Smith
Miss J. W. Smith
Miss R. Smith
Miss F. Smona
Miss A. Solitario
Miss D. E. Soma
Miss M. Sonnenberg
Mr. W. Southern
Miss P. Spector
Miss M. Speir
Mr. M. Spilka
Mr. R. Spitzer
Miss J. Spitznagal
Miss P. Spring
Mr. B. Spur
Mr. L. H. Squier
Miss J. Stalberg
Mr. D. Steffenson
Mr. V. Steffer
Mr. M. Steinberg
Mr. A. F. Steppan
Mr. R. Sterling
Mr. P. Stettenheim
Mr. D. Stevens
Mr. R. D. Stevens
Mr. S. Stevens
Miss K. Stevens
Mr. J. M. Stewart
Mrs. A. Stewart
Mr. H. Stinson
Miss E. Stock
Mr. R. Stockard
Miss E. M. Stocking
Miss J. Stokes
Miss D. Stoll
Mr. H. Storing
Miss M. Strickland
Mr. B. Strom
Miss M. Sultzer
Miss E. Sultzer
Miss L. Sundal
Miss L. Sussman
Miss R. Sussman
Miss M. Sutherland
Mr. P. Swanberg
Miss B. Tait
Mr. J. Talleur
Miss L. Talma
Miss D. L. Tangen
Mr. R. H. Tanck
Mrs. E. Tannen
Mr. E. Tanner
Miss E. J. Tate
Miss N. Taylor
Miss M. E. Taylor
Mr. F. Taylor, Jr.
Miss N. B. Taylor
Mr. F. Teller
Mr. M. Tenenbaum
Miss J. Tennant
Mr. H. B. Tenny
Mr. I. Terrell
Mrs. I. Terrell
Miss M. Tessier
Mr. R. Textor
Miss T. Thau
Mr. A. Therrein
Mr. M. Thompson
Miss F. Thompson
Miss H. Thompson
Mr. P. H. Tobias
Mr. Tobin
Mr. G. Tolman
Miss B. Tolman
Miss G. Townsend
Mr. S. K. Towson
Miss C. Towson
Mr. L. S. Tregre
Miss D. Troelsgard
Mr. A. Trowbridge
Mr. W. Tulecke
Miss H. Tulecke
Mr. C. Turner
Mr. S. Turoff
Mrs. B. Turoff
Mr. C. Twiddy
Miss K. Ulvilden
Mr. R. Umansky
Mr. L. Urdang
Mr. J. M. Van Buren
Mr. T. Vance
Mr. R. Van Marx
Miss E. Vanpanhuys
Miss J. Vargo
Miss F. Vidalle
Miss S. Vincent
Mr. P. Vivian
Mr. P. Vivian. Jr.
Mr. J. Von Bradish
Miss C. W. Von Goeben
Mrs. M. Von Wedemeyer
Mr. F. Vrceland
Mrs. A. Wachter
Mr. J. Waggoner
Miss P. Wagner
Miss M. F. Walbridge
Miss G. Walzer
Mr. N. M. Ward
Miss N. Ward
Mr. J. Warren. Jr.
Mr. R. C. Watrous
Mr. T. Watson
Mr. W. Watts
Mr. G. Weber
Mr. R. Webster
Mr. B. Wechsler
Mr. J. Weedon
Mr. D. Weeks
Mr. S. Weeks
Mr. W. F. Weeks
Mrs. B. Weeks
Mr. G. Wein
Mr. L. Weinberg
Miss G. Weinberg
Mr. W. T. Weis
Miss M. E. Weis
Miss C. Welch
Miss M. C. Welch
Miss M. Welch
Mr. R. Wengraf
Mr. M. Werminghaus
Mrs. M. Werminghaus
Mr. S. K. West
Miss I. West
Miss M. Wheatland
Mr. T. White
Mr. B. Whitlock
Miss A. Whittelsy
Mrs. R. Whitwell
Mr. C. P. Whitwill
Mrs. Whitwill
Mrs. G. Wiberg
Miss E. Wicks
Mr. J. Wigfield
Mr. J. H. Wilding
Mr. W. Wilkins
Mr. H. Wilkins
Mr. R. Willard
Miss J. Williams
Miss J. D. Williams
Mr. D. Williams
Mr. R. L. Willner
Mr. H. D. Wilson
Mr. K. Wilson
Miss M. S. Wilson
Mr. S. Winebaum
Mr. W. Winslow
Miss B. Wishneusky
Miss F. M. Woodard
Miss E. Woodson
Miss J. Wooster
Miss I. Wyss
Mr. E. V. Young
Miss S. E. Young
Miss S. Young
Mr. P. De Young
Mr. J. Zahradnick
Miss B. A. Zemon
Mr. A. P. Zimmer
Mr. C. M. Zimmer
Mr. M. S. Zimmerman
Mr. S. Zoglin
Mr. D. Zollo
Mrs. V. Zuckerkandl
Mr. D. W. Zugelter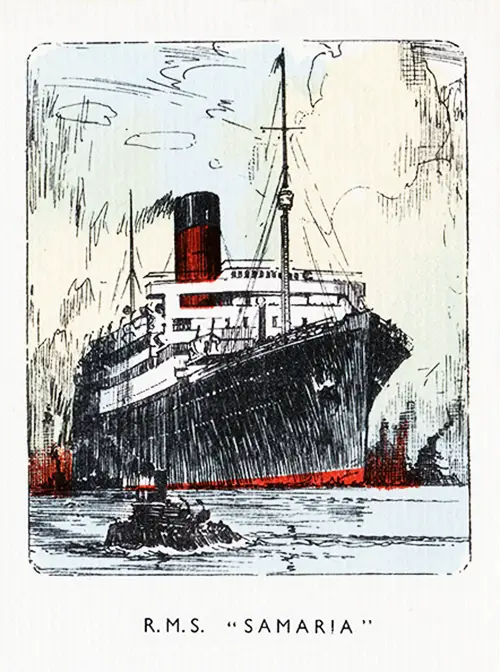 Painting of the Cunard Line RMS Samaria - RMS Samaria Passenger List, 9 September 1949. GGA Image ID # 172a0e3878