RMS Queen Mary Passenger List - 29 October 1938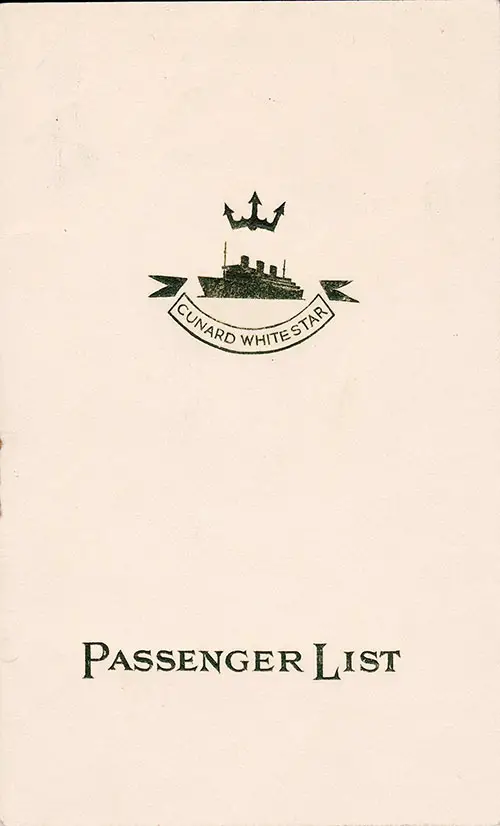 Front Cover of a Third Class Passenger List from the RMS Queen Mary of the Cunard Line, Departing 29 October 1938 from Southampton to New York via Cherbourg, Commanded by Captain R. B. Irving, OBE, RD, RNR. GGA Image ID # 16734ea9b6
Senior Officers and Staff
Commander: Captain R. B. Irving, O.B.E., R.D., R.N.R.
Staff Captain: R. Sharp, R.D., R.N.R.
Chief Engineer: W. Sutcliffe  
Staff Chief Engineer: H. W. Botting 
Physician and Principal Medical Officer: G. A. Goolden         
Surgeon: C. V. Salisbury, F.R.C.S.
Chief Officer: D. S. Robinson, R.D., R.N.R.
Purser: L. E. Carine
Staff Purser: R. Wadeson
Assistant Purser: A. E. Sollas
Chief Steward: E. B. Pimbley 
Chief Third Steward: J. Fogarty
Third Class Passengers
Mr. A. Alchinger
Miss Aldrich
M. B. Allen
Mr. O. B. Anderson
Mr. L. Androff
Mr. G. Angeloni
Mr. F. Angeloni
Mr. M. Arnold
Miss J. V. Askwith
Mr. Balamoti
Mrs. Balamoti and family
Mr. G. C. Banning
Mrs. F. M. Beauchamp
Mr. W. Bell
Mr. C. Berant
Mr. M. Berant
Mr. Bialik
Mrs. Bialik
Mr. H. L. Bieliauskas
Miss R. F. Bigelow
Mr. V. Bihary
Mr. N. Billotti
Mr. F. W. Bishop
Miss C. M. Bishop
Mrs. M. Bissett
Mr. A. Block
Mr. A. Bobrowski
Miss Bodnar
Mr. Boim
Mrs. Boim
Mr. H. J. Bonham
Mr. F. Bonnanl
Mr. E. Bornet
Miss Borsody
Mr. C. E. M. Brock
Mrs. Brock
Mr. W. P. Brock
Mr. N. M. Bronznikas
Mrs. M. Buchta
Mr. P. Budenik
Mr. A. Buganas
Flight-Lieut. J. Bullock
Mr. J. Burton
Miss C. Callaway
Mr. D. Cameron
Mrs. I. Cameron
Miss A. Carthy
Mr. G. S. Cartwright
Mr. N. Catsouras
Mrs. Catsouras
Mr. C. Chadsey
Mrs. Chadsey
Miss L. Chadsey
Miss C. Chadsey
Mrs. O. Chalov
Mrs. R. Chandler
Miss R. Chandler
Mr. M. E. Chapman
Mr. F. Chimera
Mr. Chomsky
Mr. F. L. Christensen
Mrs. A. Christy
Mrs. D. M. Church
Miss E. Clarke
Mrs. A. Clement
Miss D. M. Cochran
Mr. J. Cockrane
Mrs. Cockrane
Mr. N. Cohen
Mrs. Cohen
Miss Cohen
Mr. G. Cosxakis
Mr. E. Cowan
Mrs. A. M. Cowell
Mr. W. Crady
Mr. R. Craig
Miss M. Craven
Mrs. H. Csrenka
Mrs. K. Czapar
Mr. J. Czyszczon
Mr. P. Dado
Mrs. A. Dalton
Miss F. E. Dalton
Miss D'Arcy
Mrs. M. Deacon
Miss E. E. Dean
Mrs. De Bruyne
Rev. F. W. Dell, D.D.
Mr. H. De Maecker
Mrs. De Maecker
Mr. R. Dempster
Mrs. F. M. Dent
Mrs. C. Devos
Mr. Dimitry
Mr. Dimovitz
Mr. B. Dinersztein
Miss R. Djurap
Miss G. Donohue
Miss A. C. Donohugh
Mr. E. Dooley
Miss C. M. Dooley
Mrs. M. Ducevich
Mr. A. A. Dudley
Mrs. Dudley
Mrs. I. Durfee
Miss E. Eaton
Mr. Ebejer
Miss H. V. Edge
Mr. Eeman
Mrs. Eeman
Master Eeman
Mr. B. Faivelson
Mrs. Fallota
Master Fallota
Mr. Farkas
Mr. H. Fass
Miss R. Feldman
Mrs. H. Freeborn
Miss A. G. Freeborn
Miss A. Freeborn
Mrs. B. Fuchs and 2 children
Mr. Fullop
Mrs. Fullop
Miss Gabor
Mrs. M. Gatti
Mr. P. Gavrilovich
Mrs. M. George
Master V. George
Mr. Ghassevent
Mrs. Ghassevent
Mr. J. Gibbons
Mrs. Gibbons
Miss D. Golda
Mr. Goldberg
Mrs. L. Goldenberg
Miss M. Goldschmidt
Mrs. Goodman
Master M. Gordon
Mrs. A. Gordon
Master T. Gordon
Miss I. Grannes
Miss K. J. Grases
Mrs. Grave
Mrs. M. Grkovich
Miss L. Grkovich
Mrs. D. Gronias
Mr. Grunfeld
Mrs. Grunfeld
Mr. L. Gutenstein
Miss S. Gut
Mr. M. Habicht
Mrs. Habicht
Master J. P. Habicht
Miss M. Habicht
Miss B. M. Haining
Mr. D. R. Hall
Miss M. M. Halliday
Miss Halme
Mrs. E. Hampson
Mr. Handl
Mrs. Handl
Mr. C. Hanrahan
Miss D. Hanson
Master A. B. Harrison
Miss C. Healy
Mrs. Herz
Dr. M. Hitschmann
Mrs. B. Holecek
Mr. S. Holner
Mrs. M. Hood
Mrs. G. Hooper
Mr. A. Howell
Mrs. M. Hramlovich
Mrs. Huberman
Mr. W. B. Hudson
Miss G. A. Hunt
Mr. J. Hunter
Mr. G. H. Hvile
Mr. J. F. Igoe
Miss H. Ikavalko
Mr. S. A. Illington
Mr. Isaac
Mr. J. A. Isaacson
Mr. K. Itkonen
Mrs. B. Jakaviciene
Miss J. W. Jackson
Mr. M. Jacobsons
Mr. I. Jakubovits
Mrs. Jakubovits
Mr. S. T. B. Jensen
Miss M. K. S. Jessen
Mr. V. Jezierski
Mrs. C. Johnson
Mr. J. W. Jones
Mrs. Jones
Mr. N. E. Jones
Mrs. C. Jones
Mrs. M. A. Jones
Miss G. Jones
Mrs. M. Jordan
Mrs. M. H. Kaiser
Mr. A. Kardamakis
Mrs. Kardamakis
Miss E. Karttunen
Mrs. A. Kastoff
Mr. M. F. Key
Mr. M. Khasib
Mr. A. Al Khatib
Mrs. B. Kiss
Miss E. Kivisto
Mr. E. Kleber
Mrs. E. Klein
Master Klein
Mrs. F. Knopf
Mr. C. Knowlton
Mrs. Knowlton
Mr. G. Kourjios
Mr. C. Kra
Mrs. L Kra
Master L. Kra
Master S. Kra
Mr. M. Kumin
Mrs. A. Kurpis
Mrs. A. Kurpis
Mr. J. Kuti
Mrs. Kuti
Mrs. Laccotripis
Miss Laccotripis
Mr. Lambios
Mrs. Lambios
Mr. M. Lamont
Mr. C. J. Landin
Mrs. E. Lane
Miss S. J. Larsen
Mrs. R. M. Lash
Master J. W. Lash
Mrs. A. Lash
Mr. A. W. Lash
Mrs. Lash
Miss Lavonen
Miss H. Lehtinen
Mr. M. Lejber
Mr. B. Leighton
Miss K. Lenksaite-Jamontiene
Mrs. E. Lent
Mr. E. Levenberg
Mrs. Levenberg
Miss M. Leverin
Mrs. Lilo
Mr. Lilo
Mr. N. Limmis
Mrs. M. Liristis
Miss G. Livsicaite
Miss D. London
Mr. P. Lookas
Mr. S. A. Lovish
Mr. E. Lowinger
Mrs. Lowinger
Miss V. Macakanja
Mrs. Mancilnea
Miss H. Manning
Mr. A. Margoshes
Mrs. A. Marousis
Miss L. Marsh
Mr. Martikainen
Mrs. Martikainen
Miss E. J. Mason
Mr. P. Matje
Mrs. Matje and Family
Dr. J. B. F. McKenzie
Miss J. R. McKenzie
Mrs. McKenzie
Miss M. McLennan
Mrs. J. McNeill
Mrs. H. McWilliams M
iss A. Mergin
Mr. H. Meyer
Mrs. M. Mihaly
Mrs. Mitchell
Mrs. S. Monnickendam
Mr. W. Montgomery
Mr. J. D. Moore
Mrs. Moore
Mrs. L. E. Morrison
Mrs. C. Mose
Mr. F. J. Mott
Mrs. Mott
Mr. P. Mullins
Miss A. Munro
Mrs. E. C. Murphy
Mrs. E. Murphy
Miss E. Murphy
Mr. H. D. Myers
Mrs. Myers
Mrs. E. N. Naylor
Mrs. M. C. Neville
Mrs. Nicolaides
Miss A. Q. Nielsen
Miss P. Nieminen
Mrs. D. Ninnes
Miss D. B. Ninnes
Mr. Noiling
Mrs. Nollett
Miss M. C. Oliver
Miss M. Oliver
Mr. Papas
Mrs. S. Parda
Mrs. M. Pardier
Mrs. E. Partanen
Mrs. Paskoff
Mr. D. Paxinos
Mrs. Paxinos
Mrs. S. J. Pearson
Mr. E. Pelaz
Mrs. R. Pellier
Miss E. Peringer
Mr. E. Pessenhoffer
Mr. G. Petros
Mrs. P. Petros
Miss V. Petros
Mrs. Petrova and Family
Mr. W. Pettingill
Mrs. Pettingill
Mr. S. Pilkins
Mr. G. Plinos
Miss K. Plunkett
Miss K. M. A. Popham
Mr. A. Preiskelis
Mr. C. S. Price
Mrs. T. Pukov
Mr. J. F. Pyper
Mr. S. Raven
Rev. L. A. Reed
Mrs. Reed
Mrs. T. Rekasiene
Miss Rendal
Mrs. E. R. Reseigh
Mr. K. Ringel
Mrs. Ringel
Mr. Ritz
Mrs. L. Roberts
Miss M. Robertson
Mr. M. Roche
Miss M. M. Rodger
Miss M. Rome
Mr. J. Ross
Mrs. M. A. Ross
Mr. D. Rot
Miss M. Rubenstein
Mr. V. Ruoho
Mrs. Ruoho
Mr. G. Rusaki
Miss M. Rutishauser
Mrs. A. Saari
Mr. D. E. Saba
Miss A. Sabados
Mrs. J. Salvidore
Miss C. Salvidore
Mr. G. Sapir
Mr. R. E. Saunders
Mrs. Saunders
Mr. A. Savery
Miss E. Schachtitz
Mr. J. Schaeffer
Mr. L. Schapiro
Mr. Schefler
Mrs. Schefler
Master Schefler
Mr. J. Schefler
Mrs. Schefler
Master Schefler
Mrs. N. L. Scheiding
Miss Scheinman
Mrs. S. Scheinman
Mrs. M. Schutzendorf
Mr. H. Schwefel
Mr. J. A. Scott
Mr. L. Scott
Mrs. Scott
Mrs. M. Scott
Miss E. C. Scroble
Mr. Sepenthal
Mrs. Sepenthal
Miss Sepenthal
Mr. J. Sertich
Mr. A. L. Sherman
Mrs. Sherman
Mr. A. Simila
Mrs. A. Sladek
Mrs. E. Smith
Mrs. R. Smith
Mr. E. J. T. Smith
Mrs. B. D. Sprakes
Capt. Stevens
Mrs. Stevens
Mr. J. Stevenson
Mrs. Stevenson
Mr. J. J. W. Stonborough
Dr. A. Strich
Capt. C. Stuart-Linton
Mr. W. Suchochleb
Mr. W. Sullivan
Mrs. M. Sunderland
Miss J. Suomela
Mrs. P. Svec
Mrs. M. K. Sykes
Mr. M. Szabason
Mrs. Szabason
Miss E. Szabason
Miss S. Taalikka
Mr. Taylor
Rabbi J. Tellemas
Mrs. O. Thomas
Mrs. M. Thompson
Mr. J. E. Thomsen
Miss A. Tilley
Mr. E. H. Timms
Mr. P. Tirica
Mr. A. Trivasas
Mr. G. Tsiompanou
Mrs. L. S. Tucker
Master J. S. Tucker
Miss E. C. Tucker
Mrs. L. Vaickiene
Mrs. J. Vida
Mr. Volchithis
Mr. I. Vrajinoff
Miss M. G. Walkington
Mr. W. Wallace
Miss I. F. Watson
Mr. M. Weiss
Mr. R. White
Mrs. White
Mr. J. Whitehouse
Mrs. Whitehouse
Mr. E. Whitehouse
Miss L. Wiecek
Mrs. L. Wilkinson
Mr. C. A. Wiliiams
Mr. B. Witt
Mr. I. Witte
Mrs. F. Witte
Mrs. Wolberg
Miss Wclberg
Mr. M. Wrubel
Mr. P. Zakany
Mrs. E. Zatecky
Mr. T. Zdrakovich
Mr. M. Zuckerman
IMPORTANT INFORMATION CONCERNING REFUND OF UNITED STATES HEAD TAX
Passengers who have paid Head Tax intending to remain in the United States over Sixty Days are, under U.S. Government Regulations, unable to claim refund of this Tax if they happen to depart before the expiration of the Sixty Days.
The Regulations also prescribe that when visitors who have not paid the Tax fail to satisfy the United States Immigration Inspector at port of arrival (whose decision is final) that they will depart from the United States within Sixty Days, they will be required to pay the Head Tax to the Purser prior to disembarkation.
NOTICE TO PASSENGERS - TAXI-CABS
Taxicabs are no longer permitted by the New York City Authorities to enter any City pier properties for the purpose of receiving or discharging passengers or baggage. The taxicab facilities heretofore provided on arrival day inside the pier are, therefore, no longer available. Passengers desiring taxicabs upon arrival at New York are now required to go outside the pier and make their own transportation arrangements with taxicabs.
Passengers are warned against using the services of unauthorized porters and baggage transfer men outside the pier gates in New York. Reliable baggage transfer men are available inside the piers. Authorized porters wear " Cunard White Star " blouses which are numbered.
PASSENGERS' MAIL - INWARD AND OUTWARD STEAMERS
Passengers expecting urgent letters or telegrams should notify the Purser's Office. For the convenience of passengers, telegrams and postal matter are received aboard and distributed but without any responsibility whatsoever on the part of Cunard White Star Limited for non-delivery, mis-delivery or delay.
Mail received for passengers addressed care of our New York Office is assembled in readiness for distribution to passengers immediately on arrival, and when leaving the ship at New York passengers are requested to enquire for mail at the mail desk, which is located on the quay side.
It will assist the system of delivery if letters are endorsed prominently in the top left-hand corner " Passengers' Mail " and addressed care of Cunard White Star at port of departure or arrival and also bear the following particulars :—
Name of passenger (in full).
Class of Travel (Inward or Outward)
passenger per (Name of Ship).
Date of departure or arrival.
Accommodation Addresses. When it is desired to use any of the Company's Offices as accommodation addresses, it is essential that the envelopes be endorsed prominently in the top left-hand corner "Passengers' Mail, to await instructions" and be addressed care of the appropriate Cunard White Star Office or Agency.