SS Carinthia Passenger List - 25 July 1939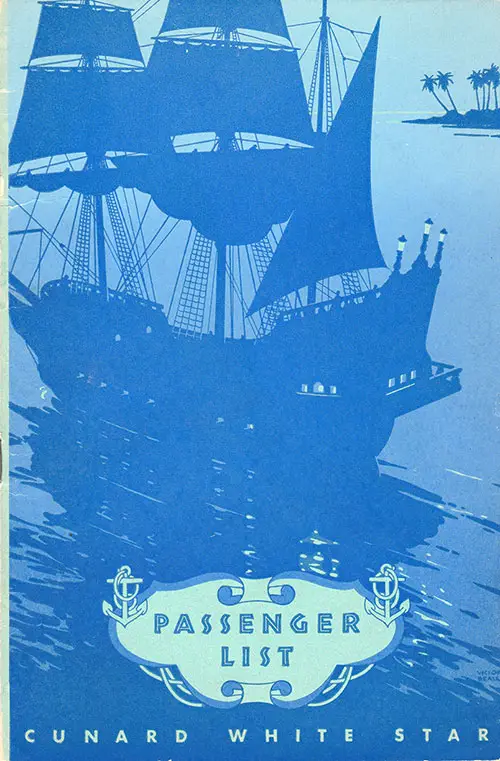 Front Cover of a Cruise Passenger List from the SS Carinthia of the Cunard Line, Departing 25 July 1939 from New York to Quebec, Gaspé, and Halifax and returning to New York, Commanded by Captain W. C. Battle, DSC, RD, RNR. GGA Image ID # 1729630684
Senior Officers and Staff
Commander: Captain W. C. Battle, D.S.C., R.D., R.N.R.
Staff Captain: G. E. Cove
Chief Engineer: H. McIntyre
Chief Officer: H. Grinrod
Surgeon: J. E. Hession
Chief Steward: T. A. Brennan
Purser: A. E. Martin
Senior Assistant Purser: W. J. Hyde
CRUISE STAFF ONBOARD
CRUISE DIRECTOR
SOCIAL DIRECTRESS
LECTURER
ASSISTANT CRUISE DIRECTORS
Mr. L. Carnagey
Mr. P. Carnagey
Mr. E. W. Carrington
Mr. R. P. Clisham
Mr. G. W. Dana
Mr. W. L. Donaldson, Jr.
Mr. C. J. Fairbairn
Mr. W. B. Jennings
Mr. F. Kolb
Mr. J. F. Murray
Mr. V. Ogley
PHOTOGRAPHY
Cruise Passengers
Mr. A. A. Abbott
Miss Leah Abbott
Mr. Charles Abraham
Mrs. Abraham
Miss Mollie Abrams
Mrs. Rebecca Adams
Miss Josephine Adams
Miss Beatrice Alexander
Sister M. Alexandrine
Sister Alice
Miss Isabelle Allan
Miss Annie Allan
Miss Delphina Allessio
Miss Martha Alscher
Mrs. F. C. Anderson
Miss Eugenia Angello
Miss Jane Austin
Miss Faith Austin
Mr. John Babey
Mrs. Babey
Mr. M. C. Bailey
Mrs. Bailey
Miss Virginia Bailey
Mr. C. C. Barber
Mrs. Barber
Mr. John Barrett
Miss Emily T. Barry
Miss Emily M. Bauer
Miss Mildred Bauerman
Miss Ruth E. Bauermann
Mrs. Edith H. Beck
Mrs. Albert V. Becker
Miss Marcella Becker
Mr. Bruce Bedford
Mrs. Bedford
Miss Rose A. Berg
Mr. Sol Bergstein
Miss Emma Besig
Mr. H. D. Biernan
Mrs. Biernan
Mrs. E. Blackman
Miss Dorothy Blackman
Honourable David H. Blair
Mrs. Blair
Mr. Harry E. Blanke
Mrs. Blanke
Miss Eleanor L. Bloss
Miss Florence Blum
Miss Charlotte Boehle
Sister M. Bonaventure
Miss Marcelle Bonnie
Miss Antoinette Boysen
Mr. Leon Brof
Mr. Wendell P. Brown
Mrs. Brown
Mrs. A. W. Brown
Mrs. Victor S. Bryant
Sr. Miss Ruth Buch
Miss Dorothy H. Buck
Mr. Joseph S. Buhler
Mrs. Buhler
Mr. Saul Bulk
Mr. Ralph Bullard
Mrs. Bullard
Miss Jean Burns
Miss Mae Butler
Miss Margaret Butler
Mrs. N. Byron
Miss G. Byron
Mr. John R. Caldwell
Mrs. Caldwell
Miss Emily Caldwell
Mr. Samuel T. Callaway
Mrs. Callaway
Miss Eleanor C. Campbell
Miss Belle Campbell
Miss Elizabeth Clark
Rev. Peter P. Conaty
Miss Rose Conlan
Miss Ann Conlan
Mr. James F. Connor
Mr. James J. Connor
Dr. Lloyd N. Cooper
Mrs. Cooper
Miss Frances E. Cooper
Mr. R. H. Cox
Mrs. Cox
Miss Jane Darragh
Mr. Louis Daum
Mrs. Daum
Miss Mary T. Davis
Miss Julie Dc Meyer
Miss Frances M. Dickinson
Mrs. Thomas Harvey Dougherty, Jr.
Mrs. Sheila V. Dougherty
Mr. Joseph D. Dover
Mrs. Annie L. Downing
Miss Elizabeth A. Downing
Miss Marie A. Dreher
Mrs. William G. Duckett
Mr. C. Clayton Duffield
Miss Ethel F. Dunham
Mrs. Blanche Dunkle
Mrs. A. Durham
Miss B. Eastman
Miss Eaton
t/Mr. Harry C. Eldridge
Mr. N. R. Elmstrom
Mr. Robert Ennis
Mrs. Ennis
Miss Dorothy M. Evarts
Miss, Belle Farman
Mr. Robert Fauver
Mrs. Faurer
Dr. Erwin Feigenheimer
Mr. J. A. Finneran
Mrs. Finneran
Master J. A. Finneran
Master Frank Finneran
Mr. Carl Fisher
Mrs. Fisher
Miss Rose Flannery
Mr. Leon Fleischmann
Mrs. Fleischmann
Miss Alma Foerster
Mr. Walter J. Foley
Mrs. J. R. Forst
Mr. Clarence Fountain
Mr. Jack Frank
Mrs. Frank
Mr. Harry Frank
Mrs. Frank
Miss Nan Friedl
Miss Lorena E. Fry
Mr. Joseph A. Fürst
Mrs. Fürst
Miss M. H. Gates
Miss H. II. Gates
Mrs. Mary Gibbs
Mrs. Mary T. Gilfoile
Mrs. George H. Gilman
Mr. George H. Gilman, Jr.
Mr. J. R. Goldie
Mr. James Goodall
Mrs. Goodall
Mr. Herman Goodman
Mrs. Goodman
Miss Florence Goodman
Miss Charlotte Goodman
Mr. J. R. Goodman
Mr. R. D. Gorham
Mrs. Gorham
Miss Lelia Grason
Mr. David Greenfield
Mr. Herman Greenwald
Mrs. Greenwald
Miss June Rose Greenwald
Miss Elinore Grollman
Miss Helen Grove
Mr. L. H. Happ
Mrs. E. E. Harris
Miss E. Harris
Mr. Herbert Havens
Miss Claire Heimrod
Mrs. Emma Heins
Mr. H. W. Hendrickson
Dr. C. O. Hills
Miss Flora M. Holly
Father John J. Hopkins
Rev. Robert Howard
Mr. T. R. Hughes
Mrs. J. R. Hughes
Mrs. E. W. Hukill
Miss Helen Hummel
Miss Rosamond Hunt
Mrs. Sarah Hurwitz
Mrs. Charles L. Hyde
Miss Theresa Hyland
Mr. G. C. Indruk
Mrs. Indruk
Mrs. B. C. Jarbor
Miss Luella Johnson
Mr. Millard F. Jones
Mrs. Jones
Mrs. Mildred Joyce
Sister Julia
Mr. J. Kagan
Mrs. Kagan
Miss Dorothy Kalb
Mr. Charles Kassin
Miss F. Katzelnick
Mr. T. H. Keating
Mrs. Keating
Mrs. Katherine C. Keenholts
Miss M. L. Kelly
Miss Margaret Kiley
Miss E. Marion Kilpatrick
Mr. Edward Kimpel
Mrs. Kimpel
Rabbi Max Klein
Miss E. Kling
Mr. George Kloetzer
Mrs. Kloetzer
Master Richard Kloetzer
Mr. H. S. Knight
Mrs. Knight
Mrs. Richard Knight
Mr. Henry J. Koch
Mrs. Koch
Miss Marie König
Miss Helen Krause
Miss Martha Kress
Miss Margaret Kress
Mrs. Lally
Miss Lally
Mr. C. Lang
Miss Emma Langer
Mr. E. Larney
Mrs. Larney
Mr. Leon Laufer
Mrs. Laufer
Mr. Jack Laufer
Mrs. Harry Leach
Mrs. William Lentz
Mr. Sidney Levine
Mrs. D. W. Lewis
Mrs. M. T. Lewis
Miss Eloise Janet Lewis
Miss Lillian Logsdon
Miss Harriet Lorch
Miss Emma Lorch
Mrs. Berny Lucas
Mr. Neil MacDonald
Mrs. Mary McCann
Mr. J. J. McDermott
Mr. Peter McDonald
Mrs. McDonald
Miss Ethel McFarland
Mr. E. D. McGee
Mr. Elmer E. McMeen
Mrs. McMeen
Miss Elizabeth F. Mackey
Miss Virginia Majette
Miss Ruth C. Manlove
Mrs. Agnes Campbell Marshall
Dr. Frank D. Martin
Mrs. Martin
Mr. A. D. Matthai
Mrs. Matthai
Miss Mattingly
Miss Margaret L. Maupin
Mr. Arthur B. Maurice
Miss Ruth Medlyn
Mr. E. Mertz
Mrs. Mertz
Miss Harriet Mertz
Mr. Carl G. Meyer
Mrs. Meyer
Mr. Donald Meyer
Master George Meyer
Mr. Mark Miller
Mrs. Miller
Mrs. Mary Moline
Miss Carolyn R. Moser
Mr. Guy Mulligan
Mr. Edward R. Neal
Mrs. Neal
Miss Beatrice Neary
Miss Mary O'Connell
Miss Mary F. O'Connor
Rev. Charles O'Hara
Mr. Gordon O'Hara
Miss Betsy Parker
Miss Anne Parrott
Mr. W. C. Partenheimer
Mr. Darius E. Peck
Mrs. Peck
Mr. Max Peltin
Mr. M. H. Peters
Mrs. Peters
Mr. R. W. Pfaff
Mrs. Pfaff
Mr. Jacques K. Pfann
Mrs. Pfann
Miss Katherine Pierpoint
Miss Harriet Pincus
Mr. Edgar Pitske
Mr. R. L. Pritchard
Mrs. Pritchard
Mrs. E. B. Proctor
Miss Mary L. Proctor
Miss Cornelia Quarles
Mr. M. D. Quinn
v/Mrs. Quinn
Miss Naomi Ran son
Miss Ruth Ranson
Mr. M. Rasco
Miss Ruth Reinhart
Miss Margot Reyburn
Miss Helen V. Reynolds
Miss Anna Rice
Mrs. Ridell
Mr. David S. Rivkin
Miss Margaret Robinson
Miss Claire Rockwell
Mr. Alexander Rothenberg
Mrs. Rothenberg
Mr. J. Warren Russell
Mrs. Russell
Miss Kathryn Russell
Miss Barbara Russell
Mr. John O. Rutherford
Mrs. Rutherford
Miss Dorothy Sachs
Miss Jean Sadler
Mrs. G. A. Saportas
Miss Ethel Saxs M
r. Edward Schlesinger
Miss Lina Schmidtkonz
Mr. E. R. Schooley
Mrs. Schooley
Mr. Morris L. Schwinger
Mr. Walter Scott
Mrs. Scott
Miss Edith W. Scarle
Mr. Henry Seiden
Mrs. Seiden
Miss Mary Shea
Miss Frances Sibert
Mr. J. H. Siemann
Mrs. Siemann
Mr. Henry H. Simpson, Jr.
Miss Suzanne Simpson
Mr. Joseph Slater
Mrs. Louis W. Smith
Mrs. John Smith
Miss Anne M. Smith
Miss Margaret Smith
Miss Bertha J. Southwick
Mrs. James B. Steep
Mr. T. H. Stephens
Miss Phoebe Stine
Mrs. O. B. Stone
Mrs. Newton Stone
Mr. Horace K. Subers
Miss A. H. Subers
Miss Brenda Subers
Miss A. T. Subers
Miss Helen D. Subers
Mrs. Vera W. Swearingen
Master J. W. Swearingen
Mr. Howard P. Sweester
Miss Edna Swenson
Mrs. G. E. Syme
Miss Rose Tannenbaum
Miss Olive Terhune
Miss Anne P. Tetrault
Miss Polly Joan Thompson
Miss Margaret L. Toole
Mrs. Grace E. Torbert
Miss Ruth Tuttle
Mr. Raymond S. Van Houten
Mrs. Van Houten
Mrs. Julia Bryant Van Straaten
Miss Ruth Vogt
Mr. Henry Wagner
Mrs. Wagner
Miss S. Wagner
Miss Maytscherl Walsh
Mr. Joe Waxer
Mr. John L. Weaver
Mrs. John L. Weaver
Mr. B. Weene
Mrs. Weene
Miss Anna Weiner
Mr. A. E. Weisberg
M rs. Weisberg
Mr. J. L. Welsh
Miss Blanche F.. Welsh
Miss Constance F. Welsh
Miss Esther While
Miss Charlotte White
Mrs. John C. Whitridge
Mr. Thomas Wilkinson
Mrs. Thomas G. Williams
Miss Phyllis Wilsher
Mr. J. Walter Wood
Mrs. Clarke Worthington
Miss Pauline Yanoff
Miss Helen E. Yoder
Miss Frances Young
General Information for Passengers
MEALS will be served at the following times In the Dining Saloon:
Breakfast: 8 a.m. and 9 a.m.
Luncheon: 12.15 p.m. and 1.30 p.m.
Dinner : 6.30 p.m. and 7.45 p.m.
Morning Bouillon and Afternoon Tea will be served on Deck and in the Public Rooms at 11 a.m. and 4 p.m. respectively.
The Bars will be open all night, but It is within the discretion of the Commander to close them during the voyage at any time should he consider this course desirable.
SEATS AT TABLE. Application may be made to the Second Steward for table reservations.
DIVINE SERVICE on Sunday at 11.00 a.m. Hours of Holy Mass will be announced on the Bulletin Board.
In addition to the Divine Service conducted by ship's officials, a priest of the Roman Catholic church will arrange to celebrate Holy Mass.
DECK CHAIRS, RUGS AND CUSHIONS may be hired on application to the Deck Steward for the round trip at $1.00 each for Deck Chairs, Rugs and Cushions. Each Rug is contained in a sealed cardboard box, and bears a serial number worked into the material so that passengers will have no difficulty in identifying their rugs. At the end of each voyage, the rugs which have been in use are sent to the store and thoroughly cleaned, before being re-issued.
THE SURGEON is authorized to make customary charges for his services, subject to the approval of the Commander.
A REGISTERED NURSE is on board, whose services are available as necessary under the direction of the ship's Surgeon.
LIBRARIES. In addition to a Library of Standard Works, a special selection of up-to-date literature is available for the use of passengers.
PORT HOLES. Passengers should request their Bedroom Stewards to open and close the port holes in the Staterooms, as required. It is dangerous for passengers to handle these themselves.
BERTHING OF PASSENGERS. No alterations can be made except officially through the Purser
BARBER. The Barber's Shop and Hairdressing Salon are situated on "A" Deck Forward.
VALUABLES. The Company is not responsible for theft if valuables or money are kept in the Staterooms. The same should be placed in charge of the Purser for deposit in his safe, and receipt will be given on the Company's form.
As no charge is made for carriage the Company cannot accept any responsibility for loss or damage, however arising. Passengers are accordingly advised to protect themselves by insurance.
BAGGAGE. Passengers are recommended to insure their baggage, as the Company's liability is strictly limited in accordance with contract ticket.
Passengers are not limited as to the amount of weight of personal baggage on the steamer.
All enquiries regarding baggage on board ship should be addressed to the Baggage Master.
PASSENGERS EXPECTING MAIL UPON ARRIVAL IN NEW YORK. Mail received for passengers addressed in care of an incoming ship is assembled in readiness for distribution to passengers on the pier immediately on arrival, and when leaving the ship at New York passengers are requested to enquire for mail at the mail desk, which is located on the quay side.
LAUNDRY. In cases where laundry is accepted from passengers to be serviced at any of the cruise ports of call please note that the Cunard White Star Limited acts only as agents for whatever laundry may be involved and can accept no responsibility for damage etc.
WIRELESS SERVICE. This ship is equipped with special up-to-date wireless apparatus which enables passengers to keep in constant touch with their friends or business houses during the cruise. Messages should be handed in at the Wireless Office where full information regarding rates, etc., may be obtained.
CHEQUES. Passengers are respectfully advised that the Purser cannot accept private cheques.
THE SHIP'S ORCHESTRA will be assisted in furnishing music for dancing by CHARLES PARK AVE. ORCHESTRA
SPECIAL NOTICE
In order to insure the cruise schedule being efficiently maintained it is essential that the ship sail from all ports at the advertised time. To effect this, all passengers are most particularly requested to inform their bedroom stewards of their return on board after sightseeing, etc., on shore. This is the only way by which your return to the ship can be made known to the ship's officers.
LIQUOR PURCHASES. Supplies of Liquor purchased by passengers at the various ports of call will be received on board by the Baggage Master and will be given special storage. A Charge of $1.00 per case is made to cover cooperage and handling, but this is entirely at passenger's risk since no charge is made for transportation.
In compliance with section 6. of Federal Alcohol Administration Act, passengers should not purchase for importation into the United States containers of liquor of more than one gallon capacity each.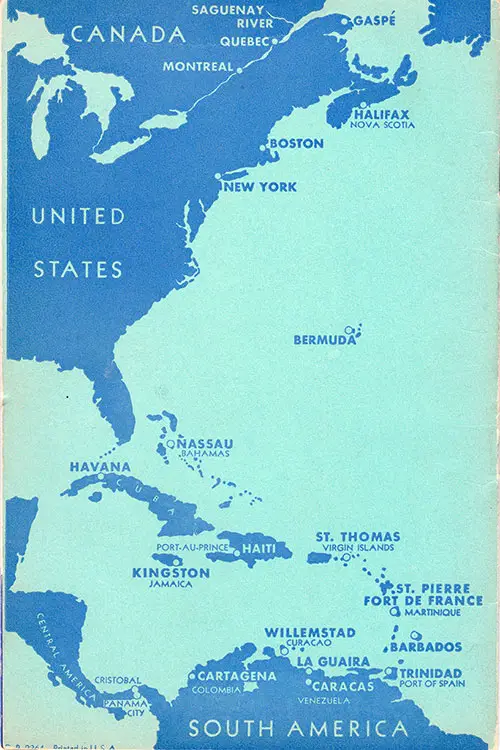 Back Cover, Cunard Line SS Carinthia Cruise Passenger List - 25 July 1939. GGA Image ID # 172967f7f8