SS Araguaya Passenger Lists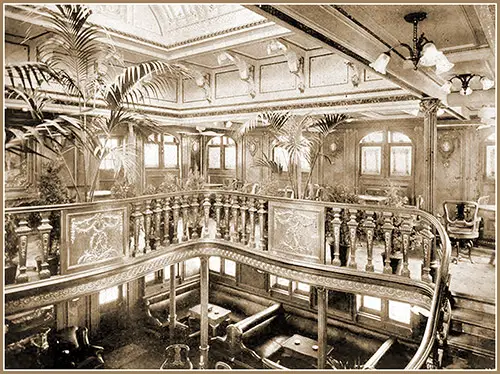 Card and Smoking Room on the SS Araguaya of the Royal Mail Line, 1907. GGA Image ID # 1d232bf963
Araguaya (1906) Royal Mail Line (British).
Built by Workman, Clark & Co., Belfast, Ireland. Tonnage: 10,196. Dimensions: 515'x 61'. Twin-screw, 16 1/2 knots. Quadruple expansion engines. Two masts and one funnel. Note: Latin America Passenger Ship. Renamed: Kraljica Marija (1930). Fate: War loss in 1942.
All Digitized Passenger Lists For the SS Araguaya Available at the GG Archives. Listing Includes Date Voyage Began, Steamship Line, Vessel, Passenger Class and Route.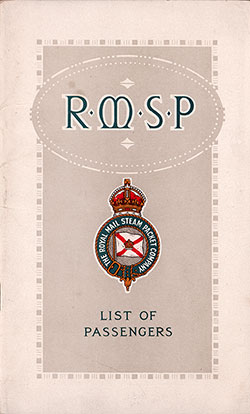 SS Araguaya Passenger List - 28 February 1925
Steamship Line: Royal Mail Steam Packet Company (RMSP)
Class of Passengers: Cruise
Date of Departure: 28 February 1925
Route: New York to Bermuda
Commander: Captain E. Clarke, R.D., R.N.R.
Passenger Lists contained in the GG Archives collection represent the souvenir list provided to the passengers of each cabin class (and other classes). Many of these souvenir passenger lists have disappeared over the years. Our collection contains a sampling of what was originally produced and printed by the steamship lines.
Araguaya, a First-Class Passenger Steamer
Built to the order of the Royal Mail Steam Packet Co.; length, 535 ft.; breadth, 61 ft. 8 in.; depth, 43 ft.; gross tonnage, 10,500. She has passenger accommodation for 300 first-class, 100 second-class, and many third-class passengers.
The staterooms on the upper deck are on the tandem system. Several cabins-de-luxe stale cabins are provided on the bridge deck. These include a sitting room, bedroom, lavatory, and bathroom.
The first-class dining saloon is furnished in oak and gold. A unique feature of this latest addition to the fleet of the Royal Mail Steam Packet Co. is the splendid installation of electric light fittings and apparatus, which have been manufactured and filled on board by Messrs W. H. Allen, Son, A Co., Ltd., Queen's Engineering Works, Bedford.
These fittings are similar to those recently supplied by the firm to the RMSP Co.'s Amazon. The installation consists of a complete electric light installation of over 1300 lights.
Electrically-driven ventilating fans are fitted throughout all the first-class cabins, saloons, and passages. In the kitchen, several electrically-driven apparatuses consist of dough- mixers, knife-cleaners and dishwashers, hot plates, and other valuable appliances.
The laundry machinery and flat irons are electric, and there are also electric hair-drying apparatus, heating apparatus, radiators, and convectors. The cabins and saloons have been equipped with a complete system of electric bells, and there is a system of electrically-controlled clocks throughout the ship.
The electric plant consists of four of the firm's well-known standard compound open type engines, having cylinders 10 in. and 17 in. diameter by 10 in. strokes., each engine coupled directly to one of their standard multipolar dynamos, each having an output of 436 amperes at I to volts when running at a speed of 300 revolutions per minute.
Messrs J. Stone & Co., Ltd., Deptford, have supplied deck house windows and circular lights. The window slides vertically instead of hinged as usual. The deck is equipped with wood and steel lifeboats, with four sets of Welin's patent quadrant davits.
Messrs J. & E. Hall, Ltd., have supplied one of their sizeable duplex-type patent CO refrigerating machines for preserving provisions and ice-making. The Clayton Fire-Extinguishing and Ventilating Company, Ltd. apparatus has also been fitted.
The propelling engines and boilers are by Messrs Workman, Clark & Co., Ltd., and consist of a twin set of high-speed quadruple expansion engines, with three double-ended and three single-ended boilers, working at a pressure of 215 lbs. under forced draught.
"Workman, Clark & Co., Belfast: Araguaya," in The Steamship, Vol. XVIII, No, 206, August 1906, pp. 72-73.