SS Batavia Passenger Lists 1907
Batavia (1899) Hamburg-American Line.
Built by Blohm & Voss, Hamburg, Germany.
Tonnage: 11,464. Dimensions: 501'x 62'. Twin-screw, 12 knots. Quadruple expansion engines. Two masts and one funnel. Tonnage was originally listed as 10,178.
Renamed: (a) Polonia (1913), (b) Batavia (1913).
Acquired by Messageries Maritimes in 1920. Scrapped in 1923.
Sister ship: Bulgaria.
All Digitized Passenger Lists For the SS Batavia Available at the GG Archives. Listing Includes Date Voyage Began, Steamship Line, Vessel, Passenger Class and Route.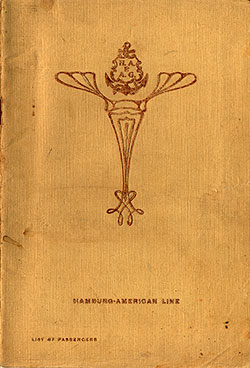 1907-06-01 SS Batavia Passenger List
Steamship Line: Hamburg Amerika Linie / Hamburg American Line (HAPAG)
Class of Passengers: Second Cabin
Date of Departure: 1 June 1907
Route: New York to Hamburg
Commander: Captain G. Bachman
Passenger Lists contained in the GG Archives collection represent the souvenir list provided to the passengers of each cabin class (and other classes). Many of these souvenir passenger lists have disappeared over the years. Our collection contains a sampling of what was originally produced and printed by the steamship lines.
Voyage on the SS Batavia From Hamburg to New York, June-July 1908
Upon my arrival in Hamburg, I took rooms at A. Diedrich's Hotel, and after securing my ticket for New York, U. S. A., to sail on board the S. S. Batavia of the Hamburg American Line, the next day at 7 P. M., I started to inspect the city as far as possible.
I prepared to go on the docks and board the S. S. Batavia that was to take me back to the free country and the dear ones at home. After taking leave of my good Bro. Peters, who accompanied me to the electric car, I returned to the Hotel.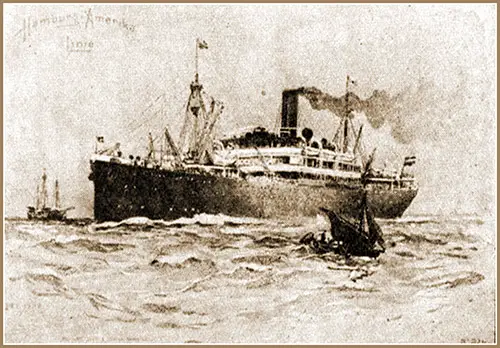 The Steamship "Batavia," of the Hamburg-American Line, Leaving Hamburg for New York, With 1155 Souls on Board. The Shadowing Wing, 1909, p. 284. GGA Image ID # 1d1c1a5bd0
At 7.30 P. M., the ropes that held the ship Batavia was cast off, and the great steamship, with its burden of freight, and 1155 souls, of whom 264 were Jews, mainly from Russia, made its way down the river on the way to New York, a distance of 4000 miles. As we slowly steamed down the river (see illustration, next page), the views seemed to multiply. The clearness of the summer evening atmosphere enabled us to see as far as objects would allow.
We saw the sun go down
Upon the land once called our own ;
Whose lofty temples stand sublime —
And cast their shadows from on high ;
Like dials in the evening time,
As time rolls on and age goes by —
So we go on but know not why We should bid thee the last goodbye.
At midnight, fog set in, and at 1 a. m. we anchored off Cuxhaven. Here we lay until ten o'clock in the morning when we lifted anchor and started on for New York.
To describe the two weeks spent on the ocean before we reached New York would make another chapter. As space forbids in this volume, I mention only this: that for five days, we had thick fog and bad weather, and during these five days, appeared a strange young lady among the passengers, born on the Fourth of July.
On July 7th, at 7.15 P. M., she landed in America as " Batavia." All the passengers were on deck and on hand to greet their friends on this side of the Atlantic. We have lost none. As this new arrival had no name, the passengers requested that the baby girl should be called " Batavia," after the name of the ship on which she was born.
Only the six American citizens on board were allowed to go on shore at once. I stepped ashore and went to New York City to spend the night. As I crossed the river, I was reminded of these lines:
" Breathes there a man with a soul so dead.
Who never to himself hath said.
This is my own, my native land!
Whose heart hath ne'er within him burned As home his footsteps he hath turned,
From wandering on a foreign strand?"
I was satisfied that our National Hymn, "America," has the true ring and expresses the freedom of this land in stanzas.
" Let music swell the breeze And ring from all the trees, Sweet Freedom's song!"
Excerpts from Rev. Edward L. Krumreig, D.D., The Shadowing Wing, Boston: The Warren Press, (April) 1909, pp. 282-286