Captain R. C. Warr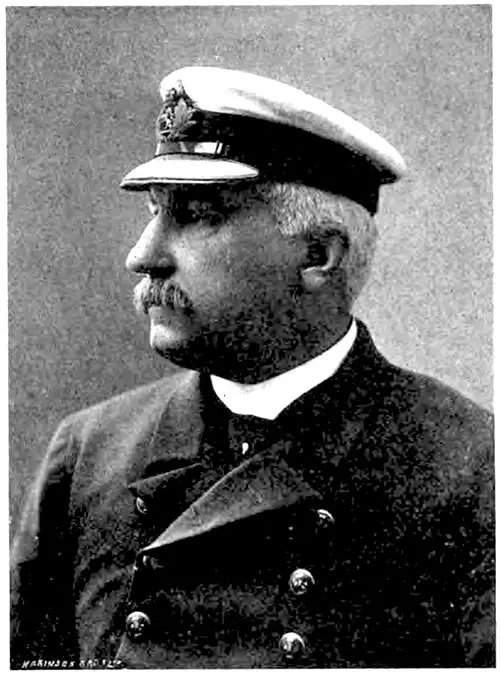 Captain R. C. Warr, Cunard Captains and Chiefs, 1905. GGA Image ID # 12ec401e59
CAPTAIN R. C. WARR is another of those grand old seafarers who prefer to act, rather than to talk of themselves. He commands the Caronia, one of the largest and best equipped ocean liners afloat, and he has just completed a quarter of a century's successful service in the Cunard fleet.
Captain Warr also comes of a nautical stock, for his father and other members of his family sailed the seas before him. He is a Dorset man, and when just turned I4 years of age he was apprenticed on a Liverpool sailing ship. The first 20 years of his working career were spent in sail, and it was in April, 1880, that he joined the Cunard Line as a junior officer, to rise steadily, grade by grade, until he gained the captain's bridge of the Morocco, in 1893.
During the next four years changes of command were exceptionally frequent, and in that brief period Captain Warr had charge, at different times, of half the vessels of the fleet. Among his commands have been the Sylvania, Corinthia, and Caronia, and in each case, he was chosen to take these vessels on their maiden voyages.
His many friends confidently believe that the success which has uniformly attended his service, will be enhanced on board the Coronia. It is no little testimony to Captain Warr's personal character that on a recent homeward trip his passengers contributed £ 206—a record collection —on behalf of the Liverpool and New York seamen's charities.
Retirement of Captain R. C. Warr
After a service of forty-nine years at sea and thirty-three years in the Cunard Line, Capt. R. C. Warr, commander of the steamship "Campania," and commodore captain of the fleet, will retire from active duty at the end of the present voyage.
Captain Warr, who is now 63 years old, is known as the luckiest skipper on the Atlantic. In all his long years as a commander of transatlantic liners he has had no serious mishaps with his ships and has never "lost a life."
He has hired a cottage outside of Liverpool, with a garden attached and will give his most sincere consideration hereafter to the cultivation of geraniums and dahlias. But he does not think he will last exceptionally long now that he has quit the sea, although he is very hearty and weighs over 200 pounds.
"I am sure I won't live more than seven years ashore," said Captain Warr, "and as for thrilling adventures, why I haven't had any, not to speak of. My first voyage was the worst. That was when I was 14 years old, and I went away in my uncle's ship, the 'Great Britain.'
My, how that ship could sail! On that first voyage she was bound from Liverpool to Quebec. The voyage took us three months, and I was seasick the whole time except the two weeks we lay at Quebec. It was very bad.
I'll never forget those seas, and when I came home, I was ready to quit. But I didn't. I had a sweetheart then. She was twelve years old and I knew she would laugh at me if I was afraid to make another voyage. So I went out again with my uncle, and that second voyage won me to the sea, and you see I have been a sailor for practically half a century."
The captain remarked that the little girl who shamed him into remaining an apprentice boy did not become Mrs. Warr in later years. The skipper married, but she did not.
He spent eight years in the same ship and rose to be second officer and then made voyages in other ships to various parts of the world. In 1880 he joined the Cunard Line and was made Chief Officer of the liner "Demarara" under Capt. Charles Jones.
He was made a commander in December 1893, and since that time has had charge of nineteen liners at different times. His first command was the "British Queen," and then came the "Morocco," "Kedar," "Atlas," "Saragossa," "Pavia," "Sylvania," "Corinthiana," "Syth," "Scythia," " Bothnia," "Gallia," "Ivernia," "Saxonia," "Etruria," "Umbria," "Caronia," "Carmania," "Lucania," and "Campania."
-- The Nautical Gazette, 27 November 1912.