Captain Alphonse P.M. Perier d'Hauterive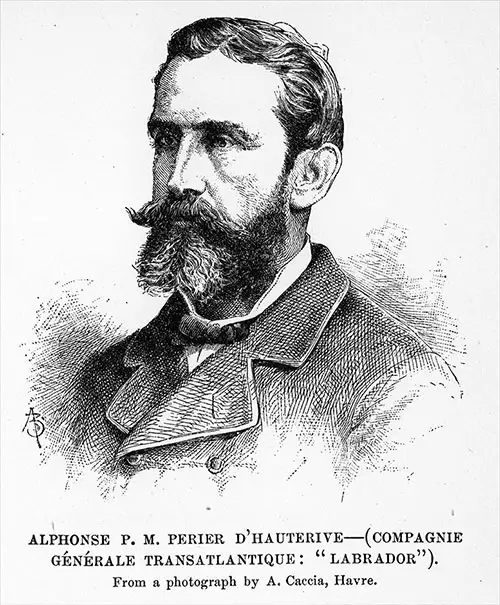 ALPHONSE P. M. PERIER D'HAUTERIVE—(COMPAGNIE GENERALE TRANSATLANTIQUE : " LABRADOR"). From a Photograph by A. Caccia, Le Havre. GGA Image ID # 12e54440e9

So much for the Germans. Now what about the French captains ? Here is the condensed essence of an old ocean traveler's opinions, as he expressed them recently to me:
"You know that I am not the sort of a man to be deceived by the superficial appearance of any one, and that surface politeness is a thing I abhor. Moreover, I have crossed this sea as many times as most of the veterans who live upon it, and therefore I think my opinion upon a line is entitled to some respect.
Well, this I can say for the Compagnie Générale Transatlantique : their ships— Oh! you don't want to hear about the ships; it's only about the captains that you want me to talk. Very well. I have crossed with them all, and know them pretty intimately.
Individually they are all entirely different. Collectively they are as courteous a set of men as I have ever known. They are as kind-hearted and gentle as schoolgirls, and, despite what you may hear occasionally, they are as good seamen and as brave and cool in danger as you will find anywhere.
They assure your safety by their constant watchfulness, and your comfort and contentment by their polite attention. What more could I say of any man or men ?"
I have found by personal investigation that this statement is true as gospel. In the first place, they have been proven to be skilled navigators. Four out of the six are officers of the French navy, and all but one are Chevaliers of the Legion of Honor.
The single exception, it is thought, will soon be awarded this distinction, for, besides being highly esteemed as a mariner, he (Perier d'Hauterive) bears a name honored in the naval history of France.
I have heard numerous incidents from passengers which show that the exuberant, emotional nature of the Frenchman can be as phlegmatic and passionless in times of danger at sea as the coldest Scottish tar.
Captain Alphonse P. M. Perier d'Hauterive, of the Labrador, is not an ordinary-looking man. He is rather tall for a Frenchman, and wears a full beard. He is of slight frame, but it is his eyes which make him rather conspicuous.
One is of Italian darkness, and the other of the light hue peculiar to the Saxon. As if jealous of each other, each eye renders its owner all the service possible. The consequence is that the Labrador's commander is a marvel as to his wonderful sight.
And if the eyes be the windows of the soul, it is fair to presume that in his nature Perier d'Hauterive blends the characteristics of the people of sunny skies with those of the land of fog, for he is both genial and cool, as occasions demand. He is the nephew of the late distinguished French admiral who bore the same name.