Captain W. McMickan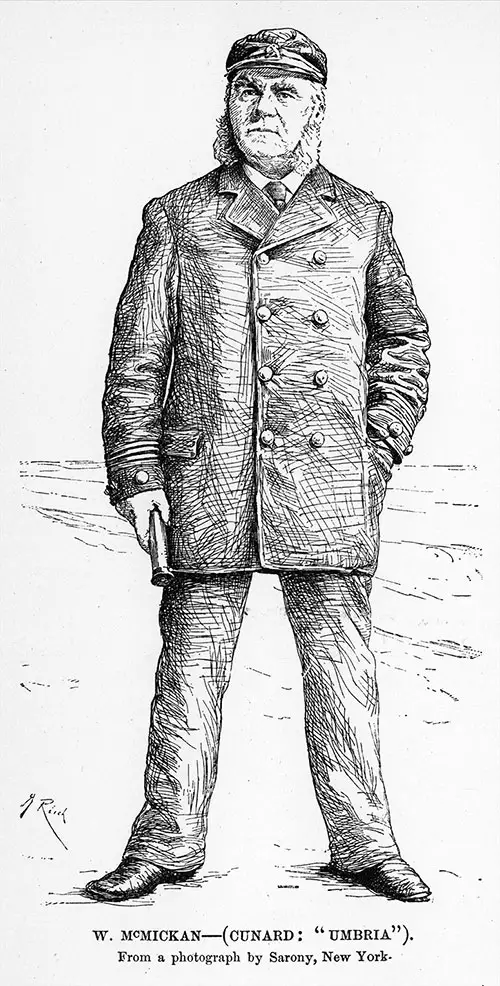 W. McMICKAN—(CUNARD " UMBRIA"). From a photograph by Sorony, New York. GGA Image ID # 12e8c092b1
The social sailor is Captain W. McMickan, of the Urnbria. A pleasanter companion one rarely meets. You may sit in his saloon and watch his merry eye sparkle while he rattles off tales of the sea by the hour.
The wind may shriek and grate through the yard-arms until you think you hear the pinging sound of a skeleton's bones; the waves may rush over the forecastle with volcanic force, and break against his cabin door with a roar like thunder, and still you'll sit and laugh as complacently as if you rested snugly before your own fireside, while Captain McMickan spins his yarns.
If there is danger, this ruddy - faced Scotchman will not be enjoying himself in his cabin, but will be facing the sea's tempest out on the bridge.
He is every inch a mariner. He likes a glass of wine, an iced American beverage on a warm summer's day, or the hot spiced grog of his native land on a winter's night; he is fond of a genial companion, has an ear ever open for the last good story, and an eye of admiration for the gentle sex; but above all these charms of existence is his devotion to the capricious mistress whom he has wooed for so many years, and won at last.
The sea, " than woman's love or March winds more fitful," has filled her wooing with many strange whims, but the "social sailor," an old man now, loves his heart's idol with even more devotion than in his youth, possibly because he has grown to understand her every humor.