Captain E. Frangeul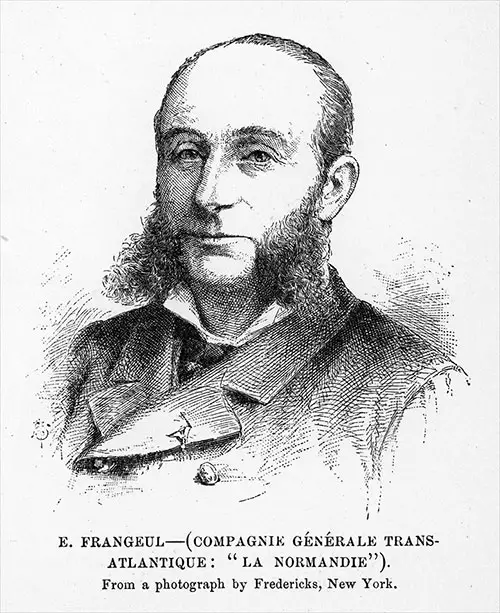 E. FRANGEUL-(COMPAGNIE GENERALE TRANSATLANTIQUE : "LA NORMANDIE"). From a photograph by Fredericks, New York. GGA Image ID # 12e577ad07
And they are highly esteemed. This is especially true of Captain E. Frangeul, commander of La Normandie and Commodore of the fleet. Everybody likes him.
He is a man under the average height, and of slight frame, and just in the prime of life, for he is approaching his fiftieth year. When the sun is dancing on the water, the waves are smooth, and the breeze is rushing, trap-like, into the sails,
Frangeul is the lightest - hearted, merriest man aboard, and his voice may be heard singing, laughing, or spinning a yarn.
A Voyage Commanded by Captain E. Frangeul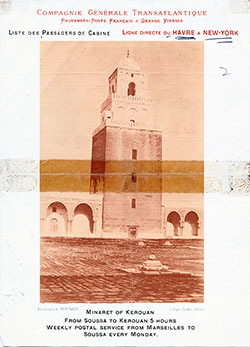 1891-08-29 SS La Touraine Passenger List
Steamship Line: Compagnie Générale Transatlantique CGT - French Line
Class of Passengers: Cabin
Date of Departure: 29 August 1891
Route: Le Havre to New York
Commander: Captain Frangeul
Even the sea-sick passengers try to be near him to catch the contagion of his merriment. When sun, waves, and wind are different--well, Frangeul is different too, and from the pleasant companion is changed to the severe sailor. As a mariner, his record is an enviable one.
One instance may serve to show him as a navigator. A few years ago the Amérique broke a shaft when nearly in mid - ocean. A passing vessel brought the news to Havre.
The latitude and longitude of the disabled ship were given him, and Fran geul,with the Ville de Brest, a much smaller steamer, went out to search for her. Of course he had to calculate how the shaft less ship might drift. He calculated well, for more than a week later, in the dead of night, the vessels met, "nose to nose," as the sailors say. Of course this showed Frangeul's mettle, and it is only one of many similar feats that help to make his record.