Captain James B. Watt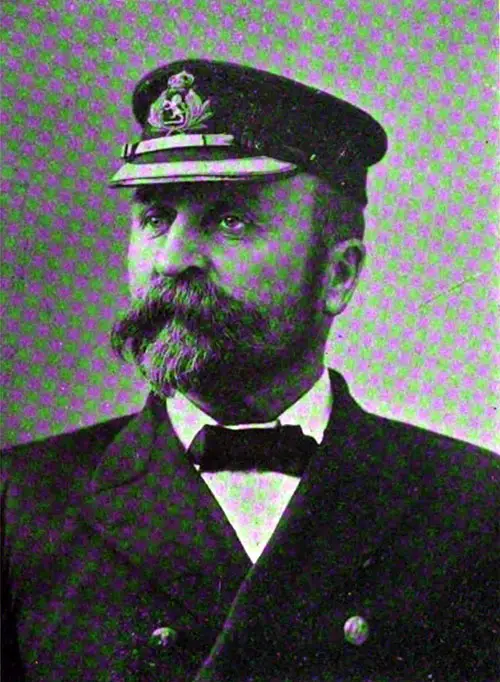 Captain J. B. Watt, Cunard Captains and Chiefs, 1905. GGA Image ID # 12ebe975ec
THE gallant commodore of this famous fleet is Captain James B. WATT, who flies his pennant aboard the Lucania greyhound, in the Liverpool and New York mail service, having succeeded to that coveted post upon the retirement, last year, of Captain McKay.
Captain Watt's career has been comparatively free from exciting adventures, but his record is one of long and honorable service afloat. In taking to deep water, he was but responding to nature's call, for his father and his grandfather before him were noted Scottish shipmasters.
The Cunard Commodore was born at Montrose, Forfarshire, in the year 1843, and commenced his seafaring with a five years apprenticeship in a Dundee sailer.
Subsequently he was a mate in an Atlantic trader, and at 24 years of age was appointed master of the ship William Prowse, owned by, and named after a prominent Liverpool shipping firm of the period. Later, he sailed a ship, the Baldovan, built for his father at Dundee, and in her he made many voyages to the East.
Tiring of the long voyages, Captain Watt turned to steam, and after a spell in the Hamburg trade he joined the Cunard Line in April, 1873, as third officer of the Calabria, in the New York service. He rose to chief mate in 1877, but changes being infrequent in those days, he was obliged to wait until 1884 before a master's berth fell vacant.
In that year he secured his first command under the Cunard flag—the British Queen, in the Havre trade; and during the intervening period he has commanded nearly a score of Cunarders in all trades, his latest ships being the Umbria, Etruria, Ivemia, Campania, and Lucania.
Captain Watt earned high encomiums from shipping people in 1891 for his clever salvage of the Holland passenger steamer Edam, which, finding disabled in mid-ocean, he succeeded in towing safely, through violent seas, into Queenstown, thus saving not only the 500 lives aboard, but the vessel also.
At that time Captain Watt was in the Scythia. Among his treasures Captain Watt includes a fine pair of glasses presented to him by President Cleveland in recognition of his heroism, when in command of the Pavonia, in rescuing a crew of 14 American fishermen wrecked off Sable Island.
TO COMMAND THE LUSITANIA.
Capt. James B. Watt has been appointed to the command of the new Cunard line turbine steamer Lusitania, which is one of the mammoth liners now being completed. Capt. Watt joined the Cunard company in 1873 and has passed through every grade of command. Among the vessels he has commanded are the Umbria, Etruria, Lucania and Campania.
Capt. Watt is a native of Montrose and served his early years in the clipper sailing service. The Lusitania is to leave Glasgow early in July to undergo her trial runs, and it is expected that she will arrive at Liverpool about the second week in July.
"To Command The Lusitania." In The Marine Review, VOlume 35, No. 24, 13 June 1907, Page 17
The veteran commander of the Cunard Line, Captain J. B. Watt of the Lusitania, is to be retired in October 1908. Captain Watt is 66 years old, three years over the age for retiring, but a three years' extension was granted him so that he could take command of the finest vessel afloat.
His going out will leave Captain John Pritchard of the Mauretania, Commodore of the Cunard fleet. The vacancy in the list of skippers will undoubtedly mean a general shifting about of captains. Captain Watt's place will probably be taken by Captain Dow, now in command of the Caronia. 
Captain Dow has long been regarded as one of the most skillful as well as careful skippers of the line. He is in line as successor of Captain Pritchard as Commodore of the line.
"Captain Dow in Line for Promotion," The Master, Mate and Pilot, Vol. 1, No. 4, September 1908, p. 123.
CAPT James B. WATT TO RETIRE.
Commodore of Cunard Line Fleet Has Resigned—Expects to Leave Service Early in October.
NEW YORK. Aug 21, 1908 —Commodore James B. Watt of the Cunard line fleet, captain of the steamship Lusitania, docked this mighty steamship and record-smasher today, beaming with joy over his latest sensational achievement, by which he has reduced the transatlantic travel to 4 days and 15 hours.
It was a glorious run for the grizzled and weather-worn veteran of the sea. Commodore Watt is 66 years old—three years above the age limit fixed by the company's rules—and with almost a half century of honorable service to his record. He will be succeeded by Capt. John Pritchard, now commanding the Mauretania.
The Mauretania, after her next voyage to Liverpool, will be taken out of commission for overhauling until March, when Pritchard will assume command.
Capt Watt expects that his resignation. which has been tendered, will be accepted early In October.
"I am getting pretty well along now" said Capt. Watt today, ''and am ready to leave the service at any time the Cunard line officials see fit to retire me."
That matter rests entirely with them. I want to take some of my good health into retirement.
"Capt. J. B. Watt to Retire," The Boston Globe, Boston, MA, Friday, 21 August 1908, P. 5, Col. 6.
A Few of the Voyages Commanded by Captain J. B. Watt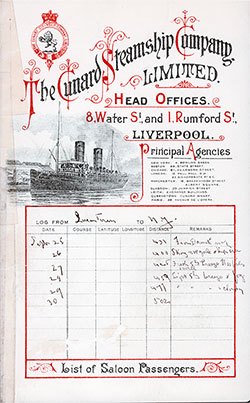 1899-09-23 RMS Campania Passenger List
Steamship Line: Cunard Line
Class of Passengers: Saloon
Date of Departure: 23 September 1899
Route: Liverpool to New York
Commander: Captain J. B. Watt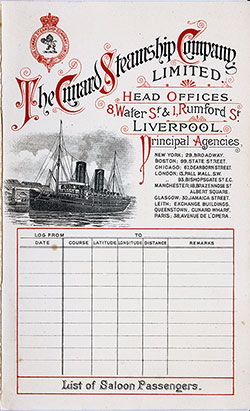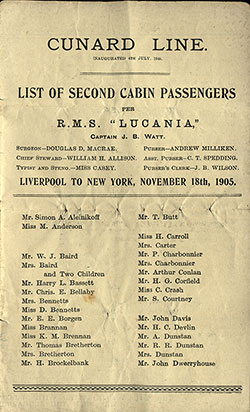 1905-11-18 RMS Lucania Passenger List
Steamship Line: Cunard Line
Class of Passengers: Cabin and Second Class
Date of Departure: 18 November 1905
Route: Liverpool to New York
Commander: Captain J. B. Watt