Captain Adolph Albers (1843–1902)
Captain Adolp Albers of the Hamburg America Line SS Fürst Bismarck. The Great Atlantic Liners May 1895. GGA Image ID # 12e6769ba7
Captain Albers, the commander of the flyer Fürst Bismarck, is one of the best known and most popular officers in the transatlantic service. He is the commodore of the Hamburg-America fleet. Captain Albers has a most notable record. He wears decorations from the king of Denmark for his gallant rescue of the passengers of the steamship Geyser.
The German Emperor has shown his appreciation of the captain's distinguished services to humanity by presenting him with the Order of the Crown; and the Turkish Sultan has conferred upon him the insignia of the Medjidie.
Captain Albers's popularity among ocean travelers was conspicuously shown very recently when a number of New York's most distinguished citizens gave him a banquet at the Union League Club.
Among some of the representative men who attended it were F. D. Tappon, J. Edward Simmons, Banker E. C. Benedict, the friend of President Cleveland, H. O. Armour and Thomas C. Acton. A set of engrossed resolutions were presented to the captain, extolling his virtues as a man and an officer.
Captain Albers, in 1891, completed his one hundredth trip as a commander in the Hamburg Line. He was born in June 1843. He began his sea career in 1857. He graduated from the nautical school in 1865 and received his master's commission. A year later he entered the service of the Hamburg Line. He was made captain in 1877.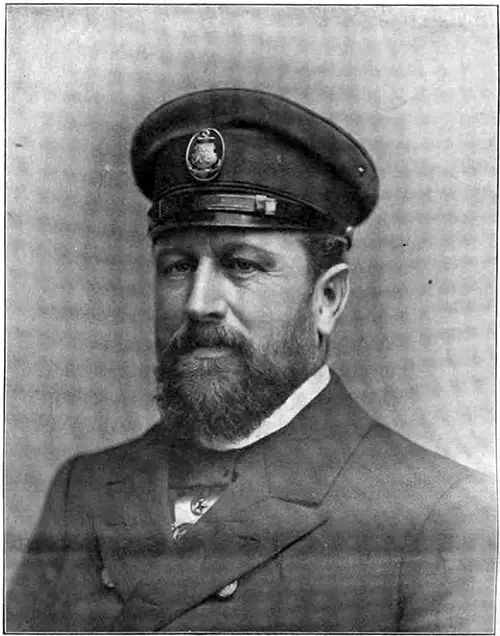 Captain Adolph Albers, Four Popular Commanders of The Hamburg America Line. Home Journal: A Paper of Today, Old Serial Volume 42, New Serial Volume 12, No. 43, Boston, Saturday, 22 October 1898. GGA Image ID # 12e6fb8efd
He has commanded the Lessing, Allemania, Silesia, Regia, Wieland, Auguste Victoria, and Fuerst Bismarck, his present charge. No captain has a better record than the Fuerst Bismarck's commander. He has on numerous occasions exhibited his gallantry, and most conspicuously in his rescue of the passengers of the sinking Geyser.
Captain Albers's popularity among ocean travelers is evidenced by the people who patronize his steamer. He has piloted across the ocean some of the most influential of our public men, and he numbers among his admirers many of New York's and Boston's most prominent social lights. He is a ready and witty talker and most charming companion. Aboard ship he is courteous, but a most rigid disciplinarian.
Albers, later Commodore of the Hamburg America fleet, held several speed records for trans Atlantic crossings before his death at the helm of the SS Deutschland in 1902.