Captain Daniel Dow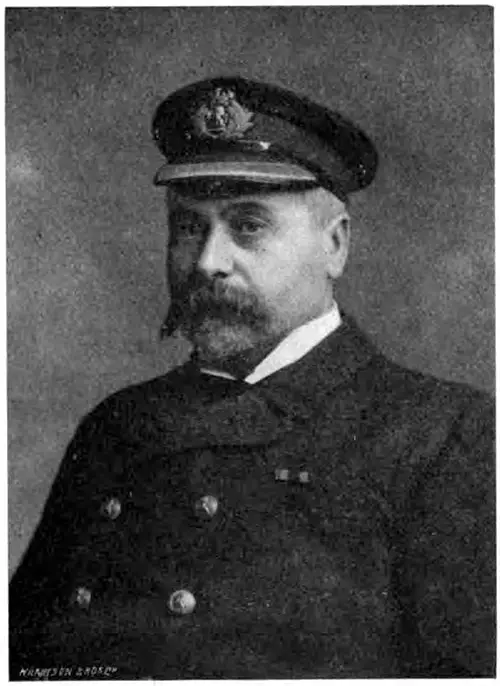 Captain Daniel Dow, Cunard Captains and Chiefs, 1905. GGA Image ID # 12ec6093a2
Captain Daniel Dow. the present commander of the Carpathia, which has left the New York line for the rapidly developing Hungarian-American service, an interesting story is told. It is said that long before he entered the Cunard Line,
in 1886, when he was tramping the bridge of a cargo boat plodding her way across the Atlantic. he was so impressed by the sight of the Cunarder Aurania, steaming gracefully past him, her decks alive with gay passengers. that he mentally registered an ambition to command that identical liner.
ln time he became fourth officer of the Aurania but left his favorite ship again to mount through higher grades on other vessels. After various changes, including twelve months service in the Navy, on the China station, he was appointed master of the Slavonia, next the Ultonia, and then, happy achievement, he secured command of the Aurania--only just in time, for he was, in fact, her last commander. Afterwards he had charge of the Pannonia the Mediterranean and New York trade, and now commands the Carpathia.
Popular Cunard Commander Retires
Few Cunard captains are better known than Commander Daniel Dow, whose retirement after forty-three years' service afloat, has Just been announced. During his time he was in charge, on the bridge, of the Mauretania and the Lusitania, the Aurania. Umbria, Campania, Caronia, Carmania, Pannonia, Carpathia, Saxonia, Ultonia and Sylvania.
Commander Dow spent thirty of his forty-three years in maritime service with the Cunard company, his first position being that of fourth officer on the Catalonia, assumed in 1888. As the strain of the war has told greatly upon him, he retires at the comparatively early age of sixty.
In the course of his long sea career, Commander Dow had many exciting experiences in mid-ocean and took part in many rescues whereby many lives were saved. In September 1910, he commanded the Mauretania when she made a record western passage of four days, ten hours and forty-one minutes, obtaining an average speed of 26.07 and a record day's run of 876 miles.
When the Aquitania was placed in service in 1913, Commander Dow was promoted to the command of the Lusitania and continued in command of this liner until March 1915, when he obtained sick leave for two months. Consequently he was not in charge of the Lusitania when she was torpedoed.
For the whole of 1916 Commander Dow was attached to the Cunard Company's staff in New York In a confidential capacity, but in July 1917, he took command of H.M.S. Royal George, which was then in Eastern waters. Over a year was spent by Commander Dow on this vessel in the transportation of troops between India and the Persian Gulf, British and German East Africa, South Africa, and Salonica.
Throughout his long career Commander Dow never lost a ship, was never in a collision and never sustained any serious accident—a remarkable record. He retires to his home at Blundell sands, named Baroda, after his first ship at sea.