Captain Richard Bussius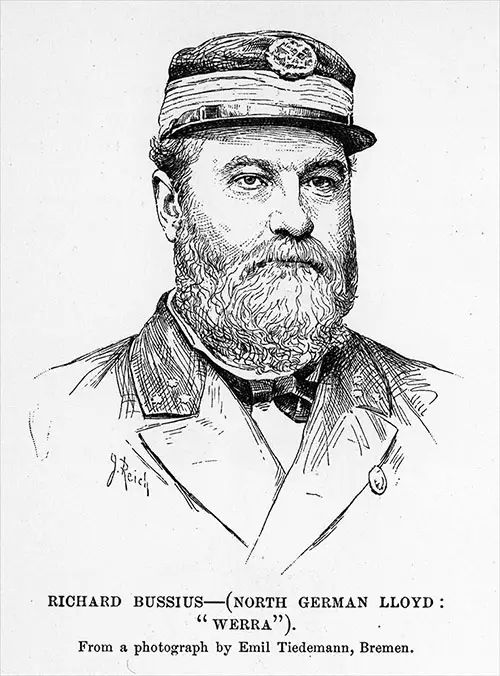 RICHARD BUSSIUS-(NORTH GERMAN LLOYD: " WERRA"). From a photograph by Emil Tiedemann, Bremen. GGA Image ID # 12e48ab836
Captain Richard Bussius is commander of the Werra. Like Captain Barre, he is two years older than the Superintendent-Captain. He was born in Brunswick. He has a good voice, is fond of music, brimful of anecdotes, and is universally popular.
A Voyage Commanded by Captain Richard Bussius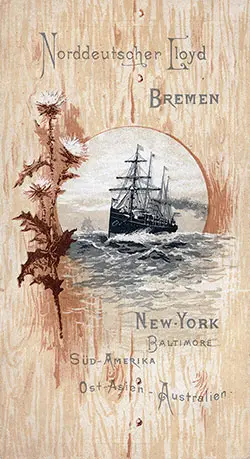 1890-05-03 SS Werra Passenger List
Steamship Line: Norddeutscher Lloyd (North German Lloyd)
Class of Passengers: Cabin
Date of Departure: 3 May 1890
Route: Bremen for New York
Commander: Captain R. Bussius
In November last he was entertained at a banquet on the steamer Elbe by the directors of the line, in honor of his having concluded his one-hundredth round voyage across the Atlantic. On that occasion he received from the German Emperor the knighthood of the Prussian Crown Order of the Fourth Class.
He is highly esteemed as a sailor, and as a man he is cordially liked, for he takes pains to see that all who cross with him are comfortable and happy.