The Great War Begins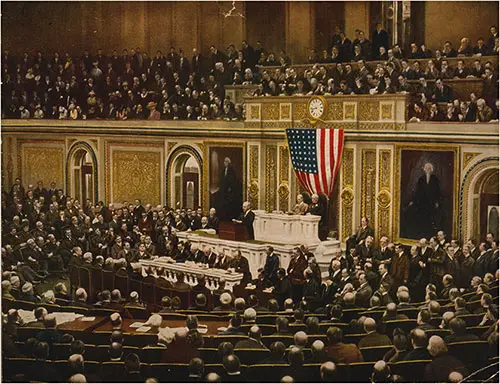 President Wilson Asking Congress to Declare War on German, 2 April 1917. Library of Congress # 2002716887. GGA Image ID # 180fff37da
Great Britain and France had been fighting since the beginning of the war in 1914, while Italy joined in May 1915 and the United States in April 1917. On the other hand, all the European Powers had reached, if not passed, their meridian of strength, whereas the United States could, with a corresponding effort, raise her forces to over ten million.
She was the most powerful of the associated nations, and only the British fleet's existence brought any rival up to anything like equality. Together the United States and the British Empire were irresistible.
So long as they agreed, any concessions they might make to others would be due not to fear but to their sense of justice, desire for peace, and consideration for others' susceptibilities.