Captain Carl Kaempff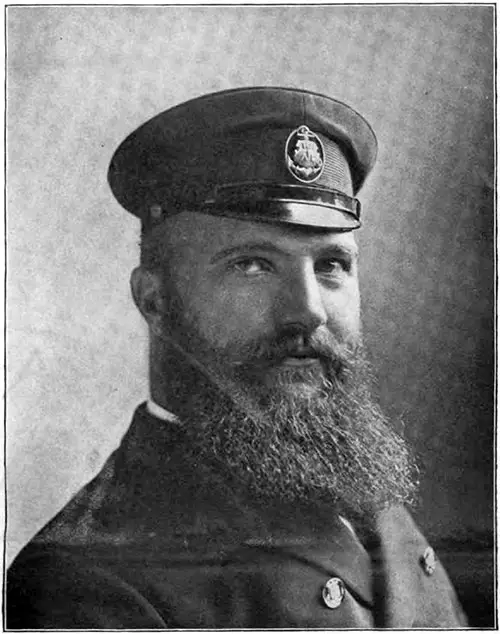 Captain Carl Kaempff, Four Popular Commanders of The Hamburg America Line. Home Journal: A Paper of Today, Old Serial Volume 42, New Serial Volume 12, No. 43, Boston, Saturday, 22 October 1898. GGA Image ID # 12e6f9124c
Captain Carl Kaempff is one of the youngest of the commanders of ocean steamships. He was born in Mecklenburg, Germany, forty-two years ago. He has been a seaman twenty years, making his first voyage aboard the Rostock brig Bagatal to -- Russia, Sweden and Denmark.
His next voyages were to the East Indies, Australia and China. -- In 1874 he passed the examination at Hamburg for mate and cruised as mate on o the Hamburg bark Frederick to Liberia.
In Japan he commanded the bark Tazu Maru, sailing under the Japanese flag. o in Isis he passed a captain's examination, and in 1879 entered the service of the o Hamburg Line as fourth officer of the Gellert.
In 1886 Captain Kaempff was placed in command of the Albingio: running from Hamburg to the west Indies. Since then he has commanded the Cyclops, Silesia, Francia, Wieland, Thuringia, Rugia, Gellert and Auguste Victoria in turn.
During the winter months the magnificent twin-screw express steamers Fürst Bismarck and Auguste Victoria maintain a service between the United States and the Mediterranean, sailing from New York to Gibraltar, Naples and Genoa. Besides there - will be sailings direct to Alexandria.
The Auguste Victoria (Captain Kaempfs) has this year been selected for the grand - winter cruise to the Mediterranean and the Orient, leaving New York Jan. 26, and to lasting about ten weeks.
On the arrival of the Deutschland at New York (September 20 1907) some considerable notier was taken of the fact that her commander, Captain Kaempff. was making his 175th voyage with the Hamburg- American line.
Captain Kaempff was horn in 1855, and from the age of 14 has followed the sea. He received his captaincy in 1886. and has since commanded the fine«r "hips of the Hamburg- American line.
His thoroughness and conscientiousness have earned him the acknowledgement of the German Emperor, and his charming personality has made him one of the most popular commanders in the transatlantic service.