Captain Samuel Brooks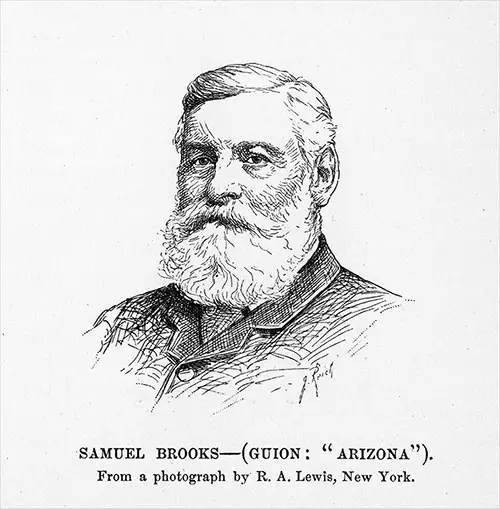 SAMUEL BROOKS—(GUION " ARIZONA"). From a photograph by R. A. Lewis, New York. GGA Image ID # 12e45ceaa7
Captain Samuel Brooks, of the Arizona, is another example of the colossal captain. He is a man of powerful frame, but scarcely so tall as Captain Murray. He is about five years the senior of the Alaska's commander, and wears a full gray beard most becomingly. He is a man of distinguished appearance, who blends suavity with a dignity that never repels, but prevents intrusive familiarity.
He is a favorite with every passenger. Madame Patti almost invariably crosses the Atlantic on Captain Brooks's steamer. Mrs. Langtry, Henry Irving, and a host of other people known as well on one side of the sea as the other, speak in terms of admiration of this popular officer. He has been twenty-eight years in the Atlantic service.
His record shows that he has crossed the ocean 540 times, without the loss of a single life on his vessel. In this time he has added extra laurels to his wreath by rescuing many persons.