Our Navy Magazine - 1 October 1942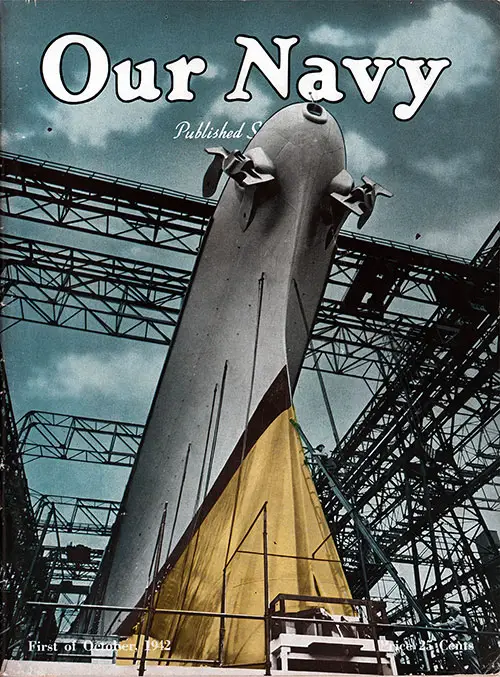 Front Cover, 1 October 1942 Issue of Our Navy Magazine. GGA Image ID # 134ad92c6c
Vol. XXXVII No. 9
THE STANDARD MAGAZINE OF THE UNITED STATES NAVY
ON THE COVER
Looking more like some mighty creature of the air, poised for a takeoff into the sky, the giant 45,000-ton 24 USS Iowa, biggest battleship ever built, lies on the ways at the Brooklyn Navy Yard ready for her launching on August 27. Because of the impression it conveys of the great new battlewagon's tremendous power it is an unusual launching picture.
Table of Contents : * THE LOG *
Traditions of the Navy
By C. W. Windas
Our Naval Views and Comments
By The Editor
National Service Life Insurance
By William C. Nigut
Subject: Sea-Serpents
By H. Thompson Rich
The Marines Have Landed
Sailors' Snapshots
By Paul Watson
Scuttlebutt Scandals
By Bozo
The Spearhead of Today's Sea Power
By Jay Launer
Heinie Orchard Hiked the Long, Long Trail
By Harvey L. ("Heinie") Miller
Jerry Brandt, Rogue First Class
By Mackey Lewis
What's in a Name?
By Richard A. Shafter
Bureau of Medicine and Surgery Marks 100th Birthday
Roundup on the War
By Fletcher Pratt
Naval Cancels and Cachets
By Marshall R. Hall
Salt Shakers
By Walt Munson
Bulletin Board of Naval Interest
Awards, Commendations and Promotions
Down the Years With the Pigskin Game
By Harry Dwyer
Personnel Information
Notes of Interest
Lay Aft on the Fantail
The Skipper and the Boot
By Jack Watson
Written By and For All Navymen.
EDITOR : Cliff Alderman
ASSOCIATE EDITORS:
Myron Eddy
C. M. Hatcher
R. C. Fay
STAFF PHOTOGRAPHER
CONTRIBUTING EDITORS
A. R. Bosworth
J. E. Jones
Walt Munson
Lillian Thomas
Harry Dwyer
Member Audit Bureau of Circulations
Published the 1st and 15th of each month by OUR NAVY, INC., Owen Watson, president and publisher; Paul R. Watson, treasurer. Office of publication, 210 Orchard Street, East Rutherford, N. J. Editorial and Executive offices, 1 Hanson Place, Brooklyn, N. Y.
Entered as second class matter at the post office, Rutherford, New Jersey, under the act of March 3, 1879. Single copies 25 cents. One year subscription (24 issues) $5.00. Subscribers should notify promptly of change of address; both old and new addresses should be given. Contributions to OUR NAVY'S editorial columns should be addressed to 1 Hanson Place, Brooklyn, N. Y.
Material intended for the 1st of the month issue should he in the hands of the Editor by the 1st of the month preceding date of issue: material for the 15th of the month issue by the 15th of the month preceding.
Assertions or opinions of contributors are those of the individual and do not reflect the official views of the Navy Department or the Government.
Entire contents copyrighted 1942 by OUR NAVY, INC.
More Net Paid Circulation in the Navy than Any Other Publication
Aircraft Carrier Wasp Made History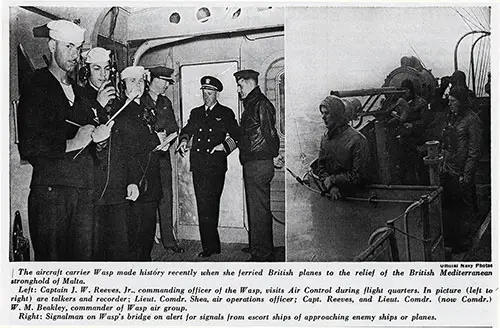 The aircraft carrier Wasp made history recently when she ferried British planes to the relief of the British Mediterranean stronghold of Malta. Official US Navy Photos. GGA Image ID # 134ae8d689
Left: Captain J. W. Reeves, Jr., commanding officer of the Wasp, visits Air Control during flight quarters. In picture (left to right) are talkers and recorder; Lt. Cmdr. Shea, air operations officer; Capt. Reeves, and Lt. Cmdr. (now Cmdr.) W. M. Beakley, commander of Wasp air group.
Right: Signalman on Wasp's bridge on alert for signals from escort ships of approaching enemy ships or planes.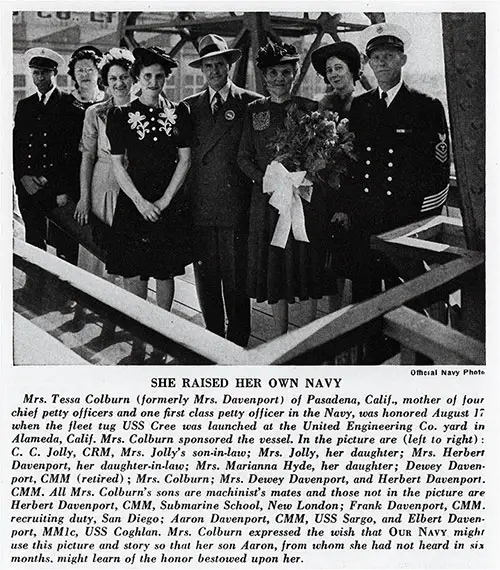 Mrs. Tessa Colburn (formerly Mrs. Davenport) of Pasadena, Calif., mother of four chief petty officers and one first class petty officer in the Navy, was honored August 17 when the fleet tug USS Cree was launched at the United Engineering Co. yard in Alameda, Calif. Official Navy Photo. GGA Image ID # 134bad41c3
SHE RAISED HER OWN NAVY
Mrs. Colburn sponsored the vessel. In the picture are (left to right) : C. C. Jolly, CRM, Mrs. Jolly's son-in-law; Mrs. Jolly, her daughter; Mrs. Herbert Davenport, her daughter-in-law; Mrs. Marianna Hyde, her daughter; Dewey Davenport, CMM (retired); Mrs. Colburn; Mrs. Dewey Davenport, and Herbert Davenport. CMM. All Mrs. Colburn s sons are machinist's mates and those not in the picture are Herbert Davenport, CMM, Submarine School, New London; Frank Davenport, CMM. recruiting duty, San Diego; Aaron Davenport, CMM, USS Sargo, and Elbert Davenport, MMlc, USS Coghlan. Mrs. Colburn expressed the wish that Our Navy might use this picture and story so that her son Aaron, from whom she had not heard in six months, might learn of the honor bestowed upon her.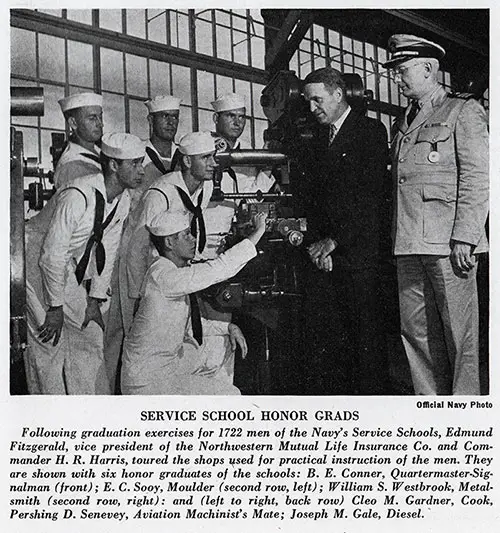 US Navy Service School Honor Graduates Met with Edmund Fitzgerald and Commander H. R. Harris USN following Graduation Exercises. Official Navy Photo. GGA Image ID # 134ca58d04
SERVICE SCHOOL HONOR GRADS
Following graduation exercises for 1722 men of the Navy's Service Schools, Edmund Fitzgerald, vice president of the Northwestern Mutual Life Insurance Co. and Com- mander H. R. Harris, toured the shops used for practical instruction of the men. They are shown with six honor graduates of the schools: B. E. Conner, Quartermaster-Signalman (front) ; E. C. Sooy, Moulder (second row, left) ; William S. Westbrook, Metal- smith (second row, right): and (left to right, back row) Cleo M. Gardner, Cook, Pershing D. Senevey, Aviation Machinist's Mate; Joseph M. Gale, Diesel.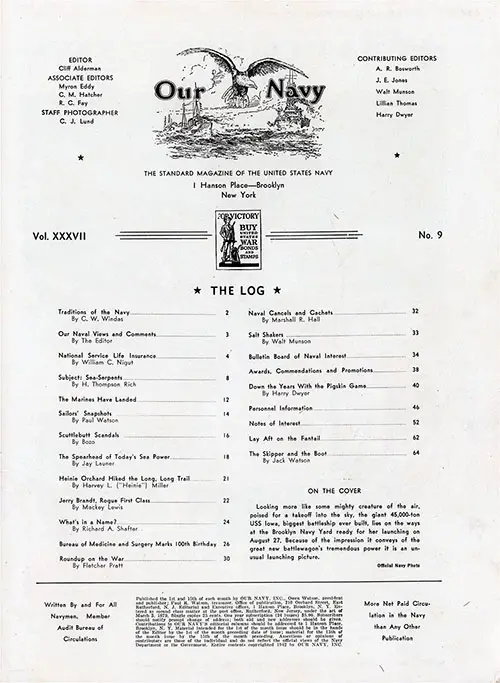 Table of Contents, 1 October 1942 Issue of Our Navy Magazine. GGA Image ID # 134cae36fe