The WAVES' New Uniforms - October 1942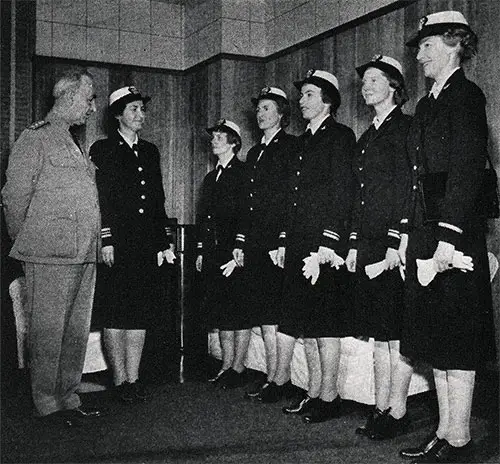 Rear Admiral Randall Jacobs, USN, Chief of the Bureau of Naval Personnel, inspects the new uniforms of the Women's Reserve. Official Navy Photo. GGA Image ID # 134b0da282
Who said Britannia rules the waves? Here are the ones who rule the WAVES of the US. Navy—Rear Admiral Randall Jacobs, USN, Chief of the Bureau of Naval Personnel, inspects the new uniforms of the Women's Reserve, worn by (left to right) : Lt. Cmdr. Mildred McAfee, director of the WAVES, and her staff, consisting of Lt. Elizabeth Reynard, Lt. Jean T. Palmer, Lt. ( j.g.) Virginia Carlin, Lt. (j.g.) Marian Enright and Ensign Dorothy Foster.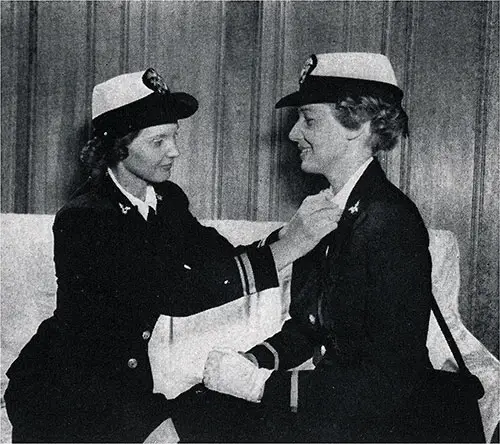 Lt, (j.g.) Enright adjusts the collar insignia of Ensign Foster. Official Navy Photo. GGA Image ID # 134b9aaa21
WAVES Uniforms
The regular uniform for officers in the Women's Reserve of the U.S. Naval Reserve, which was designed by the noted designer Mainbocher, will be a shade of Navy blue. The jacket is simple in cut, with a rounded collar overlapping a pointed revere. It will have four gilt buttons, a straight back, two breast pocket flaps with a pocket on the left side under the flap and two inner pockets.
Skirt—6-gored, conventional sweep and length; two inset pockets at front.
Shirt—rayon with turned-down pointed collar and long sleeves with single-button cuffs. Piped yoke on front, centering in a deep V.
Raincoat (to serve also as topcoat and with inner lining as an overcoat)—double-breasted blue, water-repellent fabric and convertible collar. It is loose-fitting, raglan-sleeved, full skirted and full -belted. Overcoat is optional; blue, double- breasted, with double row of gilt buttons, shaped at the waist and held by a half-belt back.
Hat—oval with high, stiffened crown. Brim rolled at both sides but straight in front and back. Three detachable covers in blue, white and Reserve Blue. Naval officers' insignia at front of crown attached to blue band.
Summer uniform—white, of similar design.
Work uniforms—Reserve Blue, similar style to other two uniforms. Worn only in hot months, it has a Reserve Blue shirt, same cut and design as winter shirt.
Tie—black, rayon, 11 inches wide and 33 inches long, with pointed ends. Shoes—plain laced oxfords, heel no higher than 1 1/2 inches; for evening wear, laced oxfords or simple pumps, heels not more than 2 inches high and toes closed. White laced oxfords or pumps with heels not more than 2 inches high with white uniform.
Hose—conventional length, medium-dark taupe, plain lisle, rayon or other similar material. Short, leather or fabric white or black gloves. Hand bag—to be worn from shoulder, of black fabric, not more than 11 inches wide or 8 1/2 inches high.
Rank—indicated by number and width of stripes on sleeves of jacket and overcoat; no shoulder boards. Rank to be shown with Reserve Blue on winter uniforms; Navy blue on working and summer uniforms.
Corps device of anchor imposed over propeller in white and Reserve Blue respectively for service blue uniform, on blue background; for working uniform propeller is blue and background Reserve Blue; white uniform, propeller blue, anchor Reserve Blue and background white.
Hat device is two crossed fouled anchors in gold with silver shield and spread eagle to face right. Buttons gilt, of standard U.S. Navy pattern.
Enlisted Uniforms
Generally speaking, same as for officers except enlisted uniforms will have black buttons and rating will take place of rank. Jackets and coats will be exactly the same in cut and style and the skirt will be exactly the same.
Hat will have a 6-section crown with wide, stitched brim. Navy blue for winter and summer hat with crown in white and brim in blue. Black band used by enlisted men with "U.S. Navy" in gold will be used.
Enlisted personnel will have only two shirts—one in Reserve Blue and one in blue of same design as officers' shirt.
C.P.O. uniforms will be same as others except that hat will be similar to regular officers' hat. In place of officer's device on hat, CP.O's will wear fouled anchor in gold-colored metal with "U.S.N." in silver superimposed.
Midshipmen's Uniforms
Exactly same as for commissioned officers except for hat device, which will be a single fouled anchor of gold-colored metal or embroidered in gold-colored thread on a black fabric backing. Preliminary training uniforms same as for enlisted personnel except that midshipmen's hat device will be worn with enlisted hat.
"The WAVES' New Uniforms," in Our Navy: The Standard Magazine of the United States Navy, Vol. XXXVII, No. 9, 1 October 1942, p. 37-38.