A Visit to Great Lakes—The Second Time Around 1967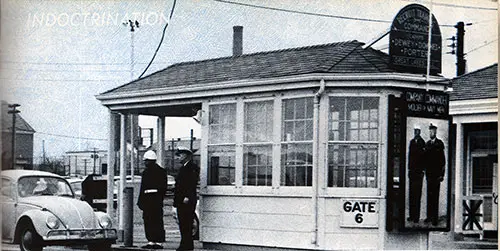 Each year, about 60,000 recruits and 20,000 service school students complete their training at the Great Lakes Naval Training Center and leave for the Fleet. At any given time, the average military population runs to about 27,000. This includes students, recruits and some 6000 officers and enlisted personnel who maintain the NTC facilities and conduct the training.
The chances are pretty fair that you have already visited Great Lakes but in your earlier visit you weren't greatly concerned about living conditions as they applied to the Navy-man and his family. Such problems were handled for you and you had other things to worry about.
Now, it's different. You're going back as an alumnus—more or less—and you've probably got a family to consider. The Naval Training Center is no longer a subject of apprehension or an unknown quantity. It's just another duty station.
Here's a brief report on what you may expect to find.
First, a brief look at the general picture. Then we'll get down to specifics.
Great Lakes Naval Training Center is located slightly more than 40 miles north of Chicago on the shores of Lake Michigan. North Chicago is slightly to the south, Waukegan to the north, and Libertyville to the west.
It is the headquarters of the Ninth Naval District; NTC itself consists of five major commands (Recruit Training Command, Service School Command, Naval Administrative Command, Naval Examining Center and Marine Barracks); and in addition, the following tenant commands:
U. S. Naval Hospital; Naval Supply Depot; Naval Medical Research Unit Four; Fleet Home Town News Center; Navy Regional Finance Center; Public Works Center Great Lakes; Midwest Division, Naval Facilities Engineering Command; Naval Hospital Corps School; Navy Electronics Supply Office; and an Office of Industrial Manager.
Recruit Training Command—Since first organized in 1911, RTC has developed into a large community in its own right. The 60,000 recruits who undergo nine weeks of boot camp at RTC each year are supervised by a staff of 750 officers and enlisted instructors who concentrate on turning civilians into Navy-men.
RTC employs both old and new training techniques. In addition to such long-standing recruit training practices as drilling on a grinder, the boot camp conducts classroom work through closed-circuit television. Using the TV technique, as many as 5000 recruits can be taught by a single instructor. During the past two years, RTC-TV helped to instruct more students than 25 individual instructors could teach in 40 years.
Service School Command—It has been estimated that as many as one-third of all U. S. naval personnel on active duty have at one time or another received training at Great Lakes' Service School Command. At any given time, some 10,000 officers and enlisted personnel are SSC students.
Seventy-eight separate courses are taught in the 23 Class "A," "B" and "C" schools, plus officer courses. The longest course offered is Electronics Maintenance,, which takes a whopping 48 weeks. Other courses are as short as two weeks.
The SSC faculty is comprised of approximately 1000 officers and petty officers—all highly skilled veterans with a knack of communicating their specialized knowledge to others.
Naval Administrative Command —With a staff of nearly 2600 officers and enlisted men, NAVADCOM provides operational and administrative assistance to other NTC activities, such as the Recruit Training and Service School commands. NAVADCOM sees to it that highest standards are maintained with regard to food, recreational and medical facilities, mail delivery and other aspects necessary for the morale and well-being of Great Lakes personnel.
There are 11 departments under NAVADCOM: Communications, Chaplains, Medical, Dental, Legal, Special Services, Supply, Military Personnel, First Lieutenant, Security and Administrative. The many services provided help to make Great Lakes a comfortable place to be stationed.
The Great Lakes Navy Family Services Center, located in Bldg. 130 aboard the Naval Administrative Command, will gladly provide assistance and referral for you and your family with "Welcome Aboard" information kits, hospitality kits, housing and schools information, etc.
Naval Examining Center—This major Great Lakes command plays a significant role, to say the least, in the promotion plans of most U. S. Navy personnel. The Examining Center is the central control point for the development, distribution and scoring of all advancement exams, and also conducts a variety of special programs.
Both military and civilian personnel are assigned to the Center—all must meet exacting qualifications. Only CPOs of the highest caliber are assigned as test "item" writers. The Navy feels that chiefs who excel in their respective ratings are best qualified to write examinations within their own fields.
Marine Barracks—U. S. Marines have served at NTC Great Lakes since 1918. In addition to operating the station brig, Marine Barracks personnel run the NTC rifle range and provide instructors for a number of courses under the Service School Command. The Marines also furnish honor guards, marching units, color guards and official escorts for civic ceremonies within a 100-mile radius of Great Lakes.
One of the more colorful duties handled by the Marine Barracks is the daily posting of colors in front of the Ninth Naval District headquarters building.
NTC Tenant Commands
A variety of tenant commands and specialized units at NTC includes the Great Lakes Naval Hospital, a modern 15-floor structure with 16 clinics, 11 operating rooms and facilities for 1500 patient beds. The hospital functions as a general hospital, and makes its many facilities available to patients from all branches of the armed forces.
The hospital compound is a city in itself with chapel, library, and exchange facilities which include beauty and barber shops, shoe repair and tailor shops, and a cafeteria. The compound also contains a theatre designed to accommodate wheelchair and cast patients, music and recreation rooms, clubs, bowling lanes, pool room, indoor swimming pool and gymnasium.
The Naval Supply Depot, another Great Lakes tenant, furnishes material and accounting support to all commands in the NTC complex. Food, clothing and supplies are processed through the Depot. Another important function for the Supply Depot is to arrange for the shipment or delivery of household goods.
Naval Medical Research Unit Four (NAMRU 4), located on the hospital grounds, seeks methods for the prevention and control of acute respiratory disease among naval personnel, particularly recruits.
The Fleet Hometown News Center provides service to more than 9000 newspapers and nearly 2500 radio stations throughout the United States. FHTNC lets the folks back home know what you are doing.
Disbursing and accounting services for NTC, as well as the entire Ninth Naval District and specific areas of other Naval Districts, are handled by the Navy Regional Finance Center, which is staffed by 26 military personnel and 211 civilians. (More on pay follows.)
More than 850 Navy and civilian personnel work for the Great Lakes Public Works Center, which provides all the usual PW services—building and road maintenance, electricity, water, gas and sewage. The PWC is big business with an annual expenditure of some $8 million.
The Midwest Division, Naval Facilities Engineering Command, is also located at Great Lakes. This special office is staffed mainly by civilians and Navy Civil Engineer Corps officers. The office administers programs relating to the planning, design and construction of housing, public utilities and other facilities.
An "A" school with the status of an independent activity is the U. S. Naval Hospital Corps School. As the name implies, this school trains enlisted personnel in the basic subjects and procedures required to qualify them for duties as general service hospital corpsmen. An average of 3500 HMs are graduated each year.
The U. S. Navy Electronics Supply Office at Great Lakes manages the $445 million fleetwide inventory of electronic repair parts and equipment.
General Information
When you arrive at Great Lakes, you'll probably be assigned to, or have orders to, one of the commands or offices mentioned above. You'll no doubt have plenty of questions with regard to what's available to help you keep your personal affairs in order and to make your tour a pleasant one.
Great Lakes and vicinity have plenty to offer. Located within an hour's drive of both Chicago and Milwaukee, Great Lakes is a convenient starting point for a wide variety of activities. Museums, top professional sporting events, golf, concerts, opera, night clubs, hunting and fishing—you name it and chances are you'll find your favorite pastime not far from NTC. If you want to travel outside the area, you'll find commercial ticket agents representing all major transportation media conveniently located in the Navy Regional Finance Center. Bus and taxi transportation is available on and off the base.
However, chances are you'll spend most of your time on the base, simply because the base has plenty to offer.
Household Goods—Possibly one of the first things you'll want to check on is the status of your household effects. The Naval Supply Depot has a special Household Goods Office located in Bldg. 3200 which will advise you regarding your shipment. Once you establish a permanent residence, the Household Goods Office will arrange for your belongings to be delivered.
If you're not able to find permanent quarters upon arrival, you may have your goods placed in storage for 90 days, with a second 90-dayfree-storage period possible.
Disbursing—If you're like most Navymen, chances are you'll arrive at Great Lakes and ask "Where's Disbursing?". If you're a service school student, your personnel office will forward your pay record to the Navy Regional Finance Center, your pay will be computed, and you'll receive your check the following day. Hospital corps students are paid the same day they check in. Hospital staff personnel are paid immediately upon request after checking in.
Payday is held every two weeks on alternate Tuesdays or Thursdays, depending on where you are assigned. All the usual disbursing services are available (allotments, special pay, advance pay, etc.).
Private Automobile—You may drive your car on base only if it can pass a safety inspection, and provided you have liability insurance with an approved company.
Housing—Note: Information on housing is always subject to change. The following data will give you a general idea of the current situation.
Assignment to government quarters (there are approximately 1900 units available) is made by the Housing Office, Bldg. 2700. The waiting period for assignment varies from five to eight months, depending on the number of bedrooms you require.
Units designated as Public Quarters are available to officers and enlisted personnel (E-4 with four years' service and above). Assignment to Public Quarters means forfeiture of your quarters allowance.
If you're an E-4 (less than four years' service) or below, you may apply for rental housing, the charge for which varies according to the number of bedrooms you require.
There are no temporary housing or guest house facilities at the NTC.
All quarters are equipped with stove and refrigerator. Public Quarters normally are equipped to handle automatic washers and dryers, and some Navy-owned furniture is available to supplement your own goods. Inadequate Public Quarters (rental housing) are unfurnished except for stove and refrigerator.
You may apply for housing before reporting to Great Lakes. You should address your letter to the Housing Office, Attn: Assignment Division, Public Works Center, Naval Training Center, Great Lakes, Ill.
Be sure to list the names of all your dependents, their relationship to you, the birthplace of your children, the command to which you are reporting, and the expected length of your tour.
For planning purposes, note that you must be ordered to a Great Lakes command for a tour of shore duty, or to a school course lasting at least 40 weeks, before you may be eligible for family housing.
If you're an officer, you must enclose one copy of your permanent change of station orders, complete with detaching endorsement. If you're an enlisted man, you must enclose one certified copy of the Standard Transfer Order, complete with transfer code date.
Civilian Housing—The Great Lakes area offers a variety of civilian housing within reasonable price ranges. The greatest availability is in houses, rather than apartments. Purchase and rental prices generally are higher than in most other areas of the United States. (For example, the average monthly rent for a one-bedroom apartment is $85 plus utilities; a two-bedroom, unfurnished apartment usually goes for $120 monthly, plus utilities.)
Most civilian rentals involve lease periods, normally for one year. Listings of off-base housing are maintained in the NTC Housing Office.
Trailers—If your home is a mobile one, you'll find a limited number of trailer spaces offered to enlisted personnel at the Green Bay trailer court. A fixed rental charge is made for the space and all utilities, with the exception of telephone and fuel for heating and cooking.
The waiting period for trailer space varies; normally it depends on the size of your trailer. You should note that you must own a mobile home at the time you apply for trailer space in order to be eligible for Green Bay. Precedence on the waiting list is determined by date of application, but will not be earlier han the date you are actually detached from your previous command.
A number of civilian trailer parks are located within a 10-mile radius of Great Lakes. The average rental charge is $43 monthly, plus utilities.
Medical & Dental—An abundance of dispensaries and dental clinics, plus the presence of one of the Navy's most modern hospitals, makes it easy for you and your dependents to receive the finest in care. Dependents receive both inpatient and outpatient medical care at the Naval Hospital.
Schools—Numerous public, private and parochial school are located in the Great Lakes area. Students are assigned on the basis of capacity, location and grade.
Assignments may change, depending on the number of students registered from the various housing areas.
Bus transportation is usually available at no cost for students in grades up to and including the eighth grade. Transportation to high schools is available at a fixed price per ride, or at a fixed rate per term.
A nursery for pre-school children is maintained on the base. Care is offered on an hourly, daily, weekly or monthly basis.
Recreation—The Special Services departments of the Naval Administrative Command and the U. S. Naval Hospital provide a comprehensive recreation program for military personnel and dependents.
"A Visit to Great Lakes—The Second Time Around," in All Hands: The Bureau of Naval Personnel Career Publication, Washington, DC: U.S. Government Printing Office, NAVPERS-0, No. 609, October 1967, p. 39.