The Navy as a Career - 1954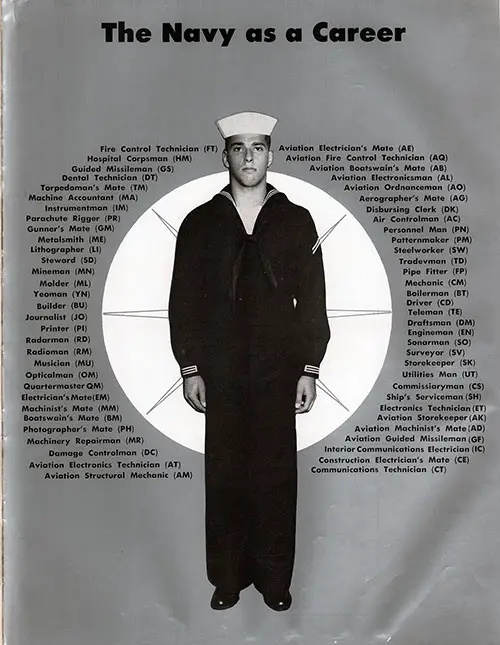 Career Options For Enlisted Men in the United States Navy, 1954. GGA Image ID # 16ccedfa58
Most enlisted personnel enter the naval service as Seaman Recruits. After their initial training, the varied aspects of which are pictured in this book, they are qualified to take advantage of many tangible career opportunities presented by the Navy Rating System.
The term "rating" applies to groups of Navy occupational duties which require essentially the same aptitudes, training, experience, skills, and physical and mental abilities. Within the rating there are "rates" which indicate a man's pay grade and his level of experience, knowledge, and responsibility.
The general principles of the rating system evolved during the Navy's 150-odd years of existence; the details of its structure were worked out by officers, enlisted men, and civilians experienced in personnel management. In itself it contributes much to morale by providing a real incentive for the enlisted men through its recognition of distinct occupations and in its program for steady advancement.
All Seaman Recruits (SR) who are graduated from recruit training are automatically advanced to Seaman Apprentice (SA). Aboard a ship or station, the apprentice receives additional training in general seamanship and related work and, after six months, become eligible for promotion to Seaman (SM).
By this time he has become interested in the duties performed by personnel in a specialty rating and from then on he is promoted in a particular rating such as are seen on these pages. Having received promotions through third, second, and first class petty officer, a man becomes eligible for advancement to chief petty officer, the highest enlisted rate of his occupational line of work.
From there, career steps in all ratings lead to one of twelve warrant officer billets or to a commission as an officer in a limited duty category.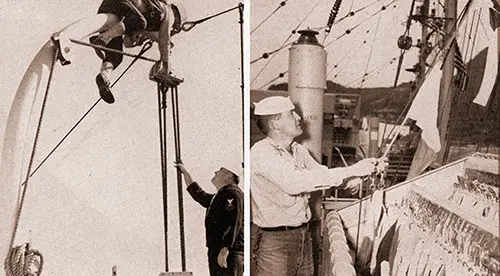 Boatswain's Mates (BM) and Quartermaster (QM). GGA Image ID # 16d66aeab1
Left: The master seamen of the Navy are the Boatswain's Mates (BM) — persons skilled in all phases of seamanship such as the operation of small boats, cargo handling, and use of navigational aids besides the handling of personnel in the deck forces.
Right: The safety of a ship at sea depends to a great extent on skillful navigation. Messages and orders must be transmitted quickly and accurately by visual means from the ship to other ships and to the shore. Careful watch must be maintained for enemy ships and aircraft. The Quartermaster (QM) performs or assists in the performance of these duties.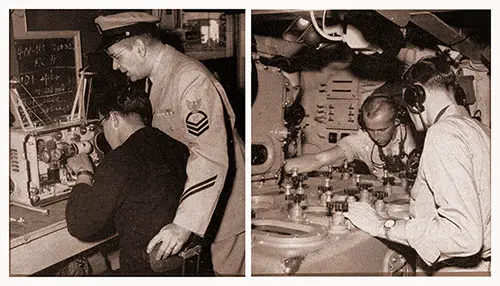 Tradevman (TD) and Fire Control Technicians (FT). GGA Image ID # 16d5a412af
Left: The training of Navy personnel requires highly specialized apparatus. Various types of training aids and training devices are used to simulate actual operating conditions under which Navy personnel work. The success of this phase of the Navy's program depends upon how well the Tradevman (TD) maintains training devices and how effectively naval instructors are taught to use them.
Right: Fire Control Technicians (FT) operate extremely complicated equipment which is used to compute and resolve the many factors such as the force of the wind, course and speed of a target, roll and pitch of a ship, in order to insure accuracy in the firing of a ship's guns.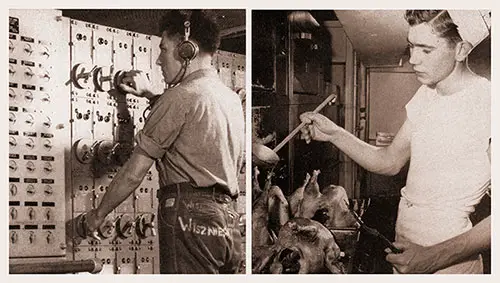 Instrumentmen (IM) and Commissarymen (CS). GGA Image ID # 16d6a78285
Left: The Navy uses large numbers of meters and gauges, watches, clocks, typewriters, adding machines, etc. To maintain these many and varied machines in good working order, Instrumentmen (IM) of great skill are required.
Right: The responsibility of the Commissarymen (CS) is to provide a sanitary and efficient operation of the kitchens from which food is served ashore or afloat. Wholesome, hearty meals are necessary and can often do more to raise the morale of personnel than any other one thing.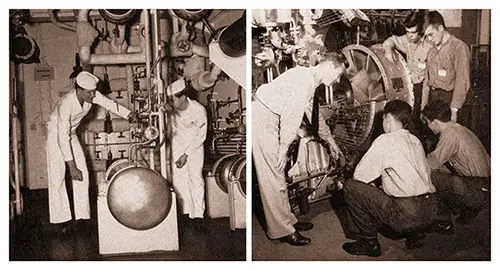 Machinist's Mate (MM) and Boilermen (BT). GGA Image ID # 16d6366a32
Left: The many engines, compressors, gears, refrigerating, air-conditioning, gas generating equipment, and other types of machinery aboard a modern Naval vessel require much care and attention. Here lies the responsibility of the Machinist's Mate (MM) — in the operation, maintenance, and repair of this machinery.
Right: The propelling agent of our large naval ships is steam. Efficient operation, maintenance, and repair of marine boilers are essential for effective operation of Navy Ships. The efficient production of steam is the job of Boilermen (BT). At Boilerman's School, cutaway models of complicated mechanisms make learning relatively simple.
The Path to Advancement Continues
Promotion and pay are subjects close to the heart of every Navy man and the objectives of this system for advancement can be stated very simply: to provide qualified personnel in each rate in accordance with the needs of the service; to give the individual incentive to improve his performance; and, to build morale.
Basic to the system of advancement are the needs of the service. A properly balanced crew consisting of the multitude of ratings necessary to man a fighting ship can only be effective if each man holding a rate can do the job expected.
Next in importance is the spark of incentive which is needed in training, discipline, and career planning. Promotions are controlled so that they offer a reward to the man who successfully prepares himself for the next higher rate, and who is willing and able to accept responsibility.
The third major objective is the building of morale. Every conscientious man must be made to feel that eventual advancement is open to him at a speed commensurate with his ability and demonstrated performance.
Eligibility standards provide control of the quality of personnel advanced and it is these standards which present an equal opportunity for each man to best take advantage of his position—besides the vocational training in the schools and on-the-job, there are numerous training manuals published by the Navy for all the ratings and all personnel are urged to study these manuals in order to prepare themselves for early advancement.
Furthermore, there are opportunities in the Navy to complete a perhaps interrupted civilian education, begin or further college training, or obtain a working knowledge of other vocations. Any of these aims can be realized through the hundreds of courses available to every Navy man through the United States Armed Forces Institute, college correspondence courses, General Educational Development tests, and classroom work.
These pages give only a glimpse of the variety and types of career vocations which the Navy offers to those who are willing to recognize and take advantage of the opportunities.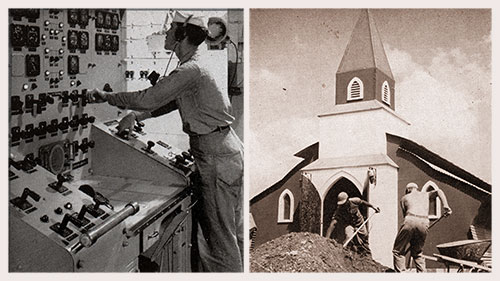 Electrician's Mates (EM) and Builders (BU). GGA Image ID # 16d70cadaa
Left: Electrician's Mates (EM) are skilled in the operation, maintenance and repair of a ship's electrical equipment. Other similar naval ratings would be the Interior Communications Electrician (1C), Construction Electrician's Mate or Aviation Electrician's Mates (CE) (AE).
Right: Advanced base operations require the construction of many buildings, docks, trestles, bridges, and other similar projects. Builders (BU) play an important part in the erection, maintenance, and repair of such structures.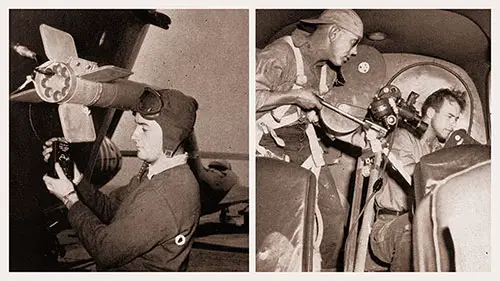 Aviation Ordnancemen (AO) and Photographer's Mates (PH). GGA Image ID # 16d71f6ac7
Left: Modern Navy aircraft have increased the range of naval weapons from a few miles to hundreds of miles. They carry guns, bombs, torpedoes, and rockets to attack the enemy on the sea, under the sea, in the air, and on the land. The specialists responsible for the perfect working order of all armament on Navy planes are the Aviation Ordnancemen (AO).
Right: Naval activities in peace and war are carefully recorded visually by means of motion pictures and still photographs taken by skilled Photographer's Mates (PH)
Hospital Corpsmen (HM) and Aviation Electronics Technicians (AT). GGA Image ID # 16d805f1da
Left: Much of the credit for the good health of Navy personnel is due to the work of the Hospital Corpsmen (HM). They are the Navy's pharmacists, medical technicians, and first aid men.
Right: Modern naval aircraft, operating from carriers, battleships, cruisers, or land bases, depend upon their radio receivers and transmitters, loran (a system of navigation based upon two radio signals), radar, and many other electronic devices for safe and efficient navigation. Aviation Electronics Technicians (AT) are responsible for the installation, operation, and maintenance of such equipment.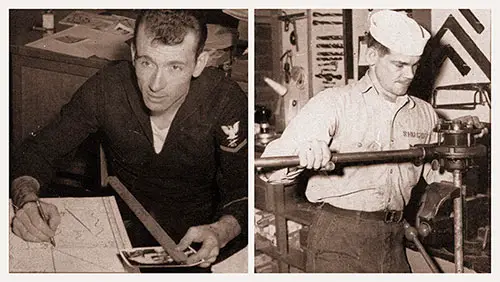 Journalist (JO) and Pipe Fitters (FP). GGA Image ID # 16d823dfa6
Left: The Journalist (JO) plays an important part in maintaining high Navy morale through the dissemination of news and in keeping the public informed as to the developments, accomplishments, and policies of the Navy. This is done through ship and station newspapers, bulletins, pamphlets, news releases, and radio scripts.
Right: Naval vessels contain an involved piping system. Fluids which are piped from one point to another on a ship include steam, compressed air, carbon dioxide, gasoline, fuel oil, and water. The constant care required by the piping system is provided by the Pipe Fitters (FP)
Where do we go from here?
Life at sea, assignment to ships and squadrons, "Where do we go from here?" are natural thoughts and questions in the minds of ex-recruits. Their lives will be enriched by exposure to other cultures and peoples, for the sun never sets on the ships of the U. S. Navy.
From the Arctic to the Antarctic, from Marseille to Sydney, in all oceans and seas, in all types of ships both large and small, the missions of the Navy are being performed.
On these pages we have shown a few typical pictures of the ships of our Navy performing their assigned duties.

Some of the ships are assigned to oversea fleets on a rotation basis—those assigned to the Sixth Fleet cover the Mediterranean Sea, others of the Seventh steam through
the Western Pacific, while still other ships on independent duty such as ice breakers, hydrographic survey ships and net tenders cruise to isolated ports which seldom see a
ship.
All types of combatant vessels may be included on good-will tours to such diverse and interesting countries as Australia, Brazil, Pakistan and Denmark. It would be very difficult, indeed, for a sailor not to see the world.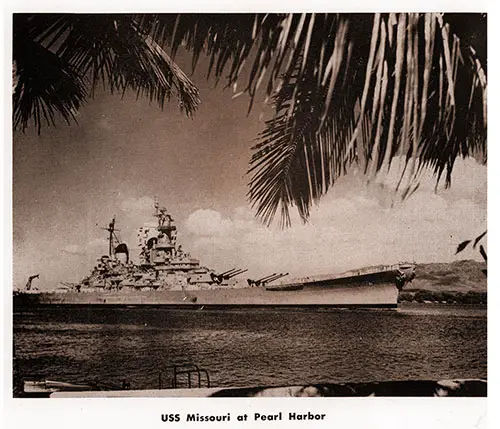 USS Missouri at Pearl Harbor. GGA Image ID # 16d853b0c3

(l) USS Burton Island in Bering Sea; (c) USS Swan near Golden Gate Bridge; and (r) USS Solace anchored at New Hebrides Islands. GGA Image ID # 16d891b5ce

USS Whitely in Mid-Atlantic and the USS Coral Sea at anchor, Naples, Italy. GGA Image ID # 16d89e2440
Career Aspects
At this time, the chances for becoming a commissioned officer have never been better. The traditional path is through the Naval Academy; however, in addition there are now several programs in which enlisted personnel may prepare themselves for commissioned status. It is not necessary that applicants have college training to meet the requirements of some of the programs and there are certain cases where even men without high school diplomas may qualify.
Of the programs and schools offered, the Naval Academy, the Naval Reserve Officers Training Corps, the Naval Aviation Cadet program and the Officer Candidate School (through the Seaman to Admiral program) are open at the present time.
The U. S. Navy and the U. S. Marine Corps obtain most of their career officers from two sources, the Naval Academy at Annapolis, Maryland, and the Naval Reserve Officer Training Corps units which are established in many of the leading colleges and universities throughout the United States. The U. S. Naval Academy provides four years of college training leading to a commission in the Regular Navy or Marine Corps.
Admission is gained by competitive examination among enlisted personnel in the naval service or by Presidential or Congressional appointment. Those who successfully pass the examination are transferred to the Naval Academy Preparatory School which is located at the U. S. Naval Training Center, Bainbridge, Maryland. It is the purpose of this school to prepare the applicant for the competitive examinations leading to selection for the Naval Academy.
Students enrolled in the NROTC pursue the normal college curriculum of the institution in which enrolled. In addition they study certain naval science subjects and participate in drills and cruises which qualify them for appointment as officers upon graduation. For those who possess an interest in becoming career officers of the regular Navy through the NROTC program, the Navy offers financial assistance throughout the four years of the college program.
The Naval Aviation Cadet program is offered for those who meet the rigorous requirements necessary for pilots. After selection, a two year period of training is followed by a commission.
The purpose of the Officer Candidate Program is to provide a ready and adequate reserve of qualified junior officers. It is an active duty program available to enlisted personnel in the naval service. The Officer Candidate School is located at Newport, R. I. Men in the regular Navy meeting the requirements are eligible to compete in an examination for entrance into this program.
At the end of four months of intensive training in naval subjects, the graduates are commissioned Ensigns, U. S. Naval Reserve, in either the Line or Staff Corps. After serving on active duty, they are eligible for transfer to the Regular Navy.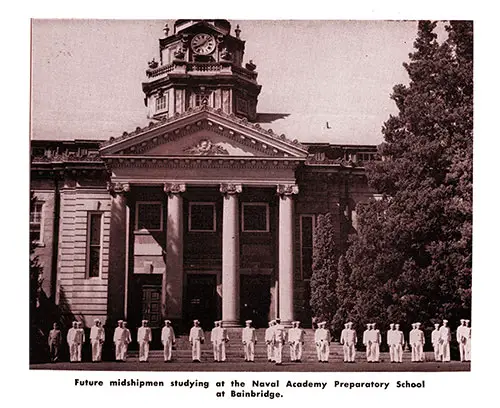 Future midshipmen studying at the Naval Academy Preparatory School at Bainbridge. GGA Image ID # 16d9095bab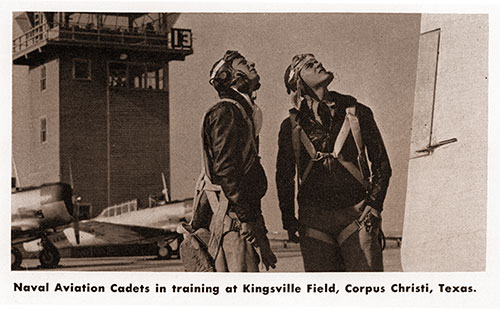 Naval Aviation Cadets in training at Kingsville Field, Corpus Christi, Texas. GGA Image ID # 16d999dd85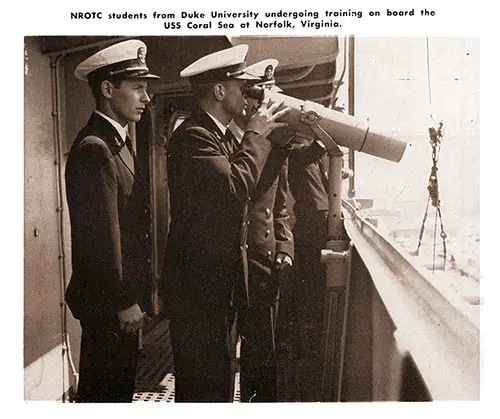 NROTC students from Duke University undergoing training on board the USS Coral Sea at Norfolk, Virginia. GGA Image ID # 16d9f0ce28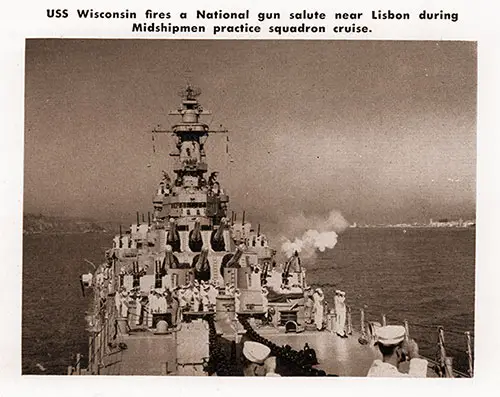 USS Wisconsin fires a National gun salute near Lisbon during Midshipmen practice squadron cruise. GGA Image ID # 16da0ec8e6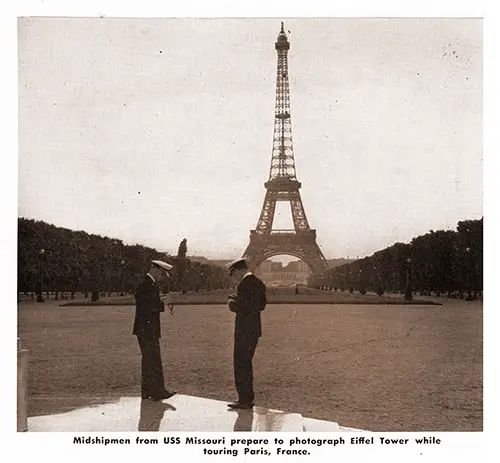 Midshipmen from USS Missouri prepare to photograph Eiffel Tower while touring Paris, France. GGA Image ID # 16da11b6e0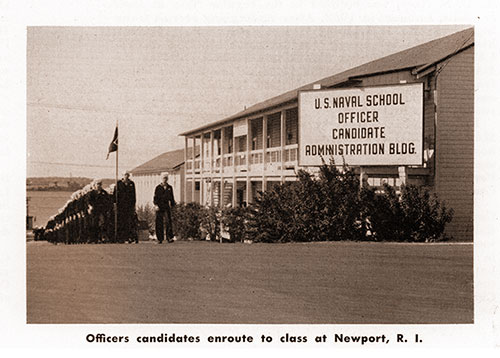 Officers candidates en route to class at Newport, R. I. GGA Image ID # 16da39fa5f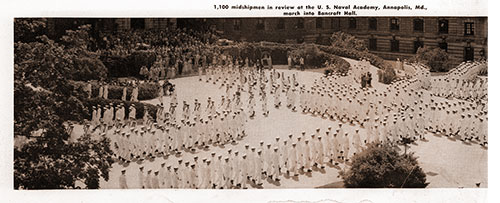 1,100 midshipmen in review at the U. S. Naval Academy, Annapolis, Md., march into Bancroft Hall. GGA Image ID # 16da653246
Typical Career Men of the U. S. Navy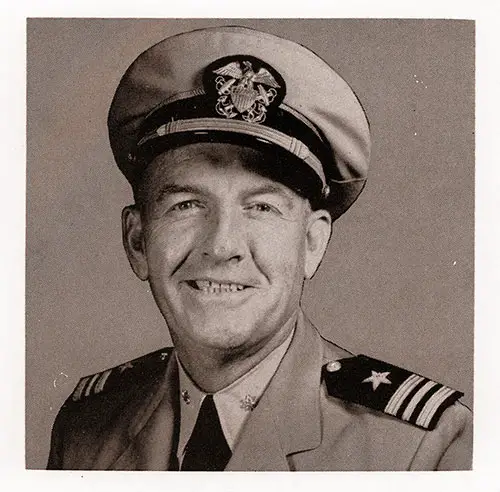 Lieutenant commander Homer M. Percifield, U. S. Navy, was enlisted in the regular Navy at Indianapolis, Indiana, in 1932. After undergoing recruit training at the Naval Training Center, Great Lakes, Illinois, his first duty assignment was the battleship USS MARYLAND (BB-42).
During his six and one-half years on the MARYLAND, he was assignee! all deck seamanship billets from seaman deck hand to division leading petty officer and was advanced through all rates from seaman to boatswain's mate first class.
In 1939, Mr. Percifield was transferred to the USS MARBLEHEAD (CL-12) and in 1942 was appointed chief boatswain's mate. On 15 August 1943, he was commissioned an Ensign in the regular Navy. At the present, Mr. Percifield is the Training Officer in the Service School Command at Bainbridge.
After a course of instruction at the Naval Ordnance and Gunnery School in Washington, D. C., in 1945, Mr. Percifield saw duty at the Naval Shipyard in Long Beach and was transferred to the destroyer USS LOWRY (DD-770) in 1947 for duty as First Lieutenant and Training Officer.
Later in 1947 he was on duty at the Navy Recruiting Station in Pittsburgh, Pennsylvania, as Assistant Officer-in- Charge and Public Relations Officer. While in Pittsburgh, he received his promotion to the grade of Lieutenant.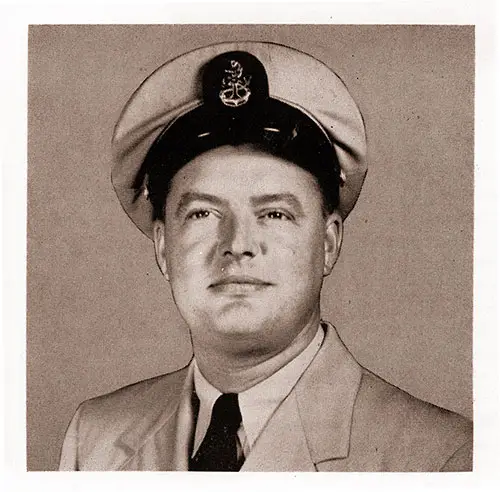 JOHN J. CARROLL, Chief Quartermaster, U. S. Navy, completed recruit training at the Naval Training Center, Great Lakes, Illinois, in July 1943. During World War II, he served aboard the USS LCI (L) 361 in the Asiatic Pacific area during the invasions of HoIIandia, Montai, and the Philippine Islands.
After the war, Chief Carroll was on board the USS SAGAMORE (ATO-20) and the USS MARQUETTE (AKA-95) for duty.
During the Korean conflict, having previously seen duty on a destroyer and a light cruiser, he was transferred to the USS BEXAR (APA-237) for its operations during the invasion of Inchon and Wonsan. If was as a result of this last duty for which he received a letter of commendation.
Prior to reporting to the Recruit Training Command at Bainbridge, Chief Carroll served on board the USS ASHLAND (LSD-1) in supply operations at Thule, Greenland. Since arriving at Bainbridge in September, 1932, his duties have included those of Company Commander, Academic Instructor and Battalion Adjutant.
Chief Carroll wears the Good Conduct Medal, Letter of Commendation, American Theatre, Asiatic-Pacific, Philippine Liberation, World War II Victory, National Service Defense, European Occupation, United Nations and Korean Service ribbons.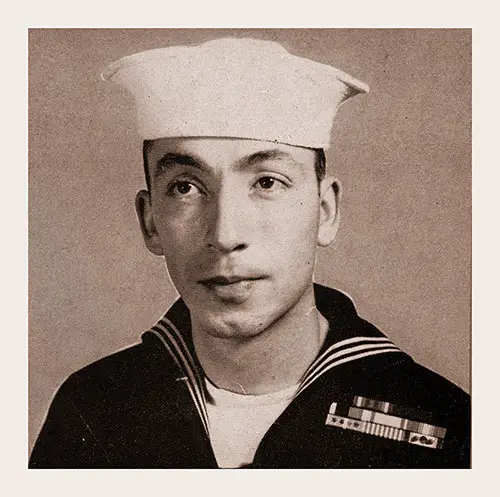 BURNETT WALTER CARTER, Fire Control Technician First Class, U. S. Navy, was graduated from high school in 1949 and enlisted in the regular Navy. He underwent recruit training at San Diego, California, and was subsequently ordered to Washington, D. C., for a tour of duty under instruction in the Fire Control Technician Class 44A" School.
Upon completion of his training he received orders to the destroyer USS MANSFIELD which was operating in the bombardments off the coasts of Korea. A short time later the MANSFIELD participated in the invasion of Inchon after which it was struck by a mine and returned to the United States.
In three succeeding tours with the MANSFIELD in the Far East, Carter became entitled to wear the Navy Unit Commendation and Good Conduct Medal, the Navy Occupation, China Service, American Defense, Korean Service, United Nations, and the Korean Presidential Unit Citation ribbons.
For three months of the four year duty on the MANSFIELD, Carter was trained at the advance Fire Control Technician School in Washington, D. C. During the past year he was transferred to the Naval Training Center at Bainbridge where he is currently serving as an instructor in the Fire Control Technicians Class 44A" School.