A Cruise on the USS Enterprise (CVAN 65)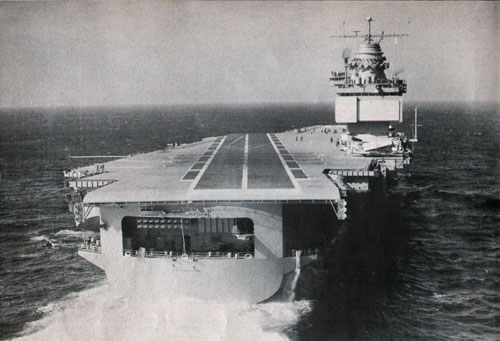 PILOT's EYE VIEW of approach for landing on the deck of USS Enterprise (CVAN 65) looks like this.
A CRUISE ON THE BIG 'E'
After little more than a year of commissioned service, the nuclear-powered aircraft carrier USS Enterprise (CVAN 65) has had a statistical check-up that indicates she's as naval as she is novel. Items from the carrier's book of Fs (for First, Fastest, Furthest, Fattest, etc.) :
24 Sep 1960—First CVAN, world's longest ship, christened Enterprise.
29 Oct 1961—Enterprise commences six days of builder and preliminary acceptance sea trials.
3 Nov 1961—Trials completed; breaks many records for heavy combatants. Beams ADM George W. Anderson, Jr., CNO: "I think we've hit the jackpot."
25 Nov 1961—Enterprise commissioned.
12 Jan 1962—Following fitting out, CVAN puts to sea for the first time as a commissioned ship.
17 Jan 1962—First arrested landing aboard Enterprise is made with an F8E Crusader jet fighter piloted by CDR George C. Tally, Jr., Commander of Carrier Air Group One.
Jan 1962—Enterprise's first operational assignment is space capsule recovery duty with Project Mercury Sea Recovery Force off Bermuda. Space shot postponed; CVAN, returns to Norfolk, Va.
Feb 1962—First operational squadron of Mach II A5A Vigilante attack bomber aircraft loaded aboard Enterprise at Mayport, Fla.
15 Feb 1962—Speedy (1606 mph) F4B Phantom 11 jet fighter records Enterprise's 1000th arrested landing.
5 Apr 1962—CVAN completes shakedown training.
14 Apr 1962—U. S. Second Fleet demonstrates aerial and surface firepower. Observers on board Enterprise: President Kennedy, Congressmen, foreign diplomats.
16-18 Apr 1962—Final acceptance trials; CVAN enters yard for post shakedown availability.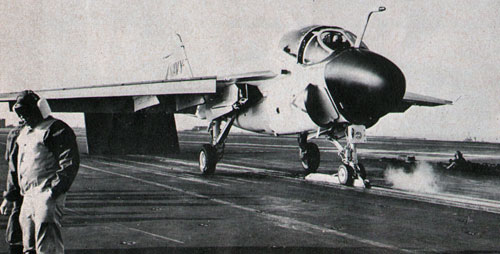 READY TO ROAR—A-6A Intruder gets ready for launching from Enterprise.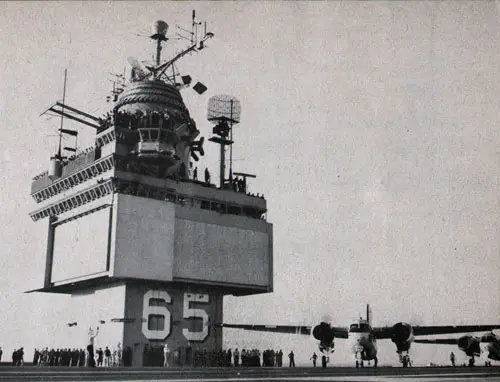 OUT FOR LAUNCH—Crew members watch carrier's first aircraft launching.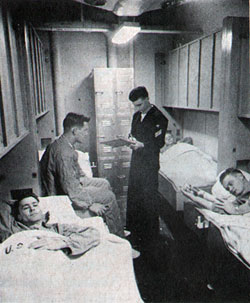 SHIP SHAPE—Corpsman checks patients in modern sick bay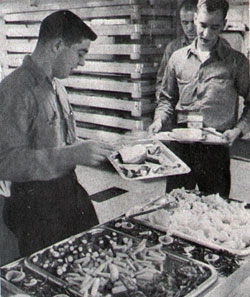 Carrier-Crewmen Help Themselves to Food
25 Jun 1962—Officially joins Second Fleet. First assignment is type training exercises in WESTLANT.
4 Jul 1962—First official port of call: Boston, Mass.
5 Jul 1962—Departs Boston; participates in first large scale fleet exercise while en route to Norfolk.
3 Aug 1962—Departs Norfolk for first assignment with Sixth Fleet in Mediterranean; participates in her first NATO exercise with ships and aircraft from France, United Kingdom, and Portugal. Enterprise aircraft land on British carriers and foreign aircraft land on CVAN for the first time.
16 Aug 1962—Enterprise is first nuclear-powered surface ship to operate in Mediterranean; introducing two fast, powerful jet aircraft to Sixth Fleet (Phantom II and Vigilante).
27 Aug 1962—Makes first call to a foreign port (Cannes, France).
10 Sep 1962—Arrives at Naples, Italy for eight-day visit; receives first foreign chief of state (President Antonio Segni conducts inspection on 14 Sep).
11 Oct 1962—Concludes first overseas deployment ( during which her 5000th, 6000th, 7000th and 8000th arrested landings were recorded) upon arrival in Norfolk.
Oct 1962—Participates in Naval Quarantine of Cuba.
23 Nov 1962—LTJG Sidney Tucker Taylor of Attack Squadron 64 makes his 100th landing aboard Enterprise; is first pilot to qualify for ship's Centurion Club.
According to Enterprise statisticians, the CVAN is also the first carrier to steam more than 65,000 miles during first year of commissioned service; and, since World War II, the first carrier to record more than 10,000 arrested landings during its first year of commissioned service.
The bulk of the interest in Enterprise, however, is usually based on her vital statistics as the world's longest ship. She is more than 1100 feet in length, displaces 75,700 tons (standard displacement), and measures more than 250 feet across the widest portion of her broad flight deck.
Equally important, insist the men who operate Enterprise, is the punch she carries in the form of 100 aircraft of various attack and fighter design. These, they say, make her a very big lady indeed.
Below: Photo shows size of hangar deck.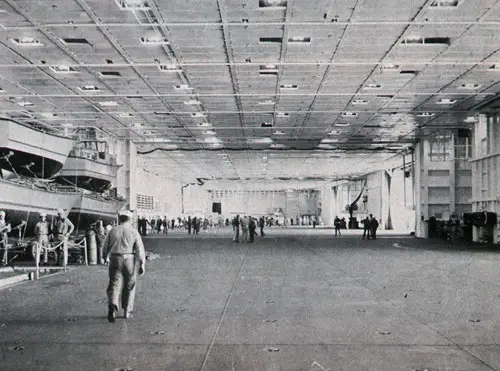 MARCH 1963 ALL HANDS MAGAZINE