Enlisted Wave College Grads May Apply for Commissions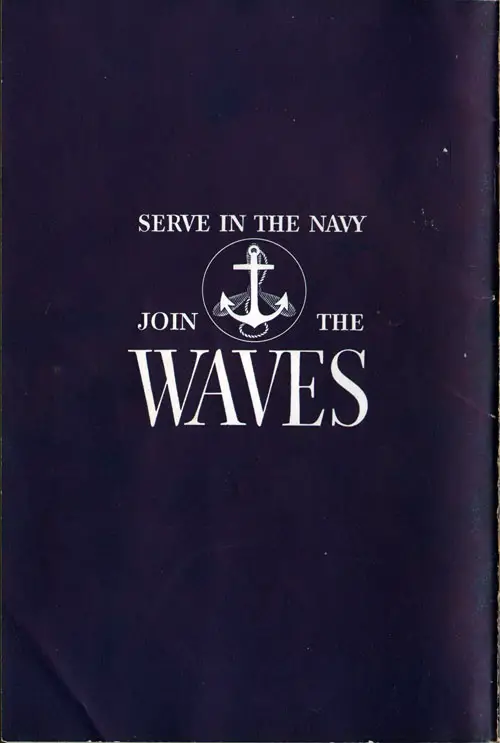 Applications from enlisted Navy women who have college educations for commission in the line or Supply Corps are now being accepted. Also, former service women — officers and enlisted — members of Reserve components of all branches of the armed forces, and women without prior military service are eligible to apply through offices of naval officer procurement.
Enlisted Wave college graduates are invited to apply for appointment to the rank of ensign in the line or Supply Corps by BuPers Circ. Ltr. 173-49 (NDB, 15 Oct 1949). The following three paragraphs given in the circular letter govern the time element involved in submitting applications:
Two indoctrination classes for accepted line officers are expected to be convened yearly. Applications received in BuPers between 15 May and 15 October of each year will be considered for the class convening the following January. Applications received between 15 October of one year and 15 May of the following year will be considered for the class convening the following July.
An indoctrination class commencing in January 1950 is now scheduled for selected Supply Corps candidates. To be considered for this class, applications had to be received in BuPers before 15 Oct 1949. Applications received after that date and now being received will be consid ered for later classes when the convening dates have been set.
Applications for the above programs will be considered once only. If the candidate is notified of her rejection, a new application must be submitted if further consideration is desired. A period of one year from date of original application must elapse before a new application can be submitted.
When applications are received in the Bureau of Naval Personnel, they will be screened for completeness and compliance with the basic qualifications. The application files will be delivered to the selection board convened-to select these candidates. Appointments and orders will be delivered to selected candidates via official channels. Candidates found not qualified, or not selected, will be notified in writing by the Chief of Naval-Personnel.
As outlined by the circular letter, applicants must:
Be not less than 21 nor more than 25 years of, age on 1 July of the year in which appointed.
Be a graduate of an accredited college or university. Applicants for the Supply Corps with a background in business administration are particularly desired.
Be physically qualified in accordance with the physical requirements for original appointment in the U. S. Navy as set forth in current Bureau of Medicine and Surgery Instructions.
Be a native born citizen of the U. S., or naturalized for a period of at least 10 years.
Establish, mental, moral and professional fitness, and aptitude for the naval service. This will de determined by interviews, investigations, and review of high school, college and employment records.
Be unmarried at time of appointment.
Must not be the mother of a child under 18, regardless of the legal custody of the child. She must not be the adoptive parent or personal custodian of a child under 18, nor the stepparent of a child under 18 if the child lives within her household for more than 30 days per year.
She must be entitled to an honorable discharge.
Applications from enlisted women on active duty should be forwarded to the Bureau of Naval Personnel (Attn: Pers-366) via the CO. Applications will consist of the following documents:
Application for Commission ( NavPers 953A) - two copies. These may be obtained from any naval district printing and publications office. Photos may be omitted if 'already on file in BuPers.
Educational transcripts—one copy from each high school and college attended, if not already on file in BuPers.
Report of Medical Examination (Standard Form 88)— two copies, (Form 89) attached to original.
Candidates will be required to take the Officer Qualification Test. Tests and instructions will be issued by BuPers after applications are received.
Women selected for appointment to the line will be ordered to the General Line School, Newport, R. I., in January and July, for indoctrination. The course will be five months in length. Following their indoctrination course, these ensigns will be ordered as junior officers to various shore activities for duty. Their types of duty will consist of personnel work, public relations, training, publications, intelligence, communications, logistics, operations or any similar type of duty where there are authorized billets for military personnel.
Women selected for appointment in the Supply Corps will be ordered to the Navy Supply Corps School at Bayonne, N. J., for indoctrination and supply training.
Requests for separation from the Regular Navy for the reason of marriage will not be approved until the women have completed one year of active service.
The Bureau has established a policy for rotation of duty between districts and commands within the continental U. S. and between selected overseas bases. Women may express preference for duty, but all assignments, including overseas, will be based upon the needs of the service.
The Bureau expects that there will be opportunities in the future for enlisted women who are unable to meet the present educational requirements, to qualify for appointment.