Navy Nurses At Sea on the USS Repose (AH 16)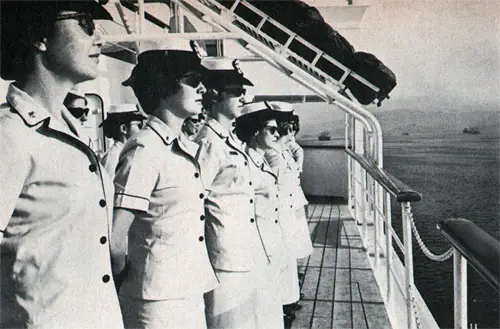 AT SEA—Navy nurses stand formation as USS Repose enters Subic Bay.
ABOARD U. S. NAVY hospital ship USS Repose (AH 16) there are 19 Navy nurses, most of them volunteers, and for many it is their first trip in a Navy ship. They are looking forward to the travel and excitement that the months ahead' will bring.
Lieutenant (jg) Leanna Crosby is typical of the Navy nurses aboard Repose. Miss Crosby, a graduate of the St. Luke's School of Nursing in Denver, Colo., has been in the Navy for two years and was previously stationed at the U. S. Naval Hospital, Oakland, Calif., before reporting aboard the hospital ship.
Like many nurses, she had worked in a stateside hospital for a year. Recognizing that she could work in her field and travel too, she decided to choose the Navy as a career. "The sea service is just what I was looking for and I enjoy the assignment. It also provides an opportunity to work in the best equipped hospitals," Miss Crosby said.
| | |
| --- | --- |
| AT WORK—Navy nurse Crosby escorts patient from recovery ward. | Navy nurse Hill checks patients' medical records with corpsman. |
Her main duty is that of nursein-charge of Repose's orthopedic ward, much the same as it might have been in a shore-based hospital. "After we've spent some time at sea, there is a tendency to forget that we are afloat, as treatment and care of patients is the same as in a shore-based hospital," she added.
In addition to her regular duties, she also instructs Navy corpsmen in nursing procedures, care of patients, and use of medical equipment aboard the hospital ship.
Nurse Crosby's feelings about her shipboard duty reflect the thoughts of many of the nurses aboard: "It is like living and working in a community where we have started our own society. The sea is very relaxing;' I enjoy this type of duty very much and feel it is a choice assignment for a Navy nurse."
The ports USS Repose may visit in the future interest the nurses, and Nurse Crosby is no exception. She reads about different places and asks the travel veterans aboard what each place is like. "It is difficult to imagine many of the ports we may visit. There is always an air of excitement when the ship heads for a new one," she exclaimed.
When asked about the other nurses aboard, Miss Crosby said: "It's like one big family; I have never been anywhere where nurses get along so well—they're just great."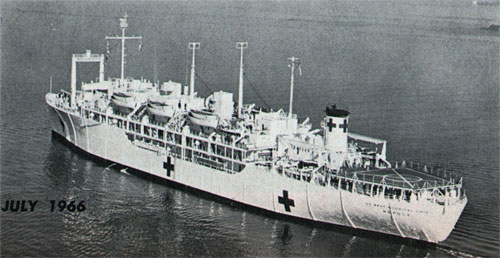 STANDING BY—USS Repose (AH 16) sails along the coast of South Vietnam.