The Story of WAVES Recruit Training
US Navy WAVE Recruits Stand at Attention. GGA Image ID # 13f862f37a
Early in the history of the Women's Reserve of the U. S. Naval Reserve, a song was written to be used alone or in counterpoint with the famous and stirring "Anchors Aweigh":
WAVES of the Navy There's a ship sailing down the bay And she won't slip into port again Until that victory day.
Carry on for that gallant ship
And for every hero brave
Who will find ashore his man-sized chore
Was done by a Navy WAVE.
To "carry on" was the mission of the women in the Navy during the years of World War II, to replace ashore the manpower so vitally needed for the many new ships coming off the ways.
Their immediate task finished with the close of that war, the majority of the women in the services were discharged or released to inactive duty by September, 1946.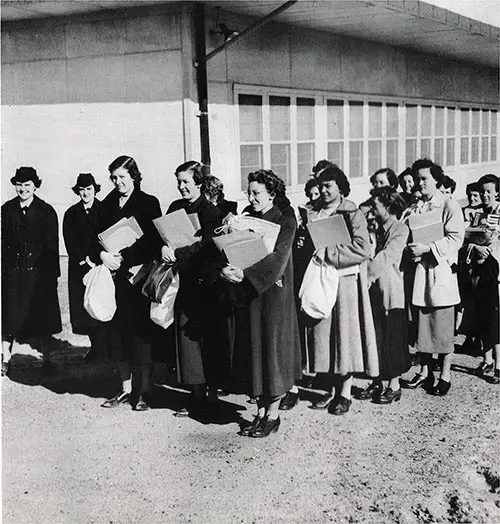 New Group of Wave Recruits Arrive at Bainbridge, Maryland's Naval Training Center. GGA Image ID # 13f865cc17
However, they had proved their worth in many fields, many more, in fact, than had even been dreamed of at the initiation of the women's components; and the Armed Forces were not willing to give up their help entirely.
Public Law 625, passed in June, 1948, marked a new era in the history of the armed services. For the first time women outside the medical services were to become an integral part of the regulars, Army, Air Force, Marines, and Navy.
Many of the wartime enlistees who had continued on active duty shipped over.
Those who had been discharged or released to inactive duty were given an opportunity to enlist in the Regular Navy before the doors were opened to women with no prior naval service.
In December, 1948, the first class of enlisted women of the Regular Navy finished their period of Recruit Training. Since that time several thousand young women have graduated from Recruit Training (W), a part of the Recruit Training Command located first at Great Lakes, Illinois, and since November, 1951, at Bainbridge, Maryland. The new Seaman Apprentices have been sent to duty as follows: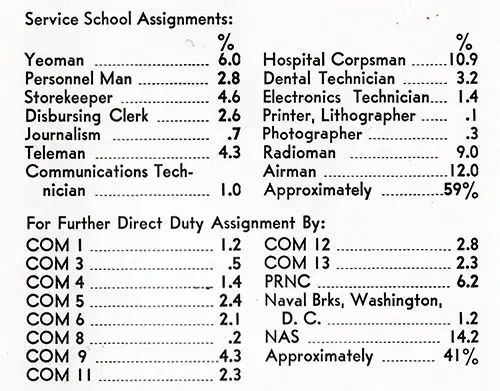 Table 1: Waves Recruits Percentage of Service School Assignments and Percentage For Further Direct Duty Assignment. GGA Image ID # 13f77e87e1
The staff of Recruit Training (W) follows with interest the progress of the graduates; for the degree of success of the training given is finally determined by the caliber of the service rendered after the individual has become a working member of the Navy's Shore Establishment.
During the period of the recruits' basic training the staff tries faithfully to accomplish the objectives of the Recruit Training Command. The objectives for men and women trainees are identical except for the wording of one statement.
This change in wording is made necessary because women are prohibited by law, except in special instances, from assignment to shipboard duties. These objectives are:
To effect a smooth transition from civilian to Navy life.
To develop observance of naval customs and traditions, appreciation of naval history, and obedience to naval discipline based on knowledge and understanding as well as by rule and regulation.
To provide sufficient knowledge of naval subjects and Navy jobs ashore and afloat (for men: to provide sufficient knowledge and skill in seamanship, ordnance and gunnery, small arms, firefighting, and other naval subjects), and to attain a degree of physical fitness that will enable the recruit to be of early usefulness to her (his) station (ship).
To promote high standards of responsibility, conduct, manners, and morals.
To develop an understanding of the importance of teamwork and the responsibility of a Navy woman (man) to her (his) shipmates and to her (his) duty station (ship).
To inculcate an understanding and appreciation of the fundamental workings of democracy, the Navy's place in our democracy, and the American way of life.
To develop within the individual an understanding of her (his) status in, and importance to, the Navy—a sense of belonging, of being needed; to develop on the part of the individual a desire for self-improvement and advancement; to develop pride in self and pride in the Navy.
The recruits arrive at the training center for the most part "raw" civilians, knowing little actually of the life they are about to enter, looking forward to, and perhaps somewhat fearful of, the experiences which lie ahead of them.
They are prompted to enlist by many motives—desire for travel or for a career, to save money, to undertake further civilian education, and to wean themselves from family dependency are a few pf the reasons given.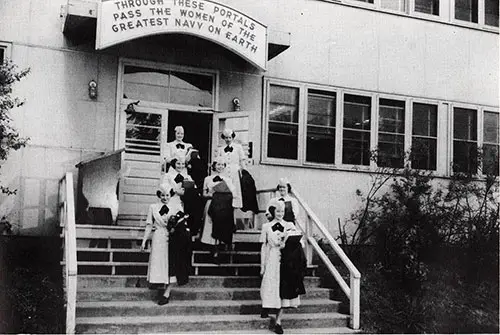 Waves at the Naval Training Center at Bainbridge. GGA Image ID # 13f8a7af87
The motivation on the whole is such that few misfits are discovered. Those recruits who are noticeably unsuited for military service are weeded out as quickly as possible.
A very small number, whose adjustment to the program is accomplished more slowly than the majority, are held to repeat part or all of the course and assimilate the training to the extent that it is possible to send them out for duty.
A challenge and a satisfaction probably different from that experienced in any other duty assignment comes from working with recruits. The work is demanding and arduous, the hours often long, but the rewards come quickly and repeatedly.
To watch the metamorphosis from dazed civilian to poised, promising apprentices and# to know that you have had a hand in making that change is a gratifying experience to the staff.
The recruits themselves are appreciative of these changes. They say, "I just don't feel like a civilian anymore; I feel as if I have been here always."
Where do they come from, these recruits? They come from all over the country. The breakdown by recruiting headquarters gives the general geographical areas from which the recruits are drawn:

Table 2: Percentage of WAVES Recruits from Geographical Areas (Cities). GGA Image ID # 13f780a32c
Five recruits have been sent from the Territory of Hawaii and one from Puerto Rico.
This broad geographical picture, however, cannot begin to tell the story of differences of family and social background, of training and experience, and of the personalities which result from this diversity of background.
A survey was made of the occupational groups represented in the first five recruit companies. These groups were broken down according to job titles as listed in the Dictionary of Occupational Titles. One hundred and one titles were represented as follows: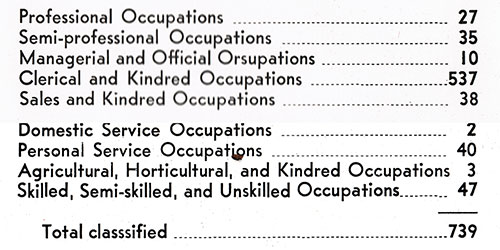 Table 3: Civilian Occupations of Waves Recruits. GGA Image ID # 13f798d3b3
The largest single group represented was that of general office clerk, numbering 114. Telephone operators placed second with 99 representatives, stenographers and typists third with 86, bookkeepers and cashiers fourth with 50.
There were 28 secretaries, 24 office-machine operators, 23 cash clerks, 20 waitresses, 18 laboratory technicians and assistants, and so on down the line, with a few representatives or a single representative for housekeepers or hostesses, guides, photographers, teachers, radio operators, pharmacists, typesetters, packers, metal workers, etc.
The picture has changed somewhat since July, 1951, because of the lowering of the age requirement to eighteen. Since that time approximately forty per cent of the recruits have been eighteen- and nineteen-year-olds with little or no work experience.
However, even this change does not alter the fact that these are completely heterogeneous groups with which the staff works and which, in the time allowed them, they hope to mold into teams of good Navy people with a sense of belonging and with an understanding of their own position in relation to the whole naval organization.
Some of these recruits have high standards of cleanliness; some have not. Some are neat; some are not. Some like a great deal of fresh air at night; some object strenuously to open windows.
Some come fresh from their school days; others have been away from studies of all kinds for years. Some are good students, with high scholastic aptitude; others are poor students who have managed barely to scrape through their school years.
A few are college graduates; a few have not completed high school and must pass a general educational development (GED) test in order to qualify for enlistment.
Some are spoiled children who still expect the world to revolve around them. Some are alert, quick to respond physically; some are slow in movement and in understanding. All are definite individuals, acting as such in the light of their own experiences.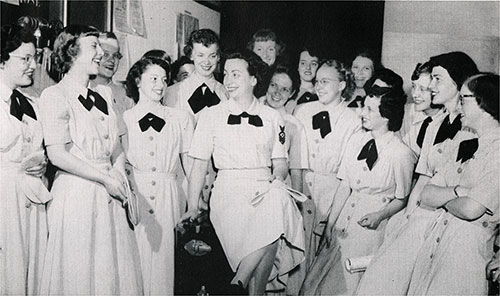 A Chief and Her Company of Wave Recruits at Bainbridge. GGA Image ID # 13f8df65f2
This is no small task that is undertaken since there is a continuing weekly flow of incoming and graduating companies. The contrast between new and advanced groups frequently acts as a spur to the recruits and to the staff.
At moments in the early days of a company, the staff might become discouraged and wonder whether the new groups can ever be made into something presentable. Then they look at the advanced groups and know that what has been done before can be done again.
Training begins the moment a recruit enters the Training Center at Bainbridge. Recruits find themselves immediately marching in formation wherever they go, even though that formation might number only four or five.
They acquire a petty officer from the military staff who directs their every waking moment. Their numbers grow to company size, and, with convening date each Thursday, life as a recruit moves with a fully packed schedule into full swing.
Twenty-four hours a day resolve themselves into a training pattern; yes, 24 hours, for it is doubtful whether even the recruits' sleeping hours remain absolutely their own.
Silence is broken by the half-hourly rounds of the barracks security watch, maintained by their own company members and to which everyone falls heir numbers of times during the following weeks.
By the time they complete their basic training, they are well aware of the vigilance necessary to stand a watch in the Navy and have learned the proper procedure generally followed at Naval Stations for fire and air-raid practice.
But at least during the sleeping hours things slow down a bit and can be enjoyed in a supine position. From the moment reveille and "hit the deck" sound, things go at a mad pace, and every single phase of action is pointed toward getting an understanding and appreciation of the Navy way of doing things and practice in doing them in the prescribed manner.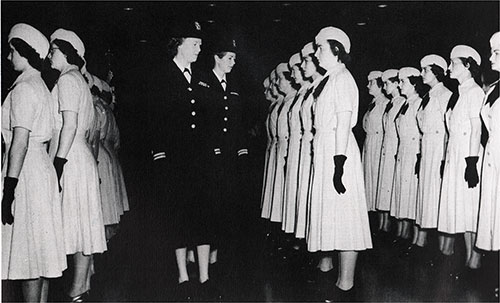 Inspection of Wave Recruits, Standing in Formation. GGA Image ID # 13f942b7b1
The first week is devoted to a special processing-in schedule. This is a foretaste of the maze of things to follow. It is made up of all kinds of special phases of the program which are to assist the recruit in the process of bridging the gap between civilian and military life.
haircuts come first, with the shedding of many a tear. No male recruit could ever look more scalped after his first recruit cut than do the women after they lose their long, and to their thinking, glamorous locks.
Medical and dental examinations, medical shots, classification tests, uniform issue, the fitting of the first Navy blue suit, the laborious hemming of the working grey uniform, stenciling of clothing, shipping home of civilian gear, instruction in stowing gear in their individual lockers, learning to make a bunk according to Navy standards of perfection, taking of identification pictures, and reassignment of bunks according to the individual's placement in the alphabet all follow in swift succession.
There are greetings by almost everyone on the station, it seems—the captain, the officer in charge, chaplains, and the insurance and Red Cross representatives.
By the end of the first week the recruits are more than ready to welcome the standard schedule, which will hold, with exceptions to be sure, for the following eight weeks.
One of the deviations from the standard schedule is the service training period. The Navy has long held to the tradition of performing its own services and in these services the women take their part.
During this period, they are trained in the performance of duties in the mess hall; cleaning of the many buildings in the area; shoveling snow, or planting flowers and raking leaves as the season dictates; messenger services, laundry-house supervision, security watches in barracks, assisting in the library, uniform issue room, processing of new recruits, and the like.
Each recruit's assignments are varied as much as possible during this period so that she receives training in numerous phases of the program.
The service training period is neither dreaded nor disliked by the recruits. Actually, they look forward to it with anticipation because of the opportunities it affords them to become a part of a working team.
Their favorite assignment is for duty in the mess hall even though this assignment means starting the working day some 70 minutes earlier than usual.
The recruits finish this period of their training with a sense of definite accomplishment, greater feeling of belonging, and renewed vigor for the final weeks of their training as recruits.
A schedule of the routine daily activities is listed below: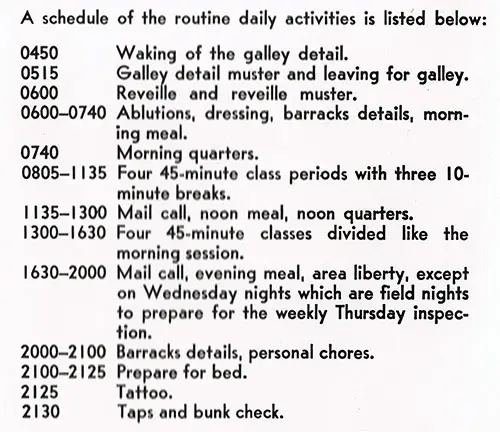 Schedule of Routine Daily Activities for Waves Recruits in 1953. GGA Image ID # 13f7d904fd
For ordinary living, two hours between rising and a first class period seems a more than ample time allowance for everything that requires doing. In any boarding school or college, where breakfast is not a compulsory part of the schedule, falling into clothes and arriving just half a minute or so late for class can be done in five to ten minutes.
Not so in the Navy. These two hours are full of activity—showering, mustering for mess, messing, mustering again, returning to the barracks, and completing the morning's details by 0740.
A minute lost means something left undone. Bunks are to be made, lockers left in apple-pie order according to the chart posted on each locker door, and cleaning responsibilities in lounge, head, shower room, etc., must be discharged properly, or those demerits will be adding up right and left.
And, as if getting all this done isn't sufficient, the recruit herself has to be a sample of perfection sartorially—uniform properly worn, tie correctly tied, haircut or combed in close contour and not covering her collar, shoes brightly polished. All of it takes time.
Morning quarters, with recruits aligned in company formation, is a time for learning of changes in the day's schedule, the publishing of notices and other information, the receiving and checking of muster slips and the reading of one or more sections of the Uniform Code of Military Justice.
Following morning quarters come the more formalized aspects of the training program, including instruction in Drill, Health or Swimming, Jobs and Training, General Orientation, Ships and Aircraft, Naval History, and Naval Organization, with one period each day allowed for administrative matters and study.
Administrative period covers a multitude of odd items which need taking care of periodically—further shots by the medical department, pay day, linen exchange, necessary trips to the bank and post office, interviews with the chaplain, dental appointments, haircuts, and, very occasionally, routine washing and ironing of personal gear.
The study period is invariably crowded with so many things demanding attention that the 45 minutes assigned literally melt away.
In the classroom, although the subject matter is divided into specific courses for greater ease in presentation, the work adds up to one over-all picture of naval life as a unified whole.
History gives the background upon which an understanding of recent and current developments and happenings can be based. Here is developed an appreciation of the "ups and downs" of the Navy, its periods of growth as crises neared, its periods of decline as wars ended and citizens became tired of a military emphasis.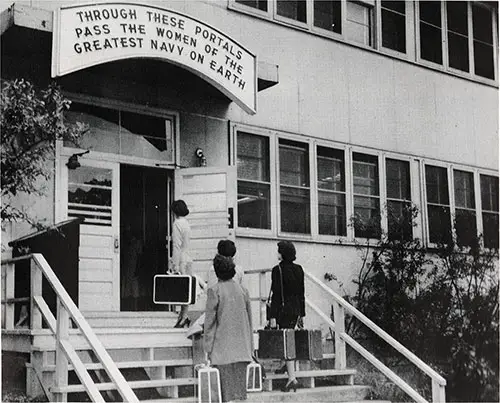 New Wave Recruits Enter the Recruit Training Command at Bainbridge Naval Training Center. GGA Image ID # 13f9a8a35b
World War II, so real to those of us who served through it, becomes real for the first time to many recruits as they view the excellent films showing the actual progress of the war.
What had been isolated radio announcements and newspaper articles on war events begin to assume their proper position in the story of World War II as it developed and was carried to completion.
Current events and citizenship lectures also take their appointed places among the history classes and make one more thankful than ever that America is our country.
In Jobs and Training the recruit learns first of all about the ratings which will be open to women. Naturally this is of primary interest to them for approximately 50-60 percent of them will be sent on to Class A schools following the recruit training period.
Completion of this section of the course prior to their classification interviews gives them a basis for discussing with the classifier their interest in a particular field and assists them in making their choices for assignment.
But a knowledge confined to the ratings for which they themselves might qualify is far from sufficient. The men have been running this Navy successfully for a long period of time; the Navy is still going to be made up of men— 98 percent of it or more.
If women recruits are to be able to fit into their own small niches, assuming their proper positions as working members of a very large outfit where there are many jobs which are beyond them physically, then it is necessary for them to recognize the ratings hold by men only and to understand something of the basic responsibilities of those ratings.
So the woman recruit is introduced to the deck, ordnance, engineering and hull, construction, and steward groups and develops a speaking acquaintance with the insignia and the basis responsibilities of the men's ratings.
The Navy's Information and Education Program is introduced and information is given on the way to obtain help in planning further programs of study after the women arrive at their new duty stations.
Instruction is given on allowances, Government Life Insurance, Navy rates and pay grades, and opportunities for advancement. The recruit begins to realize to a greater extent the importance of the Chief Petty Officer in the Navy and that such a rate is not acquired overnight just because one happens to be lucky.
Ships and Aircraft is another course which seems rather far removed from any immediate need the recruits might have. Yet it is usually voted the most popular of the courses, probably because the knowledge gained, the entirely new and different vocabulary, make them feel more at home in and a part of the organization they have Joined.
Being able to talk about all of these ships and aircraft with a workable vocabulary and some degree of understanding and intelligence concerning their functions in the scheme of things fires the recruits with added enthusiasm and interest.
Their assignment to shipboard duties might be confined to hospital ships and transports but they are going to have a bit of "savvy" just the same.
The topics discussed in General Orientation are those of the most practical and immediate value. The knowledge gained here will of necessity be far from passive. It will not be sufficient to know HOW to wear the uniform—one must wear it correctly.
Customs of the Service must be known and observed. Saluting must be done properly and at the proper time. Things to do and not to do come so fast and furiously that it is small wonder a recruit, who was asked the proper expression to use when desiring to pass an officer she had overtaken on the street, stammered out, "By your rear, Sir!"
Understanding the Navy's legal system is a bit difficult for the uninitiated. But, as time goes on, the courts martial begin to make sense, and the recruits leave their training in General Orientation class with resolves to stay clear of all such entanglements. Assignment to work in departments dealing with such matters might be fine, but they would prefer, in this instance, to be outside looking in.
US Navy Wave Recruits Study "This is Your Navy" Book, a Supplement to the Bluejackets Manual. GGA Image ID # 13fa201a55
Naval Organization, introduced when the recruits are in the advanced portion of their training, takes on real meaning. At this point, they are able to grasp and begin to appreciate the framework around which the Department of Navy is built and its relationship to the Department of Defense. It becomes rather interesting to follow the chain of command down the line from the President of the United States to their own position, and to understand how they, as individuals, fit into the Naval Establishment.
Almost every recruit non-swimmer learns to swim during her stay in recruit training even though her accomplishments may be limited to the elementary back stroke.
This is a beginning, and further progress can be made at the recruit's next duty station. Physical exercise, team games, rhythmic activities, and lectures and movies on personal hygiene, first aid, posture, and the like, are all a part of the health program.
The eighth regular 45-minute periods is assigned to drill. During this period the recruits are taught how to execute the many movements which they carry out during the day, as they stand at parade rest tor quarters, at attention for personnel inspection, as they do a column right marching from class to class, or as they perform an oblique on the way to mess.
"Drill has made me what I am," they sing, for drill is a continuous part of their daily program as they march in platoon formation wherever their schedule calls for them to be.
But drill has further significance in the life of the recruits. The first recruit group entering training in October, 1948, arrived just in time to be rushed into participation in the final Great Lakes review of the 1948 season.
Saturday morning reviews on Ross Field became a tradition at Great Lakes. Each week from May through October these reviews gave many visitors, dignitaries, and station personnel an ever replenished and heartwarming satisfaction.
These are all-recruit reviews, served as graduating exercises at the training centers and until the final review of 1948 they had been all male recruit reviews.
Tradition broken, it was assumed that the WAVE recruits would be regular participants during the following seasons. Such participants they became, and much training and practice were necessary to insure the creditable performances which they maintained throughout the review months.
In the minds of the commanding officers of the Training Center, it was unthinkable that a graduation review could be held without the WAVE companies participating.
This practice of having the men's and women's graduation reviews together has been continued at the women's new training center. Here, too, a review having once included the women seems incomplete without them and so each Saturday morning at Bainbridge, Maryland, the women take their place beside the men participating in all parts of the ceremonies except the manual of arms.
A further development in the field of drill is the precision drill team of 32 especially selected recruits. Former drill teams have performed at all kinds of public appearances as well as at the weekly graduation reviews.
In their performances away from the station, the teams serve as fine public relations agents. Practicing for this team takes a great deal of extra time since the required precision comes only by going through the routines over and over again.
However, all the practice seems worthwhile when the participants finally achieve that feeling of oneness, of perfection in each maneuver, and receive the enthusiastic applause of their audiences. Positions on the team are vied for and membership is a matter of real pride.
Religious life in the Navy is a part of the regular curriculum established for the Recruit Training Program. Chaplains meet the recruits early in their processing-in activities and through group and individual interviews, acquaint them with religious life in the Navy and the role that is played by the Chaplain.
Attendance at church services, while voluntary, is encouraged; and every opportunity is offered for recruits to continue their church relationship while they are in the Navy.
Religious instruction is arranged for those non-church related recruits who express an interest in such instruction. All recruits are introduced to the character guidance program of the Navy through a series of four regular lectures by the Chaplain.
Opportunities for conferences with chaplains of their own faiths and the realization that the regimental chaplain is available for counsel and guidance at all times make the chaplain a real force in the lives of the recruits.
Despite the fact that so many of their waking hours are occupied by assigned duties, many of the recruits find time for extra-curricular activities. Choir practices and performances, company shows, swimming meets and shows, company picnics, bi-weekly recruit dances, attendance at the male recruit "smokers," and other extra activities are good morale builders and give the recruits the necessary opportunities to "let down their hair".
One recruit, when asked what she thought of recruit training, made the following statement, "There's too much to do, and not enough time to do it." She hesitated, then grinned, and continued, "But we still get it done."
Many recruits have been asked, "If you had it to do over, knowing what you do now, would you still enlist?" and the answer comes back invariably, "Absolutely."
It is small wonder that at the end of the training period the recruits leave with a sense of real achievement, with pride in themselves, and even more pride in the organization of which they now really feel a part. It is small wonder that they feel rather strongly the pangs of parting from friends, from now familiar routine and places, once more not knowing exactly what lies ahead, but realizing that that too is all a part of Navy experience.
They are a singing crowd always, and they can sing with true feeling, "Wo are the WAVES of the Peacetime Navy," "Navy Blue is the Color for You," "Mrs. St. Peter Was a Navy WAVE too," and the peacetime verse of the song which introduced this article:
WAVES of the Navy
We are still marching proudly on
Marching ever onward, ever forward
Now that victory's won.
Carry on, girls in Navy blue
We all have our work to do
With a merry song, we'll swing along—
We still love the Navy way!
LCDR Almira B. Davis, USN, "The Story of Wave Recruit Training." 1953