Types of Recruit Companies at Great Lakes NTC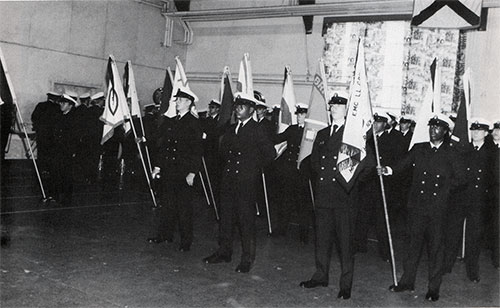 Company Front
There are two types of recruit companies at Great Lakes—regular companies and special unit companies. Although both receive identical curriculum instruction as well as physical and military training, they differ most in their activities during evenings and weekends.
Regular Companies
A regular company will spend much of its free time practicing for competitive events—military drill, athletic contests and inspections—with the goal of attaining Color Company designation at Graduation Review.
Special Units
Special units have a similar program, with the exception of drill, but in addition they must spend many hours practicing and rehearsing for their performances at several reviews.
These units—Drill Team, Drum and Bugle Corps, Bluejacket Choir, State Flags, Honor Guard and Staff Units—also perform in parades and ceremonies in the surrounding civilian community.
End Result
Regardless of the type of company, however, the end results are the same—long hours, hard work and strenuous discipline—as civilians are transformed into fleet-ready sailors.