WAVES - Women's Reserve Separation Information Pamphlet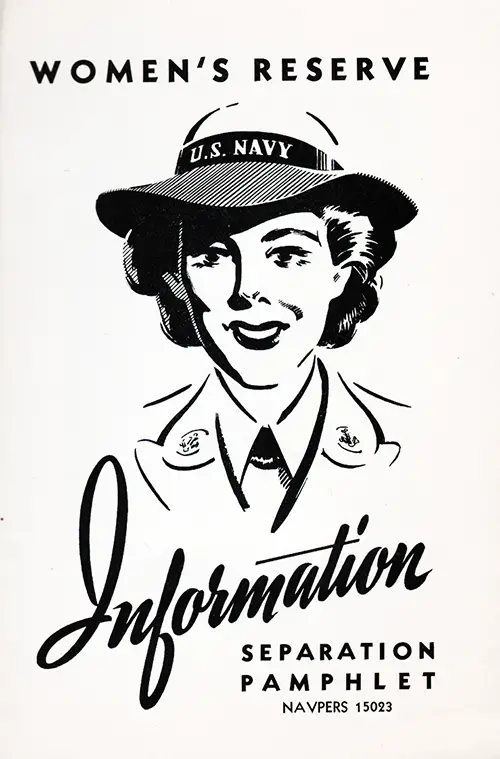 WOMEN'S RESERVE INFORMATION SEPARATION PAMPHLET
You have now entered your last duty station. This Separation Unit has been established to accomplish rapidly and efficiently the separation from active service of Women's Reserve personnel and to assist such personnel in their readjustment to civilian life.
ARRIVAL
SEPARATION at the Separation Unit, you have reported to the Initial Receiving Point, where you turned in your Service Record and papers.
ENLISTED PERSONNEL: Your name and processing roster number will be announced. You will go with your group through all steps in processing and a guide will be in charge of each group. Your processing may be delayed if you are not prompt.
66397s--45

"A job accomplished, a victory won. As WAVES have accepted their responsibilities as citizens in a nation at war, so may they contribute their efforts to the fullest in building a world at peace. Good luck and Godspeed."
Mildred McAfee Horton
Captain USNR
OFFICERS: You will be processed in accordance with the appointments on your Schedule Card.
PROCESSING ORIENTATION
Orientation and Rights and Benefits meetings will be held. The processing steps which you will take while at this Unit will be explained to you as well as your rights, benefits and privileges as veterans.
MEDICAL EXAMINATION
You will be given a complete physical examination. Inform the Medical Officer of any illness or injury you have incurred since entry into the Service. If you wish to file a claim because of disability you will have an opportunity to do so at this time without interfering with or delaying your separation.
NATIONAL SERVICE LIFE INSURANCE
You will be informed fully about your insurance and will be told what you must do to continue it. Insurance Officers will be available. Make sure you are fully informed.
Trained interviewers will discuss during a personal and private interview your civilian and military experiences, and will prepare a PERSONAL INTERVIEW
THINGS TO DO WHEN YOU ARRIVE HOME
Have the Recorder or County Clerk record your discharge certificate. You can then obtain a certified copy any time in the future if the original is lost or destroyed.
Put on civilian clothes. It is unlawful to wear the uniform after you arrive home, except for ceremonies and special occasions. Your uniform may be converted into a civilian suit by removal of all naval insignia and buttons. The white and seersucker hat tops, gray seersucker garrison cap, havelocks, and ties may not be worn.
Make arrangements for conversion of your insurance and for your premium payment if you intend to keep it.
form which will be of use to you after separation in obtaining a job or applying for benefits as a veteran.
Do not hesitate to ask questions on any problems on which you need assistance. There is no time limit on these interviews.
If you wish additional information or assistance concerning your educational, vocational and personal problems—arrangements will be made for an appointment with the following:
NAVY REPRESENTATIVES OF OFFICERS ORGANIZATIONS
Educational Services Officer
Legal Assistance Officer
Benefits and Insurance Officer
Chaplain Veterans Administration
United States Employment Service
United States Civil Service
United States Selective Service
American Red Cross
WEARING OF THE UNIFORM
You are permitted to wear your uniform from the place of separation to your home provided that you go there within three months after the separation date, if separated under honorable conditions except for reasons of inaptitude or unsuitability. It is unlawful to wear the uniform after you arrive home. Until you do take off your uniform, wear it properly and with pride. The discharge certificate or final orders, or photostatic copy thereof, should be carried when in uniform.
RECORDS AND PAY
Questions concerning your records and pay will be answered. You will receive all pay due. Deductions will be made for any claims the government may have. You will receive the travel pay to which you are entitled. Travel pay is computed on the basis of travel by Pullman, but you may travel by coach if you like. If you are entitled to mustering-out-pay you will receive $100 of the amount due. Any balance due will be mailed to you in a monthly installment.
If you wish to invest in War Bonds, or buy travelers checks—such arrangements can be made.
YOU WILL RECEIVE
A discharge pin if honorably discharged
Discharge certificate—Final Orders for officers
Certificate of Satisfactory Service if eligible
Notice of Separation
Rating description for enlisted personnel—Qualification jacket for officers
A Referral Sheet
These are valuable and will be very useful to you in the future. TAKE GOOD CARE OF THEM.
SUGGESTIONS
Veterans are entitled to a special discharge rate of 1 1/4¢ per mile for railroad travel in coaches to the place they choose to go within one month after separation. A certificate which is necessary to purchase this special ticket will be issued here at the time of separation.
Keep your Referral Sheet—A referral sheet will be given to you by the interviewer containing addresses which you may need.
If questions arise concerning your rights and benefits as a veteran, contact by phone, mail or person your District Civil Readjustment Officer.
If your mustering out check or checks fail to reach you after your separation, write to the Bureau of Supplies and Accounts, Field Branch, Cleveland, Ohio.
In correspondence with any branch of the service or with the Veterans Administration or other organizations, be certain to give the same name which appears on your discharge certificate or final orders, your birth date, rank or rating, and serial or file number.
"GOODBYE WAVE GOODLUCK CIVILIAN"
U. S. GOVERNMENT PRINTING OFFICE:1945
SEPARATION UNIT WOMEN'S RESERVE SEPARATION PAMPHLET (NAVPERS 15023)