The Naval Reserve of the United States Navy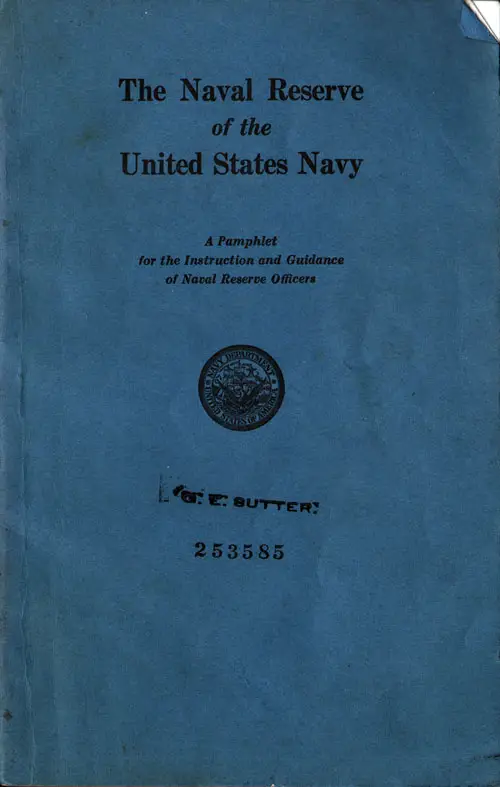 A Pamphlet for the Instruction and Guidance of Naval Reserve Officers

OCTOBER 1942

UNITED STATES
GOVERNMENT PRINTING OFFICE
WASHINGTON : 1942

For sale by the Superintendent of Documents, Washington, D. C. Price 15 cents
FOREWORD FOR THE NAVAL RESERVE OFFICER NAVY DEPARTMENT, BUREAU OF NAVAL PERSONNEL, Washington, D. C., October 1, 1942.
The purpose of this pamphlet is to acquaint newly appointed Naval Reserve officers with certain basic information in regard to the Navy and Naval Reserve as an aid to them in adapting themselves to the Naval Service and increasing their proficiency as Naval Reserve officers.
The information contained herein is of a general nature, and subject to changes either in detail or in broad outlines. It is in no sense an exact or complete quotation of the regulations governing the Naval Reserve, for which reference must be made to the Bureau of Naval Personnel Manual, and other publications.
The Naval Reserve is by law a component part of the United States Navy, which the American people consider their first line of defense. Therefore, when you signed the acceptance of your commission and took the oath of office, you became an integral part of a most vital agency of the National Government, and one of which the American people are justly proud.
The United States Navy from its inception has maintained its reputation for devotion to the national welfare. This reputation has been hard-earned not only by the great deeds of our naval heroes in action but by the constant loyalty and unselfish devotion to duty of all officers and enlisted men, who are confronted daily with the difficult, arduous, and less conspicuous tasks which make the Navy an efficient fighting organization and a worthy instrument of national policy.
The Navy Department, in appointing you to commissioned rank in the Naval Reserve, has indicated its confidence in your ability and intention to uphold the high traditions of the United States Navy and to exercise those qualities of virtue, honor, patriotism, and subordination which constitute the foundation of naval excellence.
RANDALL JACOBS,
Rear Admiral, United States Navy,
The Chief of Naval Personnel.