Hit Da Deck! Cartoons of Life at the Naval Training Center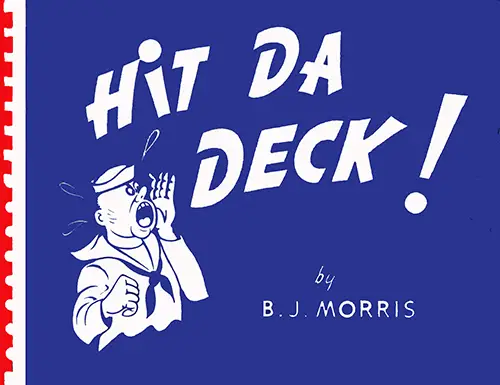 Life at a Naval Training Station, though spent in preparation for a grim task, is not without its lighter moments.
From the time he "goes aboard" in his "civvies" to receive his physical examination and the first immunizing "shots," until he leaves to take up his duties with the fleet, the Recruit finds his time filled with work, drill, and other training designed to harden him for what may lie ahead.
Though he may find the transitional period, known as Recruit Training, hard to take, the average American now getting his sea legs at any of the several Naval Training Stations throughout the country accepts his lot with a great deal of humor.
On the following pages may be seen how many Recruits look upon their first eight weeks in the Navy. However, these cartoons reflect the lighter side of Recruit Training.
B. J.MORRIS
BOSTON:
The LIBBIE PRINTING COMPANY, Inc.
Copyright 1944
Printed in the U.S.A.
Autograph Pages From This Brochure