Our Jets of the United States Navy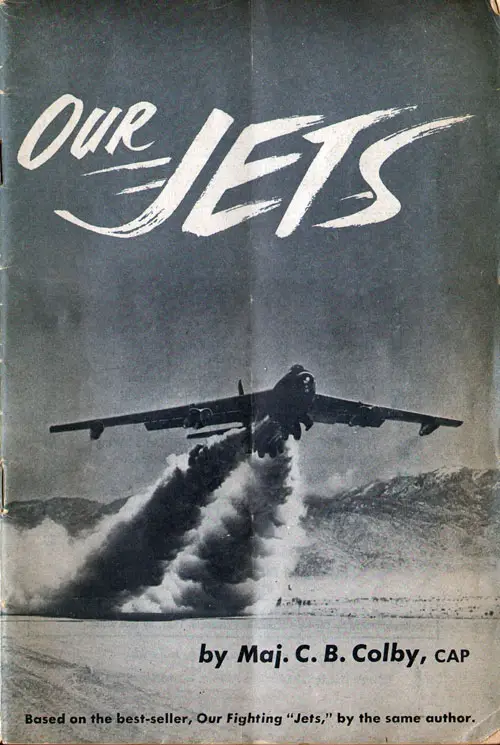 OUR "JETS"
FOREWORD
The strength of America lies not only in her soil, her resources, and her people, but in the air above her. There the thunder of her great air armadas roars a warning—a warning that her freedom will not be endangered.
In Our "Jets" are presented the most interesting of our fighting aircraft, the products of the minds and skills of a really free people. Although military restrictions limit the information that the author may give about some of these aircraft, rest assured that there are none better.
C. B. Colby
CONTENTS
F-80 Shooting Star
F-84E Thunderjet
F-84F Thunderjet
F-86 Sabre
F-86D Interceptor
XF-88A Voodoo
F-89 Scorpion
F-94 Night Fighter
B-45 Tornado Bomber
B-47 Stratojet Bomber
XB-51 Bomber
XB-52 Stratofortress
B-57A Night Intruder
B-61 Matador
T-33A Jet Trainer

F9F-4 Panther
FJ-1 Fury
F2H-2 Banshee
F3D Skyknight
F4D-1 Interceptor
F7U-1 Cutlass
XF-92A "Delta" Wing
X-5 Research
AJ-1 Savage
XP5Y-1 Flying Boat
P4M-1 Mercator
A2D-1 Skyshark
Turbo-Liner
How the Jet Engine Works
This is a Birk & Company booklet adapted from Our Fighting "Jets" by Maj. C. B. Colby, published by Coward-McCann, Inc., copyright, 1951, by C. B. Colby
Provisional three-view drawings by Paul Plecan.
Copyright 1952, by Birk & Company: Publishers, 270 Park Ave., N. Y. 17, N. Y.