Life In The United States Navy (1956)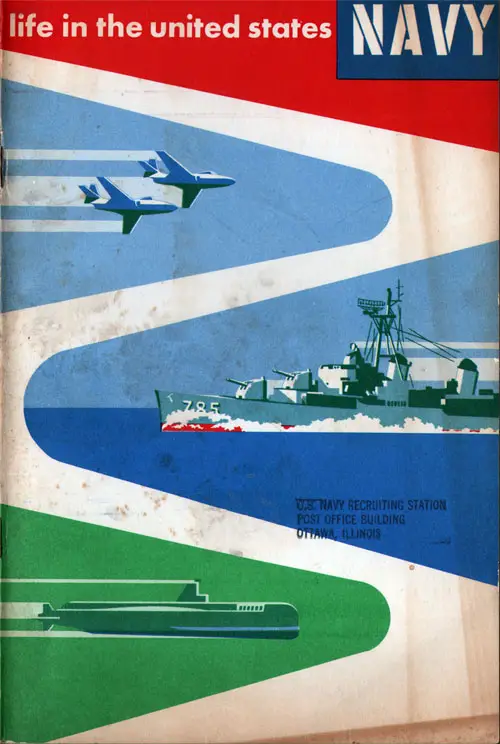 Everything you want to know about life in the Navy today
. . . and your opportunities as a sailor
The Navy Life
It is a career yet a way of life, filled with honor, tradition, and personal rewards. Thousands would not exchange it for any other.
The expression "a Navy man" refers to the highest admiral or the newest recruit, to anyone who serves or has served, from the time of John Paul Jones up until the present.
At sea and ashore, you will find a warm pride in Navy traditions. You will also find a pride in its men—like Farragut and Halsey—men who have made the Navy a great service.
In World War II, it became the greatest seapower the world has ever known. Its triumphs at Midway, at Coral Sea, at Okinawa, will live forever in the history of free men. Today, your Navy guards the freedom of the seas at every hour, and the air above the seas, for free men everywhere.
The Navy today is the same exciting life it has always been. It offers adventure. It offers travel. It provides education and training.
And opportunity to any man who seeks it.
Table of contents
Adventure and travel
Aviation
Enlistment requirements
Food and quarters
Medical and dental care
Navy pay
Officer training
Petty officer ratings
Religion and welfare
Retirement plan
Sports and recreation
Submarine duty
Table of pay scales
The Navy
Trade training
It's a great life . . . a great service
As a Navy man, you get away from the routine. The oceans and nations of the world are open gateways to a new adventure. The seas and sky are broad highways of travel for Navy ships and planes.
You become independent. The Navy puts you "on your own" by providing your basic living requirements. Your pay is the highest of any of the world's navies. You get the finest medical and dental care, excellent food and quarters, and a clothing allowance.
You'll become a skilled technician. In the Navy, you get valuable trade training, and there are more than 60 special fields for which you may qualify—such as radar, electronics, aviation.
You'll find team play in the Navy, sports of all kinds you can enjoy with your shipmates, and other forms of recreation aboard ships and at shore stations.
In the Navy, in peacetime, you get plenty of "liberty," or off-duty time, as well as up to 30 days' annual leave with pay. This leave may be granted throughout the year, allowing you up to a month at home with friends and family.
In every respect, your life in the Navy is an invaluable experience. It is an education in a profession and the school of world travel. It broadens your viewpoints and your field of knowledge. It gives you the satisfaction of wearing the Navy uniform and of belonging to a tradition of patriotic service to your country.
To Navy enlisted men who serve flag and country, this book is dedicated.

The Navy is a world of travel and adventure
Your ship heaves anchor and puts to sea . . . you're headed for adventure! The kind of adventure for which the Navy has always been famous. Your next port of call may be in the West Indies, Europe, Africa, Hawaii, or the Far East. You may see them all.
The Navy is a career of continually changing scenes and interests. You may "drop the hook" in Venice, visit the shrines of Europe or ply the tranquil waters of the Pacific islands. Wherever you go, you'll see the monuments of the past, which will link you and the great events of history.
You'll find that travel gives you a fresh perspective. It is an education that rivals the learning you received in school.
When you return to the United States for your regular tour of shore duty, you'll come home with exciting tales of your experiences around the globe. .. experiences that mark you truly as "a man of the world." You will have seen fascinating corners of the world that many people at home, years older than yourself, may never hope to see.
Enginemen receive training on all types of propulsion plants.
From the day you join, you earn while you learn.
As soon as you're in the Navy, you begin to learn .. . and earn. You're sent to one of the great Naval Training Centers, and you're on the Navy payroll from the moment you go on active duty.
The Navy pays your way to the center, where you'll begin your Navy life. For several weeks you study hard to make the change from civilian to "Navy man." During this time, you get to know the Navy, its traditions, its regulations .. . its way of life. "Boot" training is rugged, but the feeling of pride at graduation review is compensation enough . . . for now, you are a "Navy man."
At the Training Center, you will have the opportunity to qualify, by your ability and initiative, for training in the trade you desire. Efficiently trained Navy personnel guide and advise you through the results of tests and interviews. Men not selected for immediate trade school training are sent to sea for practical experience. This does not mean you have lost your chance for schooling. If you show ability, you may be returned to shore duty to attend an advanced trade school where you will be trained to become an expert in your particular specialty.
There are always opportunities for promotion, too, in the Navy. You will want to advance, not only for higher pay but for the advantages and prestige that go with positions of higher responsibilities.
In Navy trade schools, you use costly tools and machinery.
The safety of a ship depends deal on the skill of the quartermaster.
Your chance to become a well-paid expert
As a Navy man today, you'll become a skilled technician. Whether it is electronics, diesel engineering, aviation mechanics, or seamanship, you are expertly trained in your job.
The Navy is like a private business . . . it pays in proportion to knowledge and experience. The Navy emphasizes opportunity, which means you are given schooling and a chance to work with the finest equipment modern industry can provide.
You have to show interest and ability, but the opportunity is there. As you work toward the top of your rating, you'll become an expert in your particular field, and technical experts are always in demand, in the Navy or business.
You need no experience. The Navy will help you develop all the skills and talents you have always had. If you're handy with tools—if you like radio, photography, welding, or any other Navy occupational skills—you can learn by using the Navy's vast assortment of technical equipment. All part of the workshop you may call your own.
After your recruit training period, you are advanced to seaman apprentice, with a pay increase. From then on, it is up to you. You progress to a seaman . . . and with diligence to the higher petty officer ratings in your specialty. And with every promotion goes a raise in pay!
Fleet maintenance takes expert knowledge of equipment.
As a Petty Officer, you are a specialist.
A few of the important jobs you may hold
QUARTERMASTER
DUTIES: The safety of a ship depends to a great extent upon skillful navigation. Visual messages must be transmitted. Navy quartermasters perform or assist in the performance of these duties.
RELATED CIVILIAN JOBS: navigator, weather forecaster, cadet deck officer, ship pilot, dispatcher, map maker, geodetic computer, map draftsman.
AVIATION MACHINIST'S MATE
DUTIES: Aviation machinist's mates are responsible for keeping engines and other aircraft mechanical equipment in perfect working order to assure efficient operation of Navy aircraft.
RELATED CIVILIAN JOBS: airplane inspector, airplane mechanic, oxygen system tester, airport serviceman, aerial engineer, carburetor man, overhaul aircraft engine mechanic, propeller inspector.
BOATSWAIN'S MATE
DUTIES: The Navy's master seaman, skilled in all phases of seamanship, boat handling, ropework, and cargo handling. He supervises the painting and maintenance of his ship.
RELATED CIVILIAN JOBS: winchman, stevedore superintendent, motorboat operator, ferry boat captain, foreman, upholsterer, building superintendent, police officer.
RADARMAN
DUTIES: Radar is extensively in navigation, recognition, and search operations. Jamming enemy radar is also a function. The radarman operates this equipment and interprets its receptions.
RELATED CIVILIAN JOBS: radar operator (air, ocean, coast), radar manufacturing foreman, electronic equipment inspector, control tower operator, radio dispatcher, control-room man.
Your work is varied in the modern Navy.
Work fields are related to many civilian jobs.
There are more than 60 specialty ratings.
PERSONNELMAN
DUTIES: Personnelmen work with Personnel Officers in classifying Navy enlisted men so their abilities, interests, and education can be utilized to the highest degree of satisfaction and efficiency.
RELATED CIVILIAN JOBS: employment manager, employment interviewer, personnel manager, vocational counselor, position analyst, clerk-typist, organizer, job analyst, insurance salesman, motion picture projectionist.
ENGINEMAN
DUTIES: The internal combustion engine, diesel or gasoline, plays an essential role in powering Navy ships. The Engineman is responsible for the maintenance, repair, and operation of these engines.
RELATED CIVILIAN JOBS: diesel engine operator, diesel engine mechanic, ignition repairman II, ignition and carburetor mechanic, gas engine mechanic, garage mechanics foreman, engineer V, dynamometer tester motor I.
You can develop a skill you already have
There are more than 800 technical schools.
ELECTRONICS TECHNICIAN
DUTIES: The Navy makes use of modern electronic equipment such as radio, radar, and sonar. Maintaining this equipment in top operating condition is the work of electronics technicians.
RELATED CIVILIAN JOBS: radar mechanic, electronics equipment inspector, television troubleshooter, television installer, assembly electronics equipment foreman, communications instructor, radio repairman, radio technician.
GUIDED MISSILEMAN
DUTIES: The effectiveness of surface-launched guided missiles depends greatly upon the skill of the Guided Missileman, who test, maintain, and repair the complex mechanisms which guide and control these weapons.
RELATED CIVILIAN JOBS: radio repairman, electric meter installer, electric meter repairman, electric meter tester, electric motor repairman, television installation man, television repairman.
You can get training in a new work field.
The pay scales are high, and you get generous allowances.
Among the world's navies, U. S. sailors are the highest paid, and your Navy pay reflects only a part of what you receive. The Navy supplies your food and quarters. You receive a more than adequate uniform allowance. The Navy furnishes dental and medical care.
If you are a chief petty officer with 26 years of service, you earn a base pay of $335.40 a month under present pay scales. Of course, you may go as high as a warrant officer or be appointed a commissioned officer with the opportunity for promotions up to the rank of commander in your specialty. You will draw correspondingly high pay.
As a Navy enlisted man, you will currently be paid a dependent's quarters allowance if you are married or have other dependents for whom such payments are authorized. A separate ration allowance is another extra that Navy men who are not subsisting on the general mess are permitted to draw.
Many "hidden allowances" accrue to you as a Navy man—free Government insurance, legal assistance, recreational facilities, athletic programs, movies, and entertainment.
The many "unseen" benefits you receive, added to your pay and allowances, make the Navy's pay scales exceedingly generous. And they certainly make your budget a great deal easier to balance.

How your monthly base pay goes up with added years of service in the Navy
Table I: Monthly Base Pay ( Part I)

| ENLISTED PERSONNEL | UNDER 2 | OVER 2 | OVER 4 | OVER 6 | OVER 8 | OVER10 | OVER 12 |
| --- | --- | --- | --- | --- | --- | --- | --- |
| Chief Petty Officer | $206.39 | $222.30 | $230.10 | $237.90 | $253.50 | $261.30 | $273.00 |
| Petty Officer First Class | 175.81 | 187.20 | 195.00 | 214.50 | 222.30 | 234.00 | 241.80 |
| Petty Officer Second Class | 145.24 | 163.80 | 183.30 | 191.10 | 202.80 | 210.60 | 218.40 |
| Petty Officer Third Class | 122.30 | 140.40 | 159.90 | 167.70 | 179.40 | 187.20 | 195.00 |
| Seaman | 99.37 | 117.00 | 132.60 | 140.40 | 148.20 | 156.00 | 159.90 |
| Apprentice | 85.80 | 101.40 | 109.20 | 117.00 | 124.80 | 132.60 | 132.60 |
| Recruit (over 4 months) | 83.20 | 98.80 | 106.60 | 106.60 | 106.60 | 106.60 | 106.60 |
| Recruit (under 4 months) | 78.00 |   |   |   |   |   |   |
Table I: Monthly Base Pay ( Part 2)

| ENLISTED PERSONNEL | OVER 14 | OVER 16 | OVER 18 | OVER 22 | OVER 26 | OVER 30 |
| --- | --- | --- | --- | --- | --- | --- |
| Chief Petty Officer | $280.80 | $288.60 | $304.20 | $319.80 | $335.40 | $335.40 |
| Petty Officer First Class | 249.60 | 257.40 | 273.00 | 288.60 | 288.60 | 288.60 |
| Petty Officer Second Class | 226.20 | 234.00 | 241.80 | 257.50 | 257.50 | 257.50 |
| Petty Officer Third Class | 202.80 | 210.60 | 218.40 | 218.40 | 218.40 | 218.40 |
| Seaman | 163.80 | 163.80 | 163.80 | 163.80 | 163.80 | 163.80 |
| Apprentice | 132.60 | 132.60 | 132.60 | 132.60 | 132.60 | 132.60 |
| Recruit (over 4 months) | 106.60 | 106.60 | 106.60 | 106.60 | 106.60 | 106.60 |
| Recruit (under 4 months) |   |   |   |   |   |   |
The Navy's present pay scale is extremely liberal, allowing increases for every two years of service up to 18 years. After that, increases are provided every four years, up to 26 years of service.

While on sea duty, or service abroad, you receive additional pay according to your rating. You get extra pay, too, if you are assigned to submarine duty or aviation duties involving flying.
MONTHLY PAY FOR DESIGNATED DUTY*
Flying crew member; Submarine Service

|   | Min. | Max. |
| --- | --- | --- |
| Chief Petty Officer | $80.00 | $105.00 |
| Petty Off. 1st class | 70.00 | 100.00 |
| Petty Off. 2nd class | 60.00 | 95.00 |
| Petty Off. 3rd class | 55.00 | 80.00 |
| Seaman | 55.00 | 60.00 |
| Apprentice | 50.00 | 60.00 |
| Recruit | 50.00 | 55.00 |
| Recruit (under 4 mo.) | 50.00 | 50.00 |
*Exact amount depends on service time
SPECIAL MONTHLY PAY FOR SEA AND FOREIGN DUTY

| | |
| --- | --- |
| Chief Petty Officer | $22.50 |
| Petty Off. 1st class | 20.00 |
| Petty Off. 2nd class | 16.00 |
| Petty Off. 3rd class | 13.00 |
| Seaman. etc. | 9.00 |
| Apprentice | 8.00 |
| Recruit | 8.00 |
$55 a month extra may be paid to authorized enlisted personnel involved in special duties such as parachute jumping, diver training, demolition, or duty requiring frequent and regular flying, not as a crew member.
You have modern living quarters and excellent meals
The Navy's bluejackets enjoy the most up-to-date quarters of any service in the world and the best food.
Spring bunks, spotless washrooms, hot showers, roomy clothes lockers—these, in addition to air conditioning, are just a few of the luxuries found aboard our newest warships. At naval shore stations, you occupy living quarters even more spacious and airy.
Many Navy ships have barber shops, tailor shops, and laundries . . . some of the largest even have soda bars. Recreation rooms, too, with games, a piano, writing tables, TV sets, and a library of good books. All shore stations have these facilities and, of course, many others.
From long experience, the Navy has learned how to best berth and feed large numbers of men. The Navy is proud of its tradition of providing the best in food. ... "three squares" a day prepared by expert cooks offer the kind of wholesome, hearty meals a man likes, the kind he needs to do a man's job.
Wherever the Navy goes, ashore or afloat, it carries its excellent galleys and stores of refrigerated foods. Skilled Navy cooks and bakers turn out some of the most delicious meals you ever tasted. Generous rations of coffee keep the "joe pots" bubbling day and night.
You'll find that you can be as comfortable as in your own home in a Navy ship or shore barracks. Petty officers and commissioned officers regularly inspect living quarters, mess halls, and galleys to ensure cleanliness and proper maintenance of equipment . . . inspections geared to ensure your comfort and health.
By being certain the quarters its men occupy are shipshape at all times, the Navy provides for happier living, both aboard ship and at shore stations.
Navy men are comfortable knowing that they will always be well fed and well housed, no matter what the location of their duty assignment.
Sports and recreation
Relaxing in the sun on a carrier deck in the South Pacific
Traditionally, seagoing men know how to relax and enjoy life no matter where they are. The sailors of the U. S. Navy are no exception. All types of sports are played in the Navy, and competition is especially keen when Navy men team up to win a championship title in the fleet.
Each ship and station has facilities for recreational activities, and there are always opportunities for men who like teamplay to compete. You will enjoy sports and recreation in the Navy all the more because of the fine group of men who share in these activities as companions and teammates.
You get the finest medical and dental care
Navy life is a healthful life. Sports, recreation, good meals, the outdoor life keep you in fine physical condition. And whenever you become sick, it is comforting to know you will receive the finest medical care.
All medical and dental treatment is given to the Navy man free. Aboard ship and at Navy shore establishments, extensive medical facilities are maintained equipped with the latest medical science innovations. The larger Navy hospitals ashore are examples of the most modern methods known to the medical profession.
A bluejacket never has to worry about paying a doctor's or dentist's bill. With the medical attention the Navy provides and the healthful life he leads, the Navy man today is assured of tiptop physical condition at all times.
Naval Aviation Opportunities
Are you interested in aviation? Are you interested in learning what makes the Navy's sleek jets tick? If you show the proper aptitudes, you may be assigned to attend one of the service's finest aviation technical schools. Each year, thousands of men are trained in various aviation ratings for duty with the fleet or shore-based facilities.
At school, you'll work on the latest type of aircraft engines and equipment. With your schooling and the knowledge you gain working on naval aircraft, you soon become an expert in your particular aviation specialty.
You may get orders to a naval air station in the United States or overseas. You may be assigned to an aircraft carrier for duty. You might be in a long-range patrol squadron or with a squadron of carrier bombing planes.
Whatever your assignment, you'll find your job interesting and exciting, and you'll continually be adding to your aviation "know-how." Many Navy men fly as aircrewmen in larger naval aircraft. You may become one of these or specialize in aircraft maintenance.
Aviation maintenance training in the Navy covers many fields: aircraft electronics, radio, automatic pilots, radar bombing equipment, aircraft electrical maintenance, structural repair, aircraft instruments and propellers, aerology, aerial photography, ordnance, and a list of other specialties.
For the young man who wants to learn in a thoroughly modern field, naval aviation provides a unique opportunity for training. Training that pays off by placing him in a position of a highly qualified technician.
Once you are assigned to an operating squadron, you may experience the thrill of flight duty, of takeoff from a carrier deck at sea. If your responsibility is to maintain the squadron's aircraft, you will take pride in your knowledge of your particular specialty and combat the planes' readiness under your care.
Submarine duty
The Navy carries its traditions under the sea as well as on the surface and in the air. Known as the "Silent Service," the submarine fleet has long been covered with glory and is intensely proud of its tremendous record in World War II.
Navy men consider it a great privilege to be assigned to this highly specialized type of duty. Only the best qualified Navy enlisted men are selected for submarine training. The submarine is a small, compact unit; its crew consists of 6 to 8 officers and 75 enlisted men.
A great feeling of teamwork, of effort expanded toward a common goal is characteristic of submarine crews, for responsibility rests with every man.
The submarine is a highly intricate piece of machinery, and its efficient operation requires that it be alertly manned at all times. With the coming of atomic-powered subs, undersea duty has become more challenging and specialized.
Submariners in port lower a tin fish into the forward torpedo room
You'll find the modern submarine fleet to be advanced in many other aspects, too. It is air-conditioned and spotlessly clean. It serves excellent meals. Submariners claim they get the best "chow" in the Navy.
The advantages and rewards of submarine duty are many. Close comradeship, teamwork ... a sense of "belonging" in a group that prides itself on its tremendous accomplishments. Money-wise, the submarine service has its rewards, too ... in addition to drawing regular sea pay, you get substantial extra pay for serving in an undersea craft.
Because the Navy stresses careful selection of personnel applying for submarine duty, the Silent Service generally displays the highest ability levels among groups of naval personnel.
If you apply and are accepted for submarine duty, you will find the Navy's submarine fleet is a modern mechanical marvel. The submariner is a master of one of a dozen special skills, and he learns on the newest types of equipment, all products of the most advanced scientific research.
Religion and welfare
Like men everywhere, Navy men need moments of quiet contemplation and the strength that comes with religious observance.
The Navy encourages its men to attend divine services aboard ships and at shore stations. The Navy's Chaplain Corps is composed of clergymen of all denominations who provide spiritual guidance to Navy men worldwide. When personal or family problems arise, the chaplains are on hand to offer advice and assistance to troubled bluejackets.
Mail call means time out for news from home
A few quiet moments in station library with the latest books
The soda fountain is an off-duty spot for Navy bluejackets.
Ways to become an officer
There are several ways in which you can become an officer.
There is the Naval Reserve Officer's Training Corps which provides a 4-year college education. If selected for this program, the Navy pays for your tuition, books, uniforms and provides a modest monthly pay.

Appointments to the U. S. Naval Academy at Annapolis are made yearly from the enlisted ranks of the Navy. Here is an honor to which every young Navy man may aspire ... a chance to attend the school which has turned out the Navy's top-ranking admirals.
If you want to be a naval officer who flies, there are two Naval Aviation Programs available to those who can qualify. The NAVCAD Program is for single men with two years of college. The AOC Program—Aviation Officer Candidate Program—is for men, either married or single, who have a college degree.
For men who are experts in technical fields, there is a chance to qualify as a Limited Duty Officer. These officers are specialists in their fields who act in an administrative capacity.
And for those who enlist in the Navy with a college degree, there is the Officer Candidate School. Upon graduation, you will receive a commission as an ensign, USNR, and serve as a Line, Supply, or Civil Engineer Officer.
The Integration Program provides an opportunity for outstanding warrant officers and enlisted men and women who want to get ahead. If you meet the qualifications and are selected, you receive an ensign's commission in the Regular Navy.
The Warrant Officer Program provides an additional opportunity for advancement to commissioned grade without any specified formal education requirement, but you must have had six years of naval service.
These are some of the ways you may become an officer ... opportunities available for ambitious young Navy men who want to advance to positions of greater importance and responsibility.
You retire while still young with a monthly lifetime income.
Security in retirement is the goal of most people in private business. The Navy features a generous retirement plan that allows you to leave the service and pursue some other interest while you're still young enough to enjoy it.
Assuming that you enter the Navy at 17, 18, or 19, you can retire after 30 years' service and still be under 50, in the prime of life. If you have achieved the rating of a chief petty officer by then, you will receive a check for $251.55 every month for the rest of your life.
You are eligible, at an even earlier age, for a monthly lifetime income. After serving only 20 years, you may go off active duty in the Navy and start drawing retainer pay. Your monthly paycheck will be smaller than if you had finished 30 years of active service, but it is lifelong compensation. And it means that you complete your active naval service that much sooner.
Many Navy men, under this plan, go off active duty before the age of 40. They transfer to the Fleet Reserve to finish out their 30 years of service for retirement.
If you leave active duty in the Navy sometime between 20 and 30 years of service, your benefits are proportionate. After the minimum period of 20 years, you may receive an assured life income of as much as $152.10 a month.
| ENLISTED PERSONNEL | OVER 20 YEARS | OVER 30 YEARS |
| --- | --- | --- |
| Chief Petty Officer | $152.10 | $251.55 |
| Petty Officer First Class | 136.50 | 216.45 |
| Petty Officer Second Class | 120.90 | 193.12 |
| Petty Officer Third Class | 109.20 | 163.80 |
| Seaman. Etc. | 81.90 | 122.85 |
Your Navy retirement benefits will be larger, of course, if you attain the rank of a warrant or commissioned officer before you leave the Navy. But whenever you complete active Naval service after 20 years, whether you are an officer or enlisted man, you can loaf, fish, hunt, or travel as your heart desires.
You can start a business of your own or take any civilian job you like. Your monthly check still keeps rolling in.
Requirements for enlistment in the regular Navy
To enlist in the Navy, you must meet specific requirements. The principal ones are listed below. Since they change from time to time, be sure to talk them over with the recruiting officer. He has the latest information.
AGE. You must be between the ages of 17 and 30 (inclusive). If under 18, you must have written consent from your parents or legal guardian. When you enlist, you will be asked to furnish a birth certificate. Those men with previous naval service who are 31 years or older may be accepted if their total previous active duty, deducted from their present age, places them in the preceding age group.
CITIZENSHIP. You must be a citizen of the United States, native-born or fully naturalized, a native of a U. S. insular possession, or have filed a declaration of intent to become a United States citizen. If you are not a native-born United States citizen, you must show written proof of citizenship.
PHYSICAL. You must pass a physical examination to show that you meet the minimum required enlistment standards. Any man in normal health should be able to meet all physical requirements.
EDUCATION. While the Navy prefers high school graduates, there are no specific educational requirements. You will take a test to show your ability to read, write, and think clearly.
CHARACTER. The Navy wants men of good character, men without police records.
DEPENDENCY. Men who qualify for enlistment in either pay grade E-1 or E-2 may have not more than one dependent. No dependency restrictions exist for persons qualifying for enlistment in pay grades E-3 and above.
Here's how you become a Navy man
You go to the recruiting station. See the recruiting petty officer. You'll find him friendly, ready to talk over your situation, man to man. He'll give you good advice and full details on what the Navy can offer you.
You return home. You talk over with your parents the opportunities in the Navy. Most parents are glad to have their sons in a proud service. If you are under 18, you'll need their consent to join.
Back to the Recruiting Station. And if you're a high school graduate, you can qualify for Navy technical training even before you're sworn in. Then you'll be ready to start your advanced training soon after finishing "Boot" Camp. And now you take your "physical." You get a thorough checkup, but it's not too difficult. Any man in normal health should pass with flying colors.
It's a great moment in your life when the recruiting officer swears you in as a member of the United States Navy. From then on, you're in the service of your country, steaming towards a rewarding career.
Off to the training center! The Navy takes care of all expenses. Meals in the dining car. A Pullman berth for overnight travel. And you'll find comfortable quarters ready at the training center when you arrive.
Your first Navy uniforms are issued to you. You receive complete winter and summer outfits as part of your uniform allowance. You'll be proud, and rightly so, when you step out in your smart Navy blues.
You start to learn. Seamanship, naval history, Navy traditions. You soon get into the swing of real Navy life. Your training, which begins at the training center, will continue throughout your Navy career.
Your job will contribute to the Nation's defense. At the same time, you will gain practical experience in some specialized Navy trade.
When you return from sea duty, you come back to see the folks. To relax in civilian clothes on leave or liberty. To renew old friendships.
You're proud you are a Navy man ... you're proud of your service to the flag and country.
NAVPERS 35337 * U. S. GOVERNMENT PRINTING OFFICE: 1956-0-373422