Life In The Peacetime Navy (1945)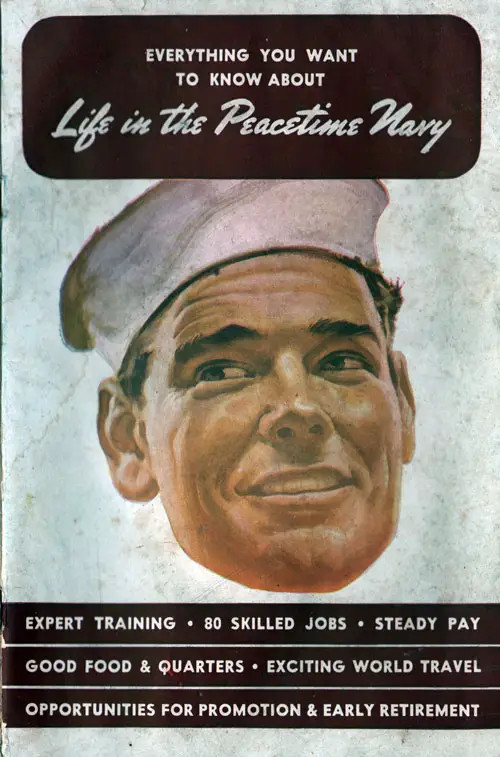 Everything you want to know about Life in the peacetime Navy. Expert Training, 80 Skilled Jobs, Steady Pay, Good Food & Quarters, Exciting World Travel, Opportunities for Promotion & Early Retirement.
CONTENTS
Enlistment Requirements
Food
Medical and Dental Care
Officer Training
Opportunities in the Navy
Pay Scale
Petty Officer Ratings
Quarters
Recreation and Travel
Retirement
Submarine Duty
Trade Training
Annapolis
Aviation
INTRODUCTION
OUR Peacetime Navy is the world's mightiest fleet. But it takes and planes to police the more than ships, seas, supply our far- away bases, safeguard our liberty, and protect takes men!
Every ship in the Navy is just so much steel and iron until a crew of trained men — and other mechanics, electricians, radiomen, signalmen, carpenters, specialists -- goes aboard. All our ships, all our planes, are useless without the men to man them, and men are needed now to man the peacetime Navy.
The Navy offers greater opportunities and advantages than ever before history to a Young man who wants to serve his country and at the same time build a happy, prosperous future. What are these opportunities? This booklet tells you. Here you will find the facts about the Navy, the peacetime Navy -- as a training school for a job later in civilian life or as an inviting permanent career.
ENLISTED men are the backbone of the Navy. To these men — men who join the Navy to serve their flag and country — this booklet is dedicated.
THE PEACETIME NAVY IS A GREAT LIFE
ARE YOU LOOKING FOR TRAVEL AND ADVENTURE?
Do you want to travel? Would you like to visit South America — Europe — Alaska — Hawaii — the Philippines? Do you want to go places — do things that other men read about? Do you want to make friends with the most incredible bunch of fellows in the world? Do you want fun — adventure —thrills? You'll get them all in the United States Navy.
A CHANCE TO EARN WHILE YOU LEARN
The Navy offers you the chance of a lifetime to get to the top in a good job — possibly one of your choosing. What's your hobby? Radio — aviation — electricity? Navy training will make you an expert in your field — and you get good pay while you learn.
30-DAY ANNUAL VACATION WITH PAY
In peacetime, your ship has a home base to which it frequently returns, giving you a chance to live with your family and enjoy the prestige and friendliness of Navy social life. You are entitled to a 30-day annual leave — a long vacation with full pay that your civilian friends will envy. And when off duty ashore in this country, you are allowed to take off the uniform and relax in civvies, if you like.
IT'S UP TO YOU
When you are in the Navy, you can say goodbye to money worries. Your future success is what you make it. You can rise to the top in the service. You can get a monthly income for life when you retire. Or if you return to civil life, your Navy training will put you in line for a well-paid job.
FROM THE DAY YOU JOIN, YOU EARN WHILE YOU LEARN
The moment you go on active duty, you are on Uncle Sam's payroll. First, you go to one of the great Naval Training Centers. The Navy pays your way. You remain at the Training Center for several weeks. During this time, you get to know real Navy life, Navy traditions, Navy regulations. And you have an opportunity to qualify, by your ability and initiative, for training in the trade in which you want to specialize.
EQUAL CHANCE FOR EVERY MAN
Every recruit has an equal chance for assignment to one of the Navy trade schools. Men who are not selected are sent to sea for practical experience. This does not mean that they have lost their chance for training. Once they show that they are qualified, they may be returned to shore duty to attend advanced trade schools to become experts in the trade for which they have shown themselves best adapted.
OPPORTUNITIES FOR PROMOTION
In the Navy, you will have fun while you learn. You will want to advance, get bigger pay, and qualify for the positions of responsibility that must be filled. And every promotion you get will not only mean more money to you while you are in the Navy but will make it easier for you to get a well-paid job if you return to civilian life.

YOUR CHANCE TO BECOME A WELL-PAID EXPERT
You don't need experience. If you show the right qualifications, the Navy may send you to a trade school and give you training — teaching you to be an expert in the trade for which you are qualified . . . helping you to develop all the skill and talent which you always knew you had.
If you're handy with tools . . . or if you like radio, photography, welding or any of the Navy's other skilled occupations, you may have a chance to get the finest training, to use the £nest equipment the world has to offer. Costly metal lathes . . . marvelous telescopic cameras . . . vast power and tool plants — they're all part of Navy equipment, all part of the workshop you may call your own.
You draw pay while you learn. And you can win promotions as you go along. Enlisting as a Seaman Recruit, you may be advanced after your training period to Seaman Apprentice and given a pay increase. From there, you may go up to seaman and then on to various Petty Officer ratings. And remember — every promotion means a raise in your pay!
A FEW OF THE IMPORTANT JOBS YOU MAY HOLD AS A PETTY OFFICER
QUARTERMASTER
DUTIES: Steer the ship. Take soundings. Use range finders—plot bearings. Operate signal control apparatus and searchlights—correct sailing charts. Determine ship's position by sun and stars. Navigate by dead reckoning, radio bearings, soundings. Send and receive International code by blinker, searchlight, semaphore.
Related Civilian Jobs: Ship pilot, navigator, hydrographer.
HOSPITAL CORPSMAN
DUTIES: Take charge of sickbay onboard ship. Do minor surgery and first aid work. Prepare and administer simple medicines. Give anesthetic... Account for hospital and medical supplies. Have basic knowledge .of anatomy, physiology, medicine, drugs, hygiene, sanitation, nursing, pharmacy.
Related Civilian Jobs: Pharmacist In a drug store, hospital attendant, first aid instructor, male nurse.
AVIATION MACHINIST'S MATE
DUTIES: Maintains and repairs planes and engines. Assists in the handling of aircraft on the ground or deck. In some instances serves as a flight engineer.
Related Civilian Jobs: Airplane mechanic, flight engineer.
ELECTRONICS TECHNICIAN
DUTIES: Installs, maintains, and repairs the 3.700 different types of electronics equipment aboard ships, in planes, and at shore stations. Such equipment includes:
Radio transmitters and receivers.

Search radar.

Radio direction finders.

Radar fire control.

Underwater sound devices.

Long-range navigation instruments.

Television.
Related Civilian Jobs: Electronics engineer, radio engineer, television engineer.
If you have had previous experience in these civilian jobs, it will help you go ahead faster in the Navy. Navy training will give you a head start toward a good civilian career in these fields if you have not had experience.
YEOMAN
DUTIES: Prepares and handles reports, filing, correspondence, and office records. Operates office machines. Knows Navy Regulations, manuals, circulars, and directives. Takes charge of the office and instructs other workers.
Related Civilian Jobs: Administrative assistant, clerk, secretary.
ELECTRICIAN'S MATE
DUTIES: Installs, maintains, and repairs generators, electric motors, ignition systems, electric pumps, interior communication systems, engine order telegraph, searchlights, yardarm blinkers, blinker tubes, fire detectors and refrigerators. Locates and repairs defects in wiring. Uses hand tools and electric measuring devices. Performs soldering and brazing operations.
Related Civilian Jobs: Electrician.
GUNNER'S MATE
DUTIES: Operates, maintains and repairs, small arms, rocket launchers, guns, and turrets. Possesses a knowledge of depth charges and release mechanisms. Inspects magazines for temperature and tests for powder. Determines that sprinklers and flooding systems are in constant readiness.
Related Civilian Jobs: Armorer, gunsmith, armament mechanic.
PHOTOGRAPHER'S MATE
DUTIES: Records operations of ships and planes with still and motion picture cameras. Installs, maintains, and operates all Naval photographic equipment, including electrically operated aerial cameras. Does darkroom and related work. Assembles aerial photographic mosaics. Operates motion picture and stereopticon projectors.
Related Civilian Jobs: Commercial or news photographer, motion picture cameraman.
If you have had previous experience in these civilian jobs, it will help you go ahead faster in the Navy. Navy training will give you a head start toward a good civilian career in these fields if you have not had experience.
YOU never miss a payday in the Navy ... and the pay scales air high.
YOU HAVE NO WORRIES ABOUT FOOD, CLOTHING, LODGING OR MEDICAL CARE
In comparing Navy Pay with civilian pay, it is crucial to recognize that the base pay you receive is in addition to the Navy's food, lodging, clothing, and medical care furnished to you. Uncle Sam gives you your original uniforms and complete wearing apparel when you first come into the Navy (plus a quarterly clothing maintenance allowance after the first year)—three good meals a day—comfortable quarters—the finest of medical and dental care.
AND THERE ARE OTHER PRIVILEGES AND BENEFITS TOO
Many other privileges go with the Navy uniform. Free movies, entertainment, and athletic programs, for instance. Low-cost government insurance. The privilege of buying almost all the personal comforts and necessities of life at a significant saving through Ship's Service Stores, Small Stores, and Commissaries. Free legal assistance and notary public service through the Navy.
The help provided to dependents in time of emergency by the Navy Relief Society. And finally, the free transportation of dependents and household goods when enlisted men of the first three pay grades (Petty Officer 2nd Class to Chief) are transferred to a new permanent duty station.
YOU CAN EARN UP TO $247.50 A MONTH AND KEEP
After only a couple of months of service as Seaman Recruit, you will get a raise in pay and a promotion to Seaman Apprentice. From that start, within a few years, you can receive many pay increases and promotions and be earning several times as much as when you signed up.
YOUR MONTHLY PAY INCREASES 5% FOR EVERY 3 YEARS OF SERVICE
Remember, too, that your monthly pay goes up 5% with every three years of service, up to a maximum increase of 50%. The table on the opposite page shows how you can expect your pay to increase after every three years of active service.
EXTRA PAY YOU MAY GET
While on sea duty or overseas service, you get a 20% increase in base pay. For instance, suppose you are a Petty Officer, Third Class, making $100 a month base pay. If you are assigned to sea duty or overseas service, you will receive a special allowance which will raise your pay 20% — up to $120 a month. Assignment to submarine duty or aviation duty involving flying adds a special allowance of 50%. With this special allowance, it would be possible for you to make as much as $180 per month.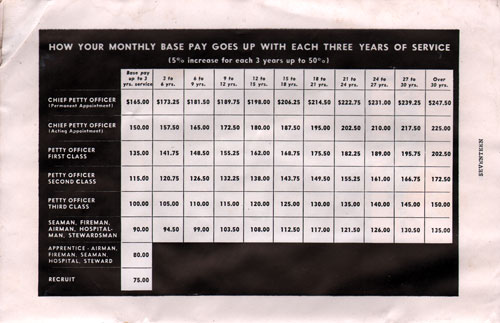 Chart How Your Monthly Base Pay Goes Up With Every Three Years Of Service
FEW civilian pursuits offer the opportunity for retirement at an early age that a Navy career promises.
HOW YOU CAN GET A MONTHLY INCOME OF $185.63 FOR LIFE
Assuming that you enter the Navy at a young age — say 17, 18, or 19 — you can retire on three-fourths of your pay after thirty years of service and still be under fifty, in the prime of life. If you know your stuff, you will be a Chief Petty Officer and perhaps a Warrant or higher commissioned rank. But let's say you are a Chief when you retire. You will have a check for $185.63 (three-fourths of base and longevity pay) coming in each month as regularly as clockwork.
You can loaf, fish, hunt, travel, or raise chickens as your heart desires. You can start a business or take any civilian job you want to — the $185.63 per month still keeps rolling in.
If you had to save enough money to earn that much monthly income, it would mean about $75,000 at three percent. How many young men can do that?
YOU CAN "RETIRE" AFTER 20 YEARS IF YOU LIKE
No civilian occupation provides for its employees, and the Navy does for the men who serve it faithfully.
After only 20 years of active duty, you can "retire" with an assured monthly income for the rest of your life. Of course, you can increase this amount by serving up to 30 years, but you can transfer to inactive duty in the Fleet Reserve after only 20 years. Thus a man of 17 enlisting now can "retire" when he's only 37 and draw up to $107.25 a month for the rest of his life.
HERE IS THE NAVY'S GENEROUS RETIREMENT PLAN
For a civilian to get this sort of money after only 20 years of work, he would have to pay out almost $35,000 in annuity premiums.
| Years of Active Duty | CPO (PA) | CPO (AA) | PO 1st | PO 2nd | PO 3rd | Seaman Etc. |
| --- | --- | --- | --- | --- | --- | --- |
| 20 | $107.25 | $ 97.50 | $ 87.75 | $ 74.75 | $ 65.00 | $58.50 |
| 21 | $116.94 | $106.31 | $95.68 | $81.51 | $70.83 | $63.79 |
| 22 | $122.51 | $111.38 | $100.24 | $85.39 | $74.25 | $66.83 |
| 23 | $128.08 | $116.44 | $104.79 | $89.27 | $77.63 | $69.86 |
| 24 | $138.60 | $126.00 | $113.40 | $96.60 | $84.00 | $75.60 |
| 25 | $144.38 | $131.25 | $118.13 | $100.63 | $87.50 | $78.75 |
| 26 | $150.15 | $136.50 | $122.85 | $104.65 | $91.00 | $81.90 |
| 27 | $161.49 | $146.81 | $132.13 | $112.56 | $97.88 | $88.09 |
| 28 | $167.48 | $152.25 | $137.03 | $116.73 | $101.50 | $91.35 |
| 29 | $173.46 | $157.69 | $141.92 | $120.89 | $105.13 | $94.61 |
| 30 | $185.63 | $168.75 | $151.88 | $129.33 | $112.50 | $101.25 |
Retirement Pay of 1945 Tables Restated in 2016 Dollars Based on CPI
| Years of Active Duty | CPO (PA) | CPO (AA) | PO 1st | PO 2nd | PO 3rd | Seaman Etc. |
| --- | --- | --- | --- | --- | --- | --- |
| 20 | $1,430.00 | $1,313.30 | $1,169.97 | $996.64 | $866.65 | $779.98 |
| 21 | $1,559.16 | $1,417.43 | $1,275.70 | $1,086.77 | $944.38 | $850.51 |
| 22 | $1,633.43 | $1,485.03 | $1,336.50 | $1,138.50 | $989.98 | $891.04 |
| 23 | $1,707.69 | $1,552.49 | $1,397.17 | $1,190.24 | $1,035.04 | $931.44 |
| 24 | $1,847.95 | $1,679.96 | $1,511.96 | $1,287.97 | $1,119.97 | $1,007.97 |
| 25 | $1,925.02 | $1,749.96 | $1,575.03 | $1,341.70 | $1,166.64 | $1,049.97 |
| 26 | $2,001.95 | $1,819.95 | $1,637.96 | $1,395.30 | $1,213.30 | $1,091.97 |
| 27 | $2,153.15 | $1,957.42 | $1,761.69 | $1,500.76 | $1,305.03 | $1,174.50 |
| 28 | $2,233.01 | $2,029.95 | $1,827.02 | $1,556.36 | $1,353.30 | $1,217.97 |
| 29 | $2,312.74 | $2,102.48 | $1,892.22 | $1,611.83 | $1,401.70 | $1,261.44 |
| 30 | $2,475.00 | $2,249.94 | $2,025.02 | $1,724.36 | $1,499.96 | $1,349.97 |
Source: Samuel H. Williamson, "Six Ways to Compute the Relative Value of a U.S. Dollar Amount, 1790 to Present," MeasuringWorth, 2009. URL https://www.measuringworth.com/calculators/uscompare/
FOOD THE NAVY IS FAMOUS FOR IT!
Good food and plenty of it! You get seconds in the Navy. Three square meals a day — wholesome, hearty meals that stick to a fellow's ribs — the kind of meals a man likes, the kind he needs to do a man's job.
And what food it is! Your mother would approve of the meals enlisted men enjoy both here and ashore.
Wherever the Navy goes it carries its own fine galleys and stores of refrigerated foods and other items right with it. Expert Navy cooks are trained in some of the country's finest restaurants and hotels. Skilled Navy bakers turn out some of the most delicious bread and pies you ever tasted. Generous rations of coffee keep the coffee urns bubbling day and night.
YOUR QUARTERS ARE CLEAN • AIRY • COMFORTABLE
Uncle Sam's Bluejackets enjoy the finest, most up-to-date living quarters of any service in the world. Spring bunks, spotless washrooms, hot showers, roomy clothes lockers — these, in addition to air-conditioning, are just a few of the features of our new warships. Many ships even have barbers, tailor shops, and laundries. Recreation room, too, with a piano, games, tables for writing letters, and a library of good books. There's nothing too good for the men of the Navy!
YOU GET THE FINEST MEDICAL AND DENTAL CARE
Navy training makes you healthy. Navy physicians make sure you keep in the best of good health. Regular physical check-ups, periodic dental attention help Navy men stay in tip-top condition at all times.
Navy doctors and dentists are the finest. They are trained in the nation's top medical schools. They are given the best of equipment, ashore and afloat.
And in the Navy, all your medical attention is free. No Bluejacket ever has to worry about a doctor's or dentist's bill.
NAVY TRAINING WILL MAKE YOU AN ALL-ROUND AVIATION EXPERT
In the Navy, you may have a chance to get into Naval Aviation. You can attend the finest technical schools. You'll study and work on the most advanced types of aircraft, aircraft engines, and equipment in the world. You'll get the best aviation training. You'll be an all-around aviation expert!
AVIATION JOBS NOW OPEN
Scores of different jobs are open today in Naval Aviation. You can become skilled as an aviation machinist . . . aviation electronics technician . . . or in aerial photography. Naval Aviation training is offered in these and many other specialized aviation fields :
Aircraft electronics equipment
Aircraft electrical maintenance
Aircraft engine maintenance
Camera repair
Aircraft radio aids
Motion picture photography
Control tower operator
Computing gun sights
Aerology
Radar bombing equipment
Aircraft propellers
Turret gunnery and fire control
Aircraft instruments
Radio navigation equipment
Automatic pilots
Aircraft structural repair
NAVY TRAINING FITS YOU FOR GOOD JOBS IN AVIATION INDUSTRY
As an enlisted man in Naval Aviation, you may serve in aircraft carriers, carrier aircraft, multi-engine patrol squadrons, seaplane tenders, or air stations throughout the United States and overseas. You'll hold one of the most exciting jobs in aviation while getting training and experience that will fit you for a good job in the fast-growing aviation industry if you decide to return to civilian life.
50% PAY INCREASE
And remember, every Bluejacket who receives flight orders—regardless of rating—automatically gets a 50% increase in base pay!
SUBMARINE DUTY
Duty in submarines of the peacetime Navy provides you some unique opportunities in addition to those offered by the Navy as a whole.
The submarine is a small and compact unit, its crew usually consisting of about 6 to 8 officers and 75 men. Teamwork is essential, and responsibility rests on each man's alert performance as a member of the team.
Through selective processing and careful training, submarine crews are outstanding in their ability.
The modern fleet submarine is air-conditioned, spotlessly clean, and serves excellent meals. Submariners claim the best "chow" in the Fleet.
In addition to sea pay, submarine men receive an additional 50% of their base pay for duty in the undersea craft.
YOU MAY BE SELECTED FOR A FULL COLLEGE EDUCATION IN THE SCHOOL OF YOUR CHOICE
As an enlisted man in the Navy, you would have the opportunity to compete for the new Naval Reserve Officer's Training Corps. To eligible, you must be a high school graduate—or the equivalent—unmarried and within prescribed age limits. Annual fleet-wide competitive examinations will be given each year to fill the Navy's quota to enlisted men.
Along with a four-year college education in the field of your commission, you will also take courses to qualify for a permanent or reserve commission in the Navy. The Navy will defray the cost of tuition, books, uniforms, and customary fees. In addition, you get monthly pay.
Fifty-two of the country's colleges and universities have NROTC units, and you may be able to go to the one you prefer. In order to get practical experience, there will be summer cruises lasting from six to eight weeks each year.
Your Recruiting Officer and the Educational Officers of all Navy ships and stations will be able to furnish application forms and more detailed information.
YOU MAY GO TO ANNAPOLIS
Every year a selected group of enlisted men are appointed to the United States Naval Academy at Annapolis. Here is your chance to attend the world-famous which has turned out the Navy's top-ranking Admirals. Here is your opportunity to get — absolutely free — an education equal to that offered in any college in the country. Upon graduation from Annapolis, you become a Commissioned Officer in the United States Navy.
REQUIREMENTS FOR ENLISTMENT IN THE REGULAR NAVY
Here are the principal requirements you must meet for enlistment. They change a little from time to time, so be sure to talk them over with the Recruiting Officer. He has the latest information.
Age ... 17 to 30 (inclusive). If a minor, you must have written consent from your parents or guardian. When you enlist, you will be asked to furnish a birth certificate. Those men with previous Naval service who are 31 years or older are eligible if their total previous active duty is deducted from their present age and places them in the preceding age group.
Citizenship ... You must be a citizen of the United States or a born citizen of one of its insular possessions. If you are not a born United States citizen, you must show written proof of citizenship.
Physical ... You must pass a physical examination to show that you meet the minimum required standards and that you are in sound health. Any man in normal health should be able to meet all physical requirements.
Education ... While the Navy prefers high school graduates, there are no specific educational requirements. You will take a test to show your ability to read, write and think clearly.
Character ... The Navy wants men of good character -- men without police records.
Marriage ... Married men or those with dependents are acceptable under certain conditions for enlistment or reenlistment in the regular Navy.
What Happens When I Apply For The Navy?
You go to the Recruiting Station. See the Officer in charge. You'll find him friendly, ready to talk over your situation, man to man. He'll give you good advice and full details on what the Navy can do for you.
Talk it over with your folks. Explain to them the opportunities you can get in the Navy. Most parents are glad to have their sons in a service that offers so much. If you are a minor, you'll need their consent to join.
Back to the Recruiting Station to take your "physical." Expert Navy doctors do a thorough check-up, but it's not too difficult. Any man in normal health should pass with flying colors.
It's a great moment in your life when the Recruiting Officer swears you in as a member of the United States Navy. From then on, you're in the service of your country.
Off to the Training Center! The Navy takes care of all expenses. Meals in the dining car. A Pullman berth for overnight travel. And you'll find comfortable quarters ready at the Training Center when you arrive.
You get your first Navy uniforms — free. Complete outfits for winter and summer. You'll be proud — and rightly so—when you step out in your smart Navy blues.
You soon get into the swing of real Navy life. You learn Naval History, Naval traditions, Naval regulations. You lead a vigorous outdoor life. And you meet the swellest bunch of shipmates in the world!
If you qualify, you may ' go to a Navy trade school. Here you get expert training
in your chosen field. Radio, perhaps. Or aviation, engineering, electricity. Whatever your specialty, Navy training makes you tops.
You go to sea! You get action . . . adventure . . . travel. You'll see exciting foreign ports. You'll go places, do things, meet people. The man who said, "Join the Navy and see the world," was right!
What a thrill it is when you step up to get your first promotion! And there are others to follow. If you work hard, you'll move ahead fast in the Navy. And remember, a generous pay increase goes with every promotion.
DOES YOUR PRESENT OR PROSPECTIVE JOB OFFER YOU THESE TEN OPPORTUNITIES?
YOU CAN GET THEM ALL IN THE PEACETIME REGULAR NAVY
Expert Training ...The U. S. Navy offers you complete technical training. You can become an expert in radio, aviation, electronics, diesel engines, and many other well-paid trades at absolutely no cost. The Navy gives you good pay (and keep) while you learn.
Chance to Reach the Top...You may have the opportunity to attend the U. S. Naval Academy at Annapolis ... or the opportunity to become a Commissioned Officer in the Navy thru NROTC.
Regular Pay Increases ...You will get steady pay increases . . . with opportunities for additional allowances and promotions as you go along.
All living Expenses Paid ...In your present job, you must use your income to pay for food, rent, education, travel, and entertainment. ALL THESE THINGS ARE FREE TO NAVY MEN. Your pay is your own to use in any way you please.
Free -Medical and Dental Care ... Unexpected sickness, expensive doctor's and dentist's bills can take a big slice of your civilian income. But not in the Navy! This is one worry you can avoid, one emergency you never have to save for. Navy men get the best of medical and dental care absolutely free.
Early Retirement...In the Navy, you'll never have to worry about your future. If you stay in the Navy, you'll never have to scrimp and save for your old age. When you become eligible for retirement (sometimes as early as age 37), the Navy guarantees you a monthly income for life.
Steady Pay Guaranteed! ... No layoffs ... no seasonal slumps ... when you're in the Navy. The Navy guarantees you a generous pay envelope twice every month in the year.
Fun and Recreation... Where else can you lead the regular, healthy life that the Navy offers you? Ashore or afloat, you get year-round competition in boxing, wrestling, swimming, baseball, football, and other sports. You associate with the finest group of men in the world. You use Navy equipment for free. And you enjoy regular entertainment of all kinds plus the latest movies.
Travel and Adventure ...Naval maneuvers take U. S. ships worldwide — Europe, Alaska, Hawaii, the Philippines, North and South America. You get regular shore leaves in adventurous foreign ports.
Chance to Serve Your Country... No other calling gives a red-blooded young American so great a chance to serve his country. No other career offers him so great an opportunity to build a successful future.
Talk it over with the Recruiting Officer today.

Serve Your Country
Build Your Future
Get In The Navy Now