Welcome to the Navy: Women Recruits At Orlando Naval Training Center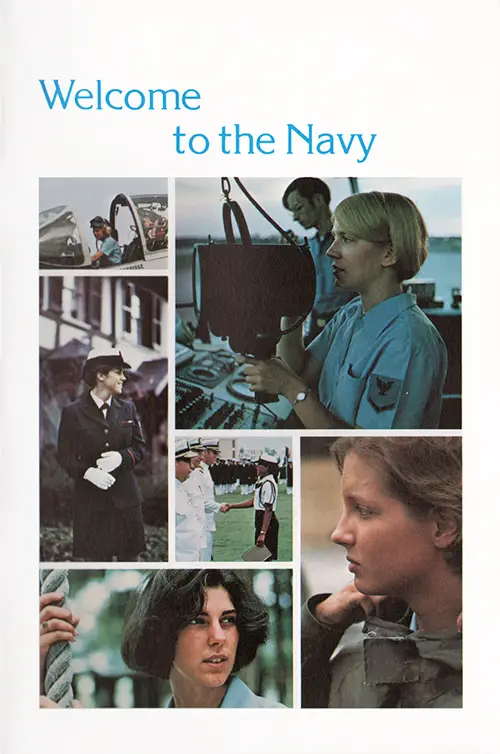 This 1978 brochure offers a glimpse of life at the Orlando Naval Training Center in the late 1970s before women were allowed to serve on most ships except for submarines.
Introduction
For you, joining the Navy is a positive step toward self-recognition and self-fulfillment as an individual, as a woman and as a partner in the greatest Navy in the world.
With your oath of enlistment you accept a challenge of responsibility not only to yourself, but toward others as well. For the Navy is a team. It functions only as well as individuals perform their assigned duties.
Your transformation from civilian life to Navy life takes place in only a few weeks. Time, space and in some cases, personal convenience must be temporarily restricted in order that you and your fellow recruits can make a smooth transition into the Navy. These inconveniences, however, will ease or be removed upon completion of recruit training.
You will be expected to carry out your assignments smartly and in good spirit and you will learn the feeling of accomplishment that comes with earning a place on the Navy team.
Your assignment to Recruit Training Command, Orlando, Florida will be your first test of how well you can function as a member of the team. This booklet was designed to answer questions you may have about recruit training and the Navy and to help you prepare for a new way of life in the Navy.
If after reading it, you still have questions, mail the attached card for further information or call the Navy's toll-free number listed in the back of this booklet.
Welcome to Orlando
Travel to Orlando is arranged by your recruiter and paid for by the Navy. Since Orlando is the only recruit training center for women, you will be joined by other newcomers from all over the United States. Arrivals are on the Friday prior to classes which begin on Mondays.
Your first weekend will consist of preliminary in processing, basic clothing issue, forms to complete and learning the basic routine.
You will live in a modern, three-story, air conditioned building with 75 to 80 other women who comprise your recruit training unit. You and the other members of your unit will be responsible for the orderliness and cleanliness of the compartment.
Each of you will have to pass academic and physical conditioning tests as well as regular locker, barracks, personnel and infantry (drill) inspections.
Each compartment is equipped with a lounge. And located in the restroom area are ironing boards and shower facilities, and washers and dryers for laundering lingerie.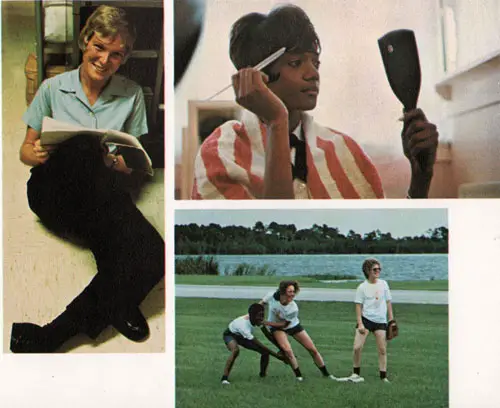 Personal Necessities
Storage at the Recruit Training Command is very limited. Luggage should be kept at a maximum of one medium suitcase and a makeup kit, if desired.
When you report for recruit training you should bring only essential items and sufficient light-weight civilian clothing to last you through the first three days of training.
You may want to bring hand soap, shampoo and deodorant (non-aerosol and unbreakable containers), toothbrush/toothpaste, sanitary needs, limited cosmetics, comb and brush.
You should also have on hand the following items:
Social Security card
Marriage license or divorce decree (if either is appropriate)
Birth certificates of children (if any)
1 carton of cigarettes and disposable lighter (if you smoke)
1 pair prescription glasses, reading glasses (if necessary)
1 bath towel
1 wash cloth
2 slips (white, either half or full length)
6 white bras
6 pairs of panties
4 pairs of skin-toned, seamless hose (panty style acceptable)
1 girdle (optional)
2 nightgowns or pajamas (conservative and washable)
1 bathrobe (machine washable)
Barrettes (optional, but if brought must be same color as hair)
Hair care items (blow driers, rollers, curling irons optional; no glass containers)
2 pairs white athletic socks (optional)
1 pair tennis shoes or sneakers (recommended, but optional)
1 swimsuit (optional, conservative)
1 steam iron (optional).
You will receive approximately $45 cash allowance as part of your uniform issue to alleviate the expense of the listed items and your dress shoes. Your uniforms are issued to you without charge.
You will be required to purchase a ditty bag (laundry bag) which contains small miscellaneous items you will need. The cost is approximately $20 which will be automatically deducted from your pay.
The laundry bag contains such items as shoe polishing gear; laundry items such as soap and starch; dental hygiene kit; combination lock; postage stamps; notebook accessories, etc.
A minimum amount of spending money should be brought (not to exceed $30). You will receive pay during the third and sixth weeks of training in addition to your final pay balance in the eighth week.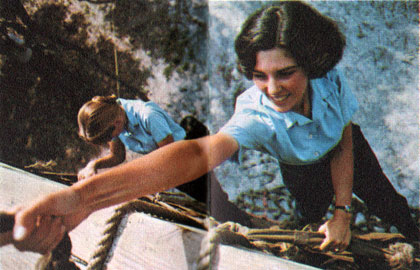 Clothing to bring with you
It is recommended that you bring the following civilian clothes with you to carry you through the first three days:
1 or 2 pairs of slacks or jeans
1 light-weight sweater or jacket
1 pair of comfortable low-heeled walking shoes (tennis shoes commended—no dress or stacked heels)
1 pair of shorts.
As soon as your training unit goes into the recruit uniform (dungarees), you will send all of your civilian clothes home with the exception of one outfit which will be retained throughout the training period.
Clothing you bring with you should be comfortable, conservative and easy to care for. Orlando climate is hot from May to September and warm to cold from October to April.
What not to bring
Due to the busy schedule and close quarters, certain personal items are not allowed. These include stuffed animals, anything electrical except steam iron, blow drier or curling iron, sports equipment, food items, wigs, valuables, radios, tape recorders and playing cards.
While in uniform, women recruits are not allowed to wear jewelry except for a small religious medal, wedding/engagement rings and a watch with not more than a one-inch wide band.
You are encouraged, however, to bring your camera. Film, flash cubes and developing are available.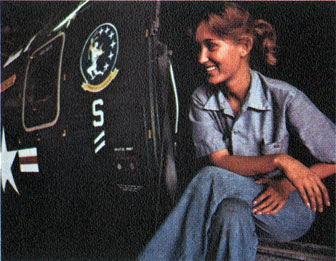 Hair Styles
You need not cut your hair for recruit training. However, while in uniform, your hair may not fall below the bottom of the collar and must be worn in such a style as to allow the hat to sit correctly.
Your hair style should conform with Navy standards. Barrettes may be used for support. Due to the warm climate at Orlando, wigs and hairpieces are not allowed during recruit training, but may be worn thereafter.
Your Uniform
The first uniform issued to you will be the dungaree uniform. It is a working uniform and may not be worn outside the naval base. You will be issued your dress uniforms about the middle of the training period. These are expertly tailored to fit each recruit's figure. The dress uniform will be worn on liberty and at your graduation ceremonies.
Physical Fitness
Physical training is designed to foster self-discipline and to help promote strength and endurance. You will be required to pass swim tests and physical fitness tests which include sit-ups, modified push-ups, jumping jacks and running continuously for 10 minutes (no distance requirement).
Three additional advanced physical conditioning tests, which get progressively more difficult, must be passed before you can graduate. You will also receive instruction in the basics of water survival during the training period.
Your military drill sessions are conducted in a disciplined manner. You will find that marching helps you gain poise, balance and self-confidence. Your training unit will proceed to meals, classes and other activities in a marching formation.
Your daily schedule will normally include one or two marching sessions and/or physical conditioning.
Daily Activities
Reveille (wake up) Monday through Friday is normally between 4:50 and 5:30 a.m. depending upon the day's activities. Daily events will usually include inspections, meals, cleaning your quarters, academic and military classes, mail call, study time, personal chores and training unit duties. Taps (lights out) are at 9:30 p.m.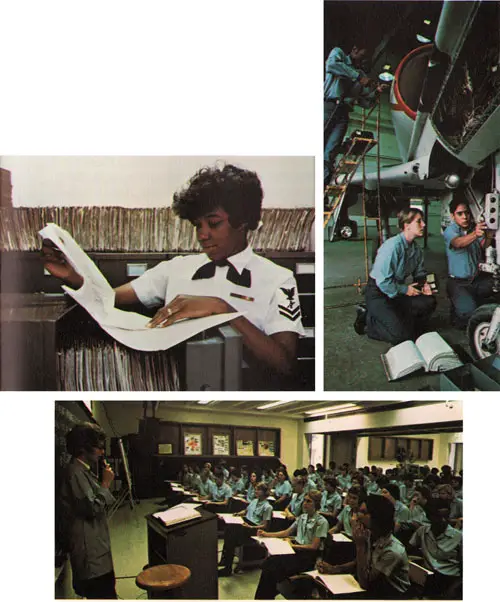 Classroom Training
Classes other than physical training include subjects such as: Naval orientation, first aid, rating orientation, fire fighting and damage control, defensive driving, military rights and responsibilities, equal opportunity, and small arms familiarization with a .45 pistol and a .22 rifle. Each class period is approximately 40 minutes, with breaks in between.
The Demerit System
Discipline in recruit training is administered by a demerit system. Demerits are given for infractions of rules or regulations. They are worked off by intensive training or concentrated exercises done in the evening.
If You Fall Behind
If you find that recruit training requires an adjustment to your way of life, you are normal. If you fall behind in your studies and military or academic grades or miss training for medical reasons you may be transferred to a junior training unit.
This allows you to take part of the training over as a refresher and to relearn portions where more emphasis is necessary. This may cause a readjustment of your graduation by one or two weeks.
If you keep up with your day-to-day classes and notes, budget your time and take advantage of your study time, you should have no difficulty with proceeding in training on schedule.
The staff, your Company Commander and your fellow shipmates will work with you to help you graduate. The final achievement, however, depends on you.
As in nearly all other occupations, however, some people are unable to meet the standards and cannot adjust or adapt to the training requirements. If a recruit does not make sufficient progress to proceed successfully through training, she may be discharged and returned to civilian life.
Recruit training is difficult. But the majority of the recruits meet the requirements and succeed to graduation day by giving 100% effort.
Recognition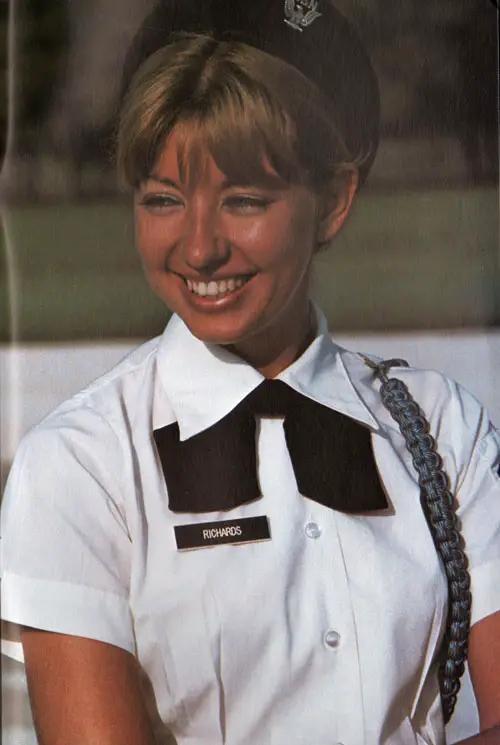 Each Company Commander selects a staff of "recruit petty officers" to aid in administering the training unit and to teach fellow recruits the importance of the chain of command concept. To serve as a recruit staff member is an honor which also carries responsibilities.
The Company Commander may also select an honor recruit from your training unit based on her devotion to duty, ability to follow orders, comradeship and overall example.
The honor recruit is recognized at graduation ceremonies. In addition, the Company Commander may also nominate outstanding seaman recruits (E-1) for meritorious advancement to seaman apprentices (E-2).
Professional Assistance
Chaplains, psychologists and a legal staff are available to assist and counsel you. The latest medical and dental facilities are available for any emergencies or routine treatment that may be necessary. Staff personnel are also available to help you in making the transition to the Navy way of life.
Off Duty Hours
Not all recruit training is work. Time is allowed for "liberty" near the end of the training period. However, granting a Navy recruit privileges and liberty is based on performance of duty.
While on liberty you will be permitted to use the base facilities (including the enlisted club). You may also want to visit the adjacent shopping centers and theaters or visit the many attractions in the local area.
You may not receive telephone calls during your training. If there is an emergency at home, your relatives should contact the nearest Red Cross for assistance.
Pay telephones are available for your use as permitted during occasional free periods. You will be authorized one phone call during your initial weekend to advise relatives of your safe arrival.
Graduation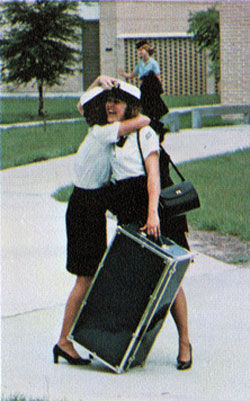 The rules, regulations and restrictions at recruit training help provide you with skills and knowledge basic to all naval personnel. This initial phase is intended to assist you in developing a mature attitude, self-discipline, self-confidence, the ability to make decisions, and pride in the satisfaction of personal and group achievement.
On that proud day when you march down the field to pass in graduation review, it will all have been worth the challenge. You'll stand 10 feet tall, knowing you look sharp, feel sharp and have accomplished things you've never done before.
This pride and satisfaction will last you the rest of your life and is something no one can take away from you, because YOU did it. You will then really know what it means to be part of the Navy team.
Chapel attendance is voluntary and you will find the Recruit Chapel offers a variety of religious services and styles of worship to accommodate everyone's religious preferences. There is a chaplain on duty at all times for personal counseling.
Again, remember: Most of these restrictions and inconveniences are temporary and apply only while you are in recruit training. The most valuable purpose of this initial phase of Navy training is to assist you in developing maturity and self-discipline.
What's Ahead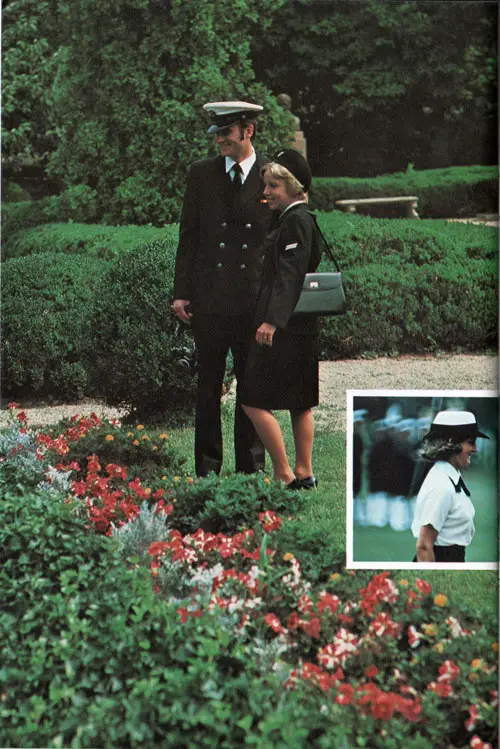 Near the end of recruit training you will receive orders to your first duty station. Depending upon the particular program in which you enlisted, you will enter one of over 60 career fields through a formal technical school or spend two additional weeks at the Recruit Training Command for apprentice training.
But before reporting to your first duty station, or the technical school, you may elect to take advantage of two weeks "leave." Those attending apprentice training can take leave after completion of their course.
When you return and get involved in your new duty you'll discover you have much more time for yourself than in recruit training. If you live on base at your new assignment your quarters will be much more comfortable than before. However, if you are married, or when you reach a certain rate, you may choose to live in your own quarters off the base.
Women in the Navy attend all but a few of the same Navy schools as Navymen, and, of course, are paid the same. You may, if you qualify, apply for advanced specialized Navy technical schools. However, you may also have to extend your enlistment to compensate for the extra time required to complete the course.
The Navy has expanded its overseas rotation for women in the Navy. There's a chance your first duty station could be in an adventuresome part of the world such as Japan, Spain, Iceland, Italy, Sicily, Alaska, the Philippines or Puerto Rico depending on your training and the needs of the Navy.
The exciting experiences of extensive travel and living in other parts of the world are now a routine part of a professional woman's military career.*
Though you are in the Navy 24 hours a day, many duty stations have regular working days. And when you're off duty your time is usually your own.
You'll earn 30 days paid vacation a year which should be spent wisely. If you're overseas, side trips to other parts of the area can be exciting and educational. Take advantage of traveling free on military flights and at reduced rates on most commercial flights.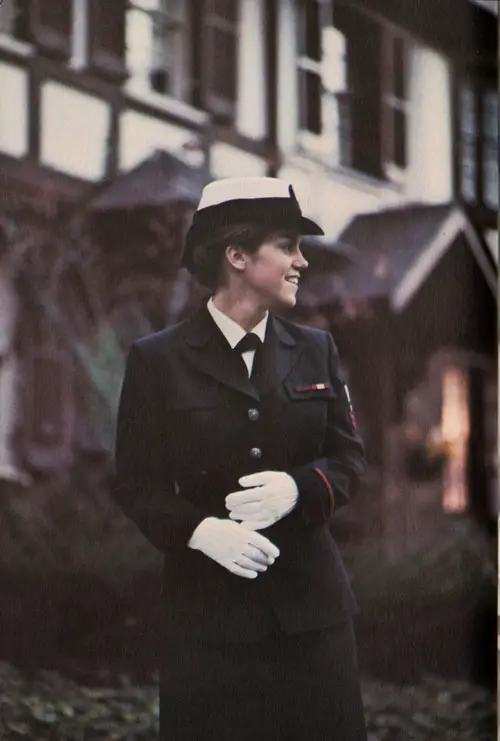 The training and experience you receive in the Navy should be invaluable to you throughout life. You will benefit from the confidence and poise gained from handling responsibility early and being out on your own.
And you'll cherish the memories of places you've seen and friendships you've made throughout the world for the rest of your life.
*Present federal statute (10 USC 6015) prohibits the assignment of women in the Navy to duty on vessels other than hospital ships and transports. Proposals are before Congress which would amend the law and permit assignment of Navy women to sea duty.
If the law is so amended during the period of your contractual obligation, you may be assigned to sea duty on ships as legally permitted.
Summary
We hope this booklet has helped prepare you for the life you can anticipate if you choose to enlist in the Navy.
If, after reading it, your impression of women recruit training in the Navy is that of many rules and regulations, strict discipline, inconveniences and hard work, your impression is partly correct. We are just telling you what to expect.
But you should also keep in mind that recruit training lasts only about two months and can be full of good times, fond memories and exciting experiences. Your independent lifestyle in the Navy after recruit training may be just what you've been looking for.
Becoming a professional woman in the Navy is only the initial step. Making it an exciting, educational and worthwhile experience and career is up to you.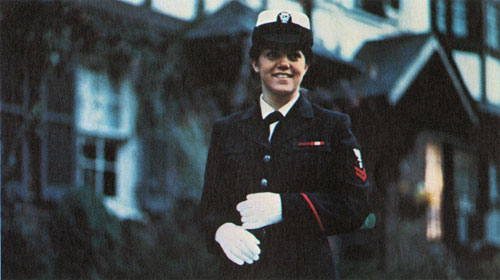 Do You Qualify?
To see if you qualify to enlist in the Navy check these qualifications. You must be...
17-31 years old, but have parental consent if you are 17.
a high school graduate or pass the General Educational Development (GED) Test.
eligible for Navy technical schools by passing appropriate mental tests.
a U.S. citizen or national.
(There are no marriage restrictions.)
For more Information
If you'd like more information on the opportunities and benefits afforded women in the Navy, visit your local Navy recruiter, or call toll-free, anytime...
Information in this booklet is subject to change. Check with your Navy recruiter for the latest details.
Reviewed and Approved 1 January 1978
20 CAPT R E. MIALE, USN
Director, Recruiting Adv. Dept. Navy Recruiting Command
RAD 811-2961