Story of the Naval Air Training Center, Pensacola, Florida - "The Annapolis of the Air"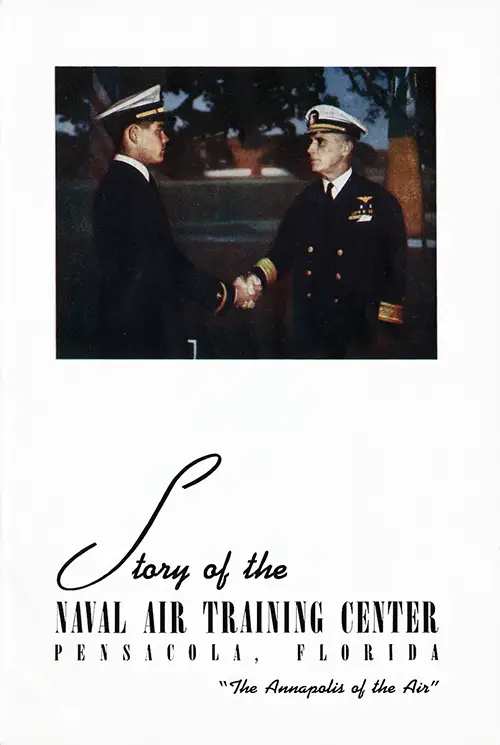 This was a pamplet put out by the U.S. Navy in Febuary 1944 and titled "Story of the Naval Air Training Center, Pensacola, Florida [The Annapolis of the Air]". The book was limited to 30,000 copies and has 44 pages and has information about officers and history of the base.There are pictures on all the pages

Compiled and Edited by Office of Public Relations, Naval Air Training Center, Pensacola, Florida.
Published by Ship's Service Department in the Interest of Naval Personnel.
First Edition, February 1944 30000 Copies
Because of the tremendous turnover of personnel and the rapid pace of training prompted by the exigencies of the war, altogether too few officers, cadets and enlisted personnel have the time to absorb the history, color and traditions that abound in Pensacola, the old Navy Yard, the Naval Air Station and the Naval Air Training Center.
In an effort to make much of this priceless information available to them in condensed form and to prevent the general subject matter of this booklet from becoming more widely scattered with the passage of time, the Office of Public Relations has compiled this work.
It is hoped that through the medium of this booklet all personnel of the Naval Air Training Center will acquire a better appreciation of the United States Navy and Naval Aviation, as well as Pensacola's contribution to their development.
G. D. MURRAY,
Rear Admiral, USN,
Chief of Naval Air Training.
H. F. MacCOMSEY, Captain, USN,
Commandant.
Naval Air Training Center
Pensacola, Florida
January 25, 1944
Table of Contents
Foreword
Preface
Navy Yard Commandants
Naval Air Station Commandants
Naval Air Training Center Commandants
First Twenty-five Naval Aviators
Introduction
Preliminary History
History of the Old Navy Yard
History of the Naval Air Station
Corry Field
Saufley Field
Ellyson Field
Bronson Field
Barin Field
Whiting Field
Naval Hospital
Naval Air Training Center
Interesting Sidelights
Navy Flyer's Creed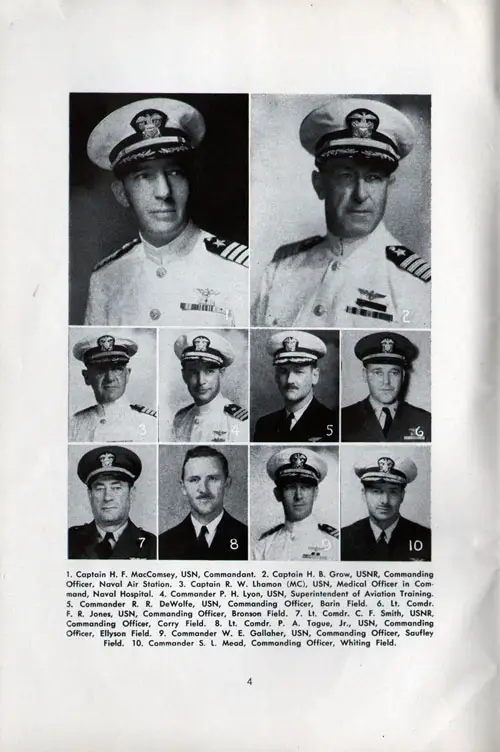 Captain H. F. MacComsey, USN, Commandant.
Captain H. B. Grow, USNR, Commanding Officer, Naval Air Station.
Captain R. W. Lhamon (MC), USN, Medical Officer in Command, Naval Hospital.
Commander P. H. Lyon, USN, Superintendent of Aviation Training.
Commander R. R. DeWolfe, USN, Commanding Officer, Bonin Field.
Lt. Comdr. F. R. Jones, USN, Commanding Officer, Bronson Field.
Lt. Comdr. C. F. Smith, USNR, Commanding Officer, Corry Field.
Lt. Comdr. P. A. Tague, Jr., USN, Commanding Officer, Ellyson Field.
Commander W. E. Gallaher, USN, Commanding Officer, Saufley Field.
Commander S. L. Mead, Commanding Officer, Whiting Field.
Preface
This work has been compiled by the Office of Public Relations in the belief that service personnel will welcome it, not only as a reference, but also as a souvenir of their tours of duty at the Naval Air Training Center, Pensacola.
The Public Relations Officer wishes to make it clear that this booklet is a word and picture history—nothing more. It does not indulge in personalities or the details of the aviation training program for the reason that if it did, it would be out of date before it could come off the press. For this reason and reasons of security, many bits of information of common knowledge are conspicuous by their absence.
Grateful acknowledgment is made to Rear Admiral George D. Murray, USN, Chief of Naval Air Training; Captain H. F. MacComsey, USN, Commandant, and to Captain Harold B. Grow, USNR, Commanding Officer of the Naval Air Station, for their encouragement and suggestions, and to the following sources of information which have been drawn on for material:
History of Pensacola Navy Yard (1911), by Rear Admiral Lucien A. Young, USN;
Pictorial History of Pensacola Navy Yard and Naval Air Station (1941), by Comdr. Lloyd W. Parrish, USN;
History of Naval Aviation (1942), by Lt. Comdr. Joy Bright Hancock, W-V(S), USNR;
Flying Officers of the U. S. Navy (1917-19); the Pensacola News-Journal; the Naval Air Station News (1921-37);
the Gosport (1937-44), and official Navy Department and Naval Air Training Center files.
The Public Relations Officer also wishes to thank Mrs. G. D. Murray, the Photographic Laboratory of the Naval Air Training Center and the Photographic Section of the Bureau of Aeronautics for their cooperation in providing the photographic illustrations used herein, as well as Mr. Vernon Howe Bailey for permission to reproduce six of his paintings, drawings and sketches in this booklet, and Mrs. Eleanor B. Davis for her painstaking care in preparing the manuscript for publication.
J. T. BINGHAM,
Lieutenant, USNR,
Public Relations Officer.
Naval Air Training Center
Pensacola, Florida
January 25, 1944
fay Yard Commandants
Captain Lewis Warrington, USN 1826-1826
Captain M. T. Woolsey, USN 1826-1830
Captain Alexander J. Dallas, USN 1830-1834
Captain Wolcott Chauncey, USN 1834-1835
Captain William C. Bolton, USN 1835-1838
Commander W. K. Latimer, USN (Acting) 1838-1839
Captain Alexander J. Dallas, USN 1839-1842
Captain E. A. F. Lavalette, USN 1842-1845
Captain W. K. Latimer, USN 1845-1848
Captain John Thomas Newton, USN 1848-1851
Captain Josiah Tattnall, USN 1851-1854
Commodore L. Rousseau, USN 1854-1857
Captain C. K. Stribling, USN 1857-1859
Commander John K. Mitchell, USN 1859-1859
Captain James M. McIntosh, USN 1859-1860
Captain James Armstrong, USN 1860-
Commodore William Smith, USN 1862-1864
Commander James F. Armstrong, USN 1864-1868
Commodcre Theodore P. Greene, USN 1868-1870
Commodore Edward Middleton, USN 1870-1873
Commodore M. B. Woolsey, USN 1873-1874
Captain A. S. Semmes, USN (Acting) 1874-1875
Commodore George H. Cooper, USN ...1875-1875
Commander J. F. McGlensey, USN 1876-1876
Captain George E. Belknap, USN . 1876-1881
Commodore S. P. Quackenbush, USN 1881-1882
Lieutenant William Welch, USN 1882-1884
Captain Robert F. Bradford, USN 1884-1884
Lieutenant William C. Gibson, USN 1884-1886
Captain E. P. Lull, USN 1886-1887
Lieutenant Commander W. M. C. Gibson, USN (Acting) 1887-1888
Commander Charles L. Huntington, USN 1888-1890
Captain Allen V. Reed, USN 1890-1893
Commander Wm. A. Morgan, USN (Acting) 1893-1894
Commander William H. Whiting, USN 1894-1896
Commander D. W. Mullan, USN 1896-1897
Commander W. W. Reisinger, USN 1897-1901
Rear Admiral Frank Wildes, USN 1901-1902
Rear Admiral Wm. Clinton Wise, USN 1902-1903
Captain Francis William Dickens, USN 1903-1904
Captain Thomas Perry, USN 1904-1905
Captain Robert M. Berry, USN 1905-1906
Captain George A. Bicknell, USN 1906-1907
Captain Leavitt C. Logan, USN 1907-1908
Captain Lewis C. Heilner, USN 1908-1908
Lieutenant Commander Richard S. Douglas, USN 1908-1910
Rear Admiral Lucien A. Young, USN 1910-1911
*From January 12, 1861, to March 9, 1862, The Yard Was Held By The Forces of the Confederate States of America, Successively Commanded By:
Major William H. Chase
General Braxton Bragg
Colonel Thomas Jones
Taal Air Stalin Commandants
Captain Henry C. Mustin, USN January 1914 to January 1917
Captain Joseph L. Jayne, USN January 1917 to October 1917
Captain Frank M. Bennett, USN October 1917 to October 1919
Captain Harley H. Christy, USN October 1919 to June 1923
Captain James J. Raby, USN June 1923 to April 1926
Captain Frank B. Upham, USN April 1926 to June 1928
Rear Admiral James J. Raby, USN June 1928 to March 1929
Rear Admiral Albert W. R. Marshall, USN May 1929 to July 1931
Captain Rufus F. Zogbaum, USN August 1931 to December 1932
Captain Frank R. McCrary, USN June 1933 to May 1934
Captain Rufus F. Zogbaum, USN July 1934 to May 1936
Rear Admiral Charles A. Blakely, USN May 1936 to July 1937
Rear Admiral William F. Halsey, USN July 1937 to May 1938
Captain Aubrey W. Fitch, USN June 1938 to April 1940
Captain Albert C. Read, USN April 1940 to October 1942
lard Air Training Center Commandants
Rear Admiral George D. Murray, USN November 1942. to January 1944
Captain Henry F. MacComsey, USN January 1944 to
Hangar Facilities at Naval Air Station in 1914
FIRST TWENTY-FIVE NAVAL AVIATORS*
Commander Theodore G. Ellyson, USN Deceased
Commander John Rodgers, USN Deceased
Vice Admiral John H. Towers, USN Active, USN
Captain Victor D. Herbster, USN Active,. USN (Ret.)
Lieutenant Colonel Alfred A. Cunningham, USMC Deceased
Colonel Bernard L. Smith, USMC Active, USMC (Ret.)
Lieutenant Commander Godfrey de C. Chevalier, USN Deceased
Vice Admiral Patrick N. L. Bellinger, USN Active, USN
Ensign William D. Billingsley, USN Deceased
Lieutenant (jg) James M. Murray, USN Deceased
Captain Henry C. Mustin, USN Deceased
Lieutenant Colonel William L. Mcllvaine, USMC Inactive, USMC (Ret.)
Captain Holden C. Richardson (CC), USN Active, USN (Ret.)
Lieutenant (jg) Richard C. Saufley, USN Deceased
Lieutenant (ig) Clarence K. Bronson, USN Deceased
Captain Kenneth Whiting, USN Deceased
Commander Lewis H. Maxfield, USN Deceased
Captain Edward 0. McDonnell, USN Active, USNR
Captain Wadleigh Capehart, USN Active, USN (Ret.)
Commander Earl W. Spencer, Jr., USN Inactive, USN( Ret.)
Commander Harold T. Bartlett, USN Inactive, USN (Ret.)
Rear Admiral George D. Murray, USN Active, USN
Lieutenant Commander William M. Corry, Jr., USN Deceased
Rear Admiral Albert C. Read, USN Active, USN
Commander Earle F. Johnson, USN Inactive (Resigned)
In the case of officers on active duty, the above ranks are those held at the present time; in the case of deceased and retired officers and those who resigned, the above ranks were those held at the time of their severance from the service.

Recreation Area to Rear of Cadet Barracks, Naval Air Station
Old Fort San Carlos—From a water color painting by Vernon Howe Bailey
INTRODUCTION
Unlike many Army camps and Naval establishments which sprang up overnight so to speak, the Naval Air Training Center and its worthy predecessors at Pensacola date back to 1826. Since few, if any, military establishments have had a richer or more colorful past, no one the true spirit and significance of the present-day training center without delving into the early history of the United States, Pensacola, the old Navy Yard and the early days of Naval Aviation.
PRELIMINARY HISTORY
The first authentic account of the discovery of Northwest Florida is found in the records of the celebrated voyage of Panfilo de Narvaez, who, in the fall of 1528, acting under a commission of King Charles V of Spain, landed on the south shore of Santa Rosa Island and discovered the great landlocked harbor which we know today as Pensacola Bay.*
Twelve years later, a Spanish fleet under the command of Maldonado visited the scene of Narvaez' discovery and praised it so highly that Ferdinand de Soto used it as his base of supply during his explorations of the territory now comprising the states of Florida, Georgia, South Carolina, Alabama and Mississippi.
Maldonado's glowing accounts of the great and commodious bay attracted the attention of the Viceroy of Mexico and the Bishop of Cuba both of whom petitioned King Charles V for permission to fit out an expedition to its shores for the twin purposes of conquest and missionary work.
In consequence, an expedition was organized under the command of Don Tristram de Luna y Arellano. With some two thousand followers, de Luna on August 14, 1559, entered the bay which he christened Santa Maria and established a settlement on the present site of Fort Barrancas. Antedating St. Augustine by six years, the town which was given the name of Pensacola, became the first settlement in the United States. Shortly thereafter, a hurricane destroyed de Luna's fleet whereupon the colony was abandoned.
Following the failure of a second expedition in 1693, Don Andres d' Arriola, in 1696, re-established Pensacola and built a fort nearby which he christened Fort San Carlos. D' Arriola then asserted the dominion of Spain over the entire Gulf Coast. This the French disputed, they laying claim to the entire Mississippi River Basin because of the earlier explorations of La Salle. Finally, the boundary between the French and Spanish colonies was established at the Perdido River. This was the subsequent cause of the political exclusion of West Florida from the State of Alabama and the resultant jealousies between East and West Florida.
*Few people appreciate the fact that the area around Pensacola was discovered but 36 years after Columbus' discovery of the New World.
Following war with the French and Indians during which Pensacola was burned and Fort San Carlos blown up, Matamoros, the Spanish governor, decided to relocate the town on what he considered a safer site. Accordingly, Pensacola was relocated on Santa Rosa Island about two miles east of the entrance to the bay.
In 1754, the town was totally destroyed by a terrific tidal wave in which many lives were lost. Fearing a repetition of this disaster, the. colonists moved the town to its present site.
By the Treaty of Paris, the Floridas passed from Spanish to British hegemony, however, the Spanish in collusion with the French took advantage of the British during the Revolutionary War and recaptured West Florida before the British could obtain military assistance from home.
After the purchase of Louisiana in 1803, the Spanish, fearful of losing their commanding position along the Gulf Coast, invited the British to use the city and harbor as a base of supply in the War of 1812.
Following this breech of international relations on the part of the Spanish, General Andrew Jackson, the future seventh President of the United States, entered Pensacola and meeting little resistance, captured the city on November 7, 1814. After dispersing the British, Jackson let the Spanish resume control and proceeded to New Orleans where he won one of the most brilliant victories of the war.
In the years that followed, the Spanish and the Indians constantly needled the new republic with forays into Georgia and Alabama. Following another expedition by General Jackson, the United States concluded a treaty with Spain whereby the Floridas were purchased and became the permanent possessions of the United States on February 19, 1821.
HISTORY OF THE OLD NAVY YARD
The acquisition of the Floridas came shortly after Mexico and the other Latin-American republics had thrown off the Spanish yoke. With a revengeful Spain firmly entrenched in Cuba and Puerto Rico, and with Prussia, Russia, Austria and France irritated by the Monroe Doctrine of 1823, the Navy Department recognized the necessity for a strong naval base on the Gulf of Mexico.
Accordingly, in 1825, President John Quincy Adams appointed a board consisting of three famous naval officers—Captain William Bainbridge, USN; Captain Lewis Warrington, USN, and Captain James Biddle, USN—to select a site on Pensacola Bay for a navy yard. Embarking at Norfolk aboard the U. S. S. HORNET (for which two aircraft carriers have been named), the three arrived at Pensacola on October 25, 1825.
On November 4 of that year the board wrote a letter to the Honorable Samuel L. Southard, Secretary of the Navy, in which they recommended the present site of the Naval Air Station as the logical site for a navy yard. Their selection was approved by the President on December 4, 1825.*
After a minimum of facilities had been constructed, an extensive building program was launched in 1837. At that time, eighty acres in the southeast corner of the tract were set aside for development into a first class navy yard and arsenal. Around this area was built a brick wall, most of which is standing today.
A substantial building slip (the Wet Basin of today), a floating dry dock and other necessary facilities for the docking, repairing and construction of the then largest vessels-of-war were built. By 1861, the Yard was considered one of the best equipped in the country and was turning out such masterpieces of ship construction as the SEMINOLE and the steam frigate PENSACOLA.
Immediately after the inauguration of the Navy Yard, the Pensacola station became one of great importance as a base of repairs and supplies to the American Fleet engaged in the suppression of the slave trade and piracy in the Gulf, the Caribbean and adjacent waters. During the Mexican War, the Yard outfitted the Gulf Squadron that blockaded the Mexican
*The site selected belonged to the Federal Government. It is believed that it was never at any time a part of the state of Florida.
The Wet Basin—from a sketch by Vernon Howe Bailey
JcPutal Me
NAVAL AIR TRAINING CENTER
PENSACOLA A, FLORIDA

Compiled and Edited by Office of Public Relations
Naval Air Training Center, Pensacola, Florida
Published by Ship's Service Department
in the Interest of Naval Personnel
First Edition February, 1944 30,000 Copies