Our Navy Magazine - March 1969 -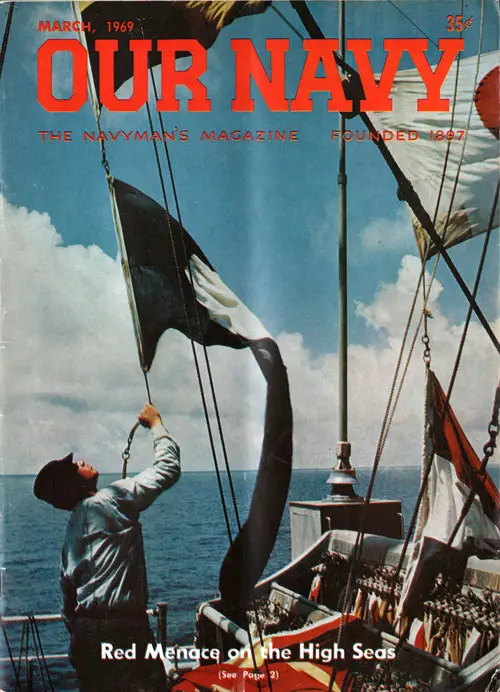 OUR NAVY
The Navy Man's Magazine Founded 1897
Vol. 64, No. 3, March 1969

Stanford F. Brent, Editor

Washington Correspondent Harold Helfer

Photographic Editor Jack Todd
On The Cover: Signalman aboard dock landing ship USS Alamo (LSD-33) runs signal flags up hoist as ship steams in South China Sea off coast of Vietnam. Photographer W. M. Powers, PH1
Table of Contents
News Department
Pentagon Report
Atlantic Report
Pacific Report
Yard Report
Washington Briefs
Inland Report
Regular Features
Liberty Port—Amsterdam
Shipmate of The Month
Crossword Puzzle
Pass the Word
Laff Lines
Book Report
Editorial
Picture of The Month
March Features
Red Menace On The High Seas
BY R. P. KISSEL
Brandy
BY HOWARD C. SMILEY
He Took To The Tuba
BY DOROTHY TREBILCOCK
Lost or Misplaced
BY THEO. H. TENNANT
Your Science IQ—The New Moon
BY L. MACK MENSER
Ship Of The Month USS Bon Homme Richard (CVA-31)
The Lily Pond
BY JOHN SCOTT STONE
Covers And Cancels
BY DESMOND D. JAGYI
Exclusive Interview—Donald Keyhoe
BY HAROLD HELFER
Moffett's Disarming Trio
BY PHIL MUMMA AND DON ISENBERG
Little More Than Pocket Change
BY JOSEPH C. SALAK
"I Love You, Floyd Bennett Field"
BY ED GALING
The Roots Of Childhood (Poem)
BY ALAN G. PIERCE
John Hubbard Chafee
BY LIONEL SALVAS
Birth Of The Aircraft Carrier
BY JIM FALK
A Shipmate We Like To Remember
BY PAUL ERIC LAYMAN
Gobbledygook Plus!
BY BILL CASE 62
ADVERTISING REPRESENTATIVES
Los Angeles, Calif. 90019—Aaron D. Viller Assoc. 5311 Venice Blvd. 213-939-1161
St. Louis, Mo. 63117—Business Publication Rep. 7110 Oakland-314-647-7667
Oklahoma City, Okla. 73106 — Business Publication Rep. Lloyd D. Skinner, 1915 Classen Blvd. 405-528-1194
OUR NAVY is published monthly by Our Navy, wen Watson, President; Paul Watson, Publisher; Chris J. Lund, Circulation

Manager; Office of Publication, Editorial, Inc., Advertising and Executive Office, 1 Hanson Place, Brooklyn, N. Y. 11217, telephone: ST 3-4540. Second Class postage paid at Brooklyn, N. Y., and at additional mailing offices. Single copies 35 cents. One year's subscription (12 issues) $4.00 ($6.00 foreign).
Although every attempt will be made to avoid losses, OUR NAVY is not responsible for unsolicited manuscripts. All material paid for at standard rates. All photographs are official Department of Defense or Our Navy photos unless otherwise credited. All opinions are those of the editors or contributors, and are not necessarily the official views of the Navy De, partment or the U. S. Government. Member of ABC.
Entire contents copyrighted, 1969, by OUR NAVY, Inc.
MARCH, 1969