1 August 1959 Our Navy Magazine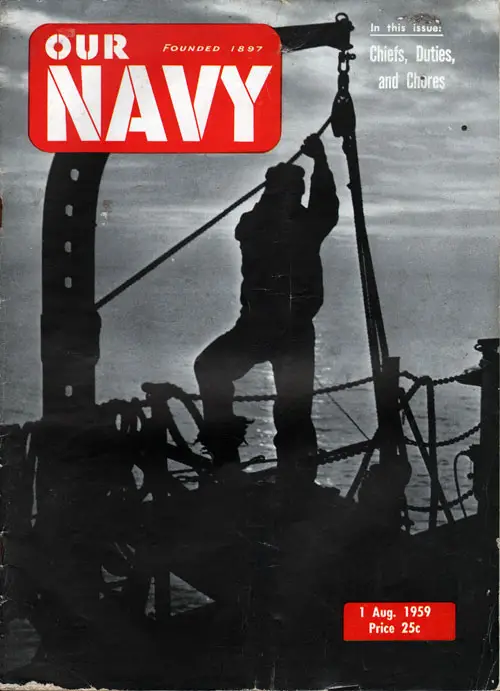 Front Cover, A seaman prepares the port gangway for lowering as his ship enters port at dusk, Our Navy Magazine for 1 August 1959.
Our Navy: The Voice of all Navymen, Vol. 54 No. 5, 1 August 1959

NEWS SECTION
Washington Bulletin
by Harold Helfer
Latest from the Pentagon and Capitol Hill.
Bulletin Board of Naval Interest
by Our Navy Reporters
Navy News from the Seven Seas.
Navy Sports Through the Long Glass
by Fred Thornberry
Who won what, when, and where.
ARTICLES
Navy Men Deserve the Best
by Son Haddon, JOC
Here's how they chowdown on that showboat, the Northampton.
Chief, Duties, and Chores
by Matt Heasley
A critical review of chiefs and their place by an old timer.
The Monster
by R. B. Foster
A true adventure at Guantanamo with only mystery for an ending.
FICTION
Moonshiner on The High Seas
by Ben T. Traywick
Saltwater McCoy is back again.
DEPARTMENTS
Speaking of Cars
Notes of Interest
Our Reel Navy
Contacts and Swaps
Slawering
Editorial

All photographs are official Department of Defense or Our Navy photos unless otherwise credited. All opinions expressed are those of the editors or contributors, and are not necessarily the official views of the Navy Department or the U. S. Government.
Entire contents copyrighted, 1959, by OUR NAVY, Inc.