Our Navy Magazine - November 1968 - Your Science IQ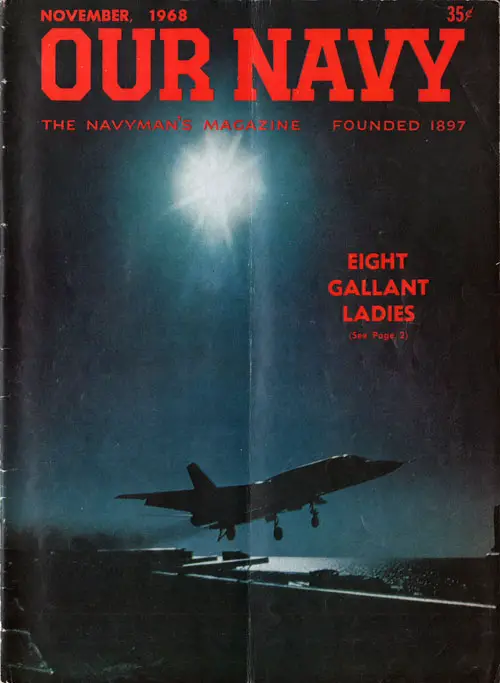 OUR NAVY
The Navy Man's Magazine Founded 1897
Vol. 63 No. 11
November 1968
On The Cover: An RA-5C Vigilante reconnaissance aircraft is launched from the flight deck of the Atlantic Fleet aircraft carrier USS FORRESTAL (CVA-59).
November Features
The First Eight Carriers
BY RAY YOUNG 2
The Reluctant Saint
BY PETER E. ABRESCH 8
"Tursy"
BY DON GROVES 12
Your Science IQ—The Big Bang
BY L. MACK MENSER 15
OUR NAVY'S Ship Of The Month — USS Shasta 16
The Wooden Gift
BY GERALD R. BOLING 20
Underwater Demolition Raid
BY TONY ROACH 22
Covers & Cancels
BY DESMOND D. YAGYI 25
Exclusive Interview — The Secretary's Secretary
BY HAROLD HELFER 35
Keelhauling, Modern Style
BY C. P. PRAHALIS 38
Those Who Came Back
By JIM LEA 39
Jack In The Tub
BY SID SAND 42
Fids, Marlinespikes and Salts
BY HENRY EICHEL 46
"Sad Brad"
BY THEO H. TENNANT 55
News Department
Pentagon Report 26
Atlantic Report 28
Pacific Report 30
Yard Report 32
Washington Briefs 34
Inland Report 38
Regular Features
Liberty Port — Waikiki Beach 50
Shipmate of The Month 52
Crossword Puzzle 57
Pass the Word   58
Laff Lines 64
Book Report 65
Editorial 66
Picture of The Month      68

Publishers Letter
Dear Friends:
I recall my grandmother saying as she tied a small piece of string to a rather large ball composed of miscellaneous pieces of string in various colors and thicknesses, "if you save something long enough, Paul, you will someday find a use for it."
I would like to make the same prophesy with regard to enlisted uniforms. "If you stay in the Navy long enough, you will eventually have a new uniform."
Actually I can't remember how many times we have been shocked to read that someone has adopted a new uniform for the Navy's bluejackets. Perhaps it all started during WW II when a group of New York society boys joined the Navy to keep out of the Army, and then were dissatisfied with the dress blue jumpers they had to wear to the Stork Club.
Anyway enough "war-duration" sailors wrote to their Congressmen favoring a change so that as soon as WW II was "settled" the uniform question became "unsettled", a new uniform was brought out, and almost forced into use.
OUR NAVY played a vital role in scuttling it through requesting and receiving assurances from Admiral Sherman that the uniform would not be adopted without a Fleet test and evaluation.
The result of the Admiral's test was the "deep six" for the new uniform, but unfortunately it didn't stay down. An assistant Secretary of the Navy and John B. Connolly of Texas, dredged it up, dried it out and issued instructions that the redesigning of the Navyman's uniform should again be undertaken.
Once more the Navy redesigned the enlisted uniform and again Our Navy sounded out men in the Fleet to find out if they really wanted a change; again the answer was a resounding "NO." The Navy's own survey agreed with ours and again the issue was dropped. Now, for the umpteenth time, it has bobbed to the surface again.
This time the Chief of NavPers is reportedly thinking along the lines of a Chief-Type Uniform for 1st Class POs. If you think this is new, any old timer can recall that thousands of fore-and-aft creased, trouser-type uniforms were disposed of, because they were not approved or wanted.
We can't keep up with the many changes that from time to time are reported to be under consideration, but we would like to pose a few questions.
How many enlisted men in the 1st Class Petty Officer rates are leaving the Navy? Would they stay for a new uniform? If not, why fool around with the uniform? How many Chiefs would appreciate 1st class POs getting a uniform that is similar to theirs? And last, but not least, how would we solve the old, old problem of stowage aboard ships of CPO type uniforms?
Reminiscingly,
Our Navy
All photographs are official Department of Defense or Our Navy photos unless otherwise credited. All opinions are those of the editors or contributors, and are not necessarily the official views of the Navy Department or the U.S. Government.
Entire contents copyrighted, 1968, by OUR NAVY, Inc.