Our Navy Magazine - December 1968 - The Nuclear Santa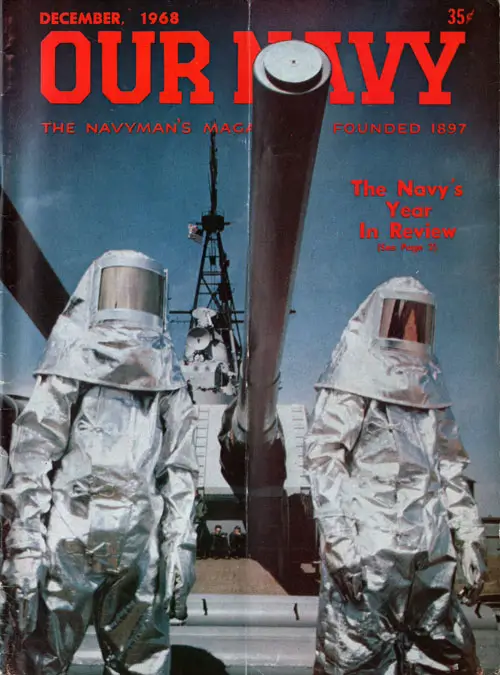 OUR NAVY
The Navy Man's Magazine Founded 1897
Vol. 63, No. 12
December 1968
On The Cover: Firefighters on the deck of the battleship New Jersey.
December Features
"Navy-1968" In Review
BY DON GROVES 2
The Indians
BY FRED MILLER 8
The Nuclear Santa
BY J. D. HOWARD 10
Bombs Away! (of life)
BY DALE L. KITE 13
Your Science IQ—The Moon Race
BY L. MACK MENSER 15
OUR NAVY's Ship of the Month
USS INTREPID 16
The Saga Of The Seagoing Camels
BY JACK F. BRYSON 23
Covers And Cancels
BY DESMOND D. YAGYI 25
Exclusive Interview—Lieut. Brimmage
BY HAROLD HELFER 35
Urgent—Expedite
BY D. L. MERRILL 38
The Men On The Flying Trapeze
BY PHIL MITMMA 42
The "Boats" Was Literate
BY JIM FERRELL 60
News Department
Pentagon Report 26
Atlantic Report 28
Pacific Report 30
Yard Report 32
Washington Briefs 34
Inland Report 36
Regular Features
Liberty Port — Athens 50
Shipmate of The Month 52
Crossword Puzzle 57
Pass the Word   58
Laff Lines 64
Boob Report 65
Editorial 66
Picture of The Month 68
Publishers Letter
Deads:
I was invited recently to compete in a rifle match at a New York City school. During the evening I wandered into another room. As I opened the door, I suddenly stopped, for the "captain of the head" was busily mopping the deck. He was too old to be doing this hard wo.rk, so jokingly I suggested that he and I were old enough to retire.
It was like turning on a faucet as he poured out a combination of Italian and English generously garnished with cuss words. In between the language barrier I learned that the school had coaxed him back from retirement because they couldn't get anyone to do the porter's work. (NYC has approximately 7-million residents of which almost 1-million are on relief. Why be a porter?)
"Dose lazy bums shoulda be roundup, along wid alla da bums who hate America and move to big piece unuse land where dey make do for themself," said my friend—and you know, it isn't such a bad idea! Here are a few recommendations—and you have my permission to add your own pet suggestions.
How about the students in a State College who recently had a "sit-in" to force the authorities to permit them to smoke marijuana without repercussions?
Or, NYC reliefers who stormed City Hall demanding (and getting) more money plus a free telephone in case they needed to call a free doctor in a hurry.
Or, the two black Olympic athletes who, while the Star Spangled Banner was being played, saluted our flag with raised black-gloved fists denoting "black power." As if there were any area where the black man was on a more equal footing with the white man than in sports.
Or, how about the Sanitation men in New York. They have a starting salary of 8,500 dollars and a maximum of 12,500 dollars and retirement benefits totaling 3/4 of their last pay.
The Firemen feel that their work is more hazardous than the Sanitation men so they want more pay. The Police think their work is still more hazardous than either so they want even more than the others.
No-one in New York City, or elsewhere, pointed out that the servicemen in combat areas are engaged in more dangerous work than all three—AND AT MUCH LESS MONEY, so I personally say it is about time to give our men in uniform a really substantial raise.
Before anyone calls me unrealistic for gratuitously 'aking your part in the remuneration race. I shall bring this letter and the "Publisher's Letter" series to a sudden close.
I have enjoyed writing this feature and the opportunity it presented for bringing you a few of my thoughts since my first letter back in January of 1960, but other demands on my time preclude continuance.
Regretfully,
Reminiscingly,
DECEMBER, 1968
Office of Publication, Editorial, Advertising and Executive Office, 1 Hanson Place, Brooklyn, N. Y. 11217, telephone: ST 3-4540. Second Class postage paid at Brooklyn, N. Y.work at addititnal mailing offices. Single copies 35 cents. One year's subscription (12 issues) $4.00 ($6.00 foreign). Although every attempt will be made to avoid losses, OUR NAVY is not responsible for unsolicited manuscripts.
All material paid for at standard rates. All photographs are official Department of Defense or Our Navy photos unless otherwise credited. All opinions are those of the editors or contributors, and are not necessarily the official views of the Navy Department or the U.S. Government. Member of ABC.
Entire contents copyrighted, 1968, by OUR NAVY, Inc.