Our Navy Magazine 1 January 1943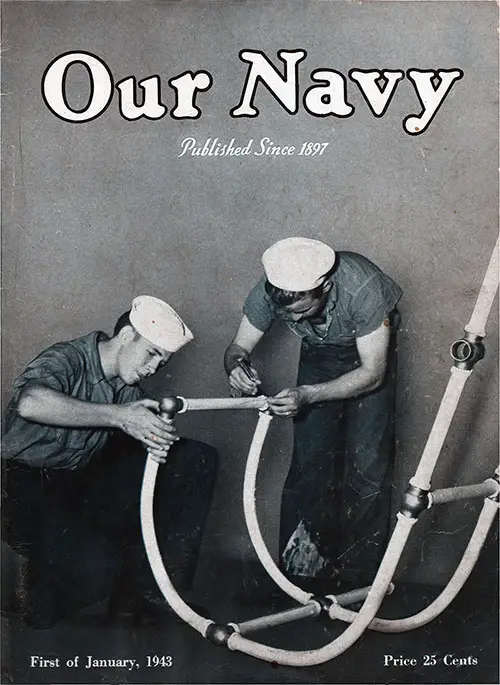 Front Cover, 1 January 1943 Issue of Our Navy Magazine. GGA Image ID # 13544b52b4
Vol. XXXVII No. 15
THE STANDARD MAGAZINE OF THE UNITED STATES NAVY
Table of Contents : * THE LOG *
Traditions of the Navy
By C. W. Windas
Our Naval Views and Comments
By The Editor
"Official U. S. Navy Photograph"
By George B. Youngs
Caribbean Attack
By William E. Beall
Salty Rhymes
December 7th
Scuttlebutt Scandals
By Bozo
Foreign Naval News
By Jack Blumenfield
What's in a Name?
By Richard A. Shaffer
How to Speak Japanese
By Hallack McCord
Regular vs. Reserve
By Malcolm Cagle
Dive-Bombing-1898
By William R. Davis
Bone Island
By Eddie Dieckmann
The Old Paducah Carries On
By Hardy Burke
Black Hawk Talk
Phantom Ships
By Walter K. Putney
Roundup on the War
By Fletcher Pratt
Naval Cancels and Cachets
By Marshall R. Hall
Salt Shakers
By Walt Munson
Bulletin Board of Naval Interest
Awards, Commendations and Promotions
Personnel Information
Heap Big Chief
By Harvey L. Miller
A Marine at Bay
Notes of Interest
This Enlisted Man Made Good
Sparks from the Spokes
By Harry Dwyer
Book Reviews
Lay Aft on the Fantail
Skipper and the Boot
Written By and For All Navymen.
EDITOR : Cliff Alderman
ASSOCIATE EDITORS:
Myron Eddy
C. M. Hatcher
R. C. Fay
STAFF PHOTOGRAPHER
CONTRIBUTING EDITORS
A. R. Bosworth
J. E. Jones
Walt Munson
Lillian Thomas
Harry Dwyer
Member Audit Bureau of Circulations
Published the 1st and 15th of each month by OUR NAVY, INC., Owen Watson, president and publisher; Paul R. Watson, treasurer. Office of publication, 210 Orchard Street, East Rutherford, N. J. Editorial and Executive offices, 1 Hanson Place, Brooklyn, N. Y.
Entered as second class matter at the post office, Rutherford, New Jersey, under the act of March 3, 1879. Single copies 25 cents. One year subscription (24 issues) $5.00. Subscribers should notify promptly of change of address; both old and new addresses should be given. Contributions to OUR NAVY'S editorial columns should be addressed to 1 Hanson Place, Brooklyn, N. Y.
Material intended for the 1st of the month issue should he in the hands of the Editor by the 1st of the month preceding date of issue: material for the 15th of the month issue by the 15th of the month preceding.
Assertions or opinions of contributors are those of the individual and do not reflect the official views of the Navy Department or the Government.
Entire contents copyrighted 1942 by OUR NAVY, INC.
More Net Paid Circulation in the Navy than Any Other Publication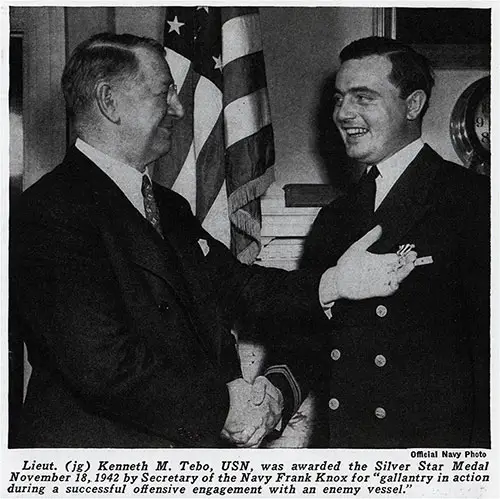 Silver Star Medal Recipient. Lt. (jg) Kenneth M. Tebo, USN, was awarded the Silver Star Medal November 18, 1942 by Secretary of the Navy Frank Knox for "gallantry in action during a successful offensive engagement with an enemy vessel." GGA Image ID # 13544f72e1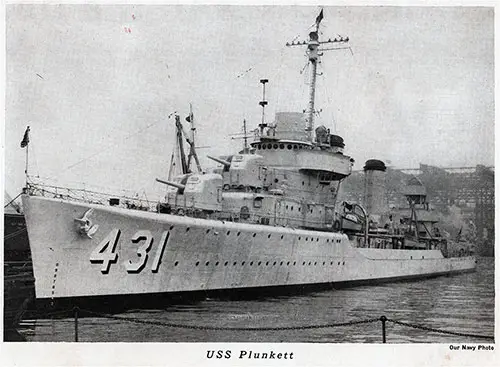 USS Plunkett (DD-431), a Gleaves-class destroyer, is the only ship of the United States Navy to be named for Rear Admiral Charles Peshall Plunkett. GGA Image ID # 1354b89be0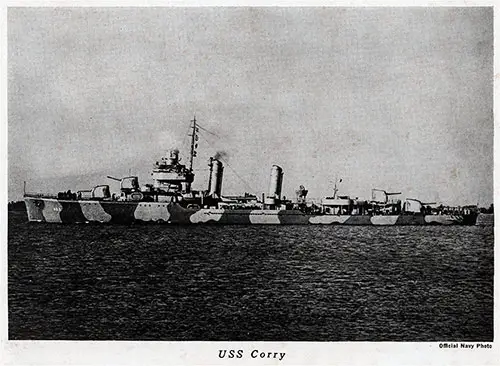 USS Corry (DD-463), a Gleaves-class destroyer, (also known as the Bristol class), was the second ship of the United States Navy to be named for Lieutenant Commander William M. Corry, Jr., an officer in the Navy during World War I and a recipient of the Medal of Honor. GGA Image ID # 1354eb7a41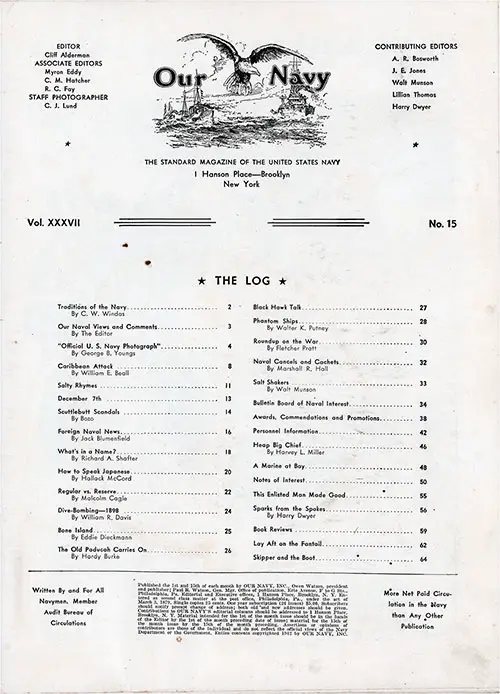 Table of Contents, 1 January 1943 Issue of Our Navy Magazine. GGA Image ID # 13554d4545