Our Navy Magazine - September 1960 - Dignity of The Uniform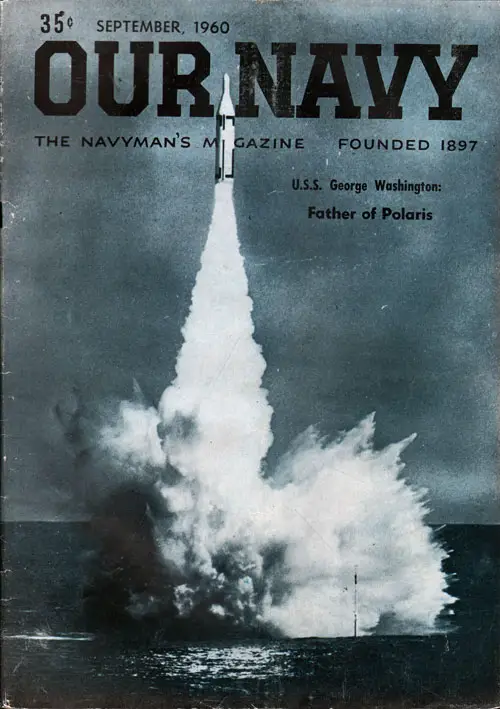 OUR NAVY
The Navy Man's Magazine Founded 1897
Vol. 55 No. 9
September 1960
On the Cover: Polaris away! First firing from submerged submarine. See page 3.
CONTENTS
September Features
USS George Washington: Father of Polaris 3
The Dignity of The Uniform,
By Paul B. Anderson 6
Collision,
By Jimmy Strickland 8
The Forager,
By John P. Neary 10
One Service and You,
By A. N. Glennon 12
This Too Was Our Navy,
By John D. Hayes 16
The Man in The Wake,
By John Corsair 18
Sexual Behavior in The Human Sailor 32
CPO Promotion List 36
Publisher's Letter
News Departments
Pentagon Report 20
Washington Briefs 25
Atlantic Report 26
Pacific Report 42
Inland Report 54
Science and Space Report 56
Regular Features
Wind in The Rigging 2
Ship of The Month: USS Tanner 34
Car Report 48
Movie Report 50
Crossword Puzzle 53
Sports Report 57
Salt Shakers 58
Aquatic Report 62
Contacts and Swaps 63
Editorial 64
All photographs are official Department of Defense or Our Navy photos unless otherwise credited. All opinions are those of the editors or contributors. and are not necessarily the official views of the Navy Department or the U. S. Government.
Entire contents copyrighted, 1960, by OUR NAVY, Inc.
A Pet Cause Clicks
OUR NAVY since its inception in 1897 has editorially supported hundreds of causes for EMs of the Navy, but one element must be present in each of our drives —THE GOOD OF THE SERVICE.
And now, at long last, one of our pet projects which we feel is for the good of the service, after being planted, fertilized, cultivated and, watered seems to be bearing fruit. CHINFO has recently sent a suggestion to the Chief of Naval Operations requesting that the Photographic Manual should be changed to allow a photographer's name to become a part of the record of any outstanding picture.
Many are the reasons why a man should be given credit for a job "Well Done." Perhaps the most important reason, would be the welcomed glory for an achievement and the inspiration to try even harder the next time.
Navy photography is generally extremely dull, routine work. A cameraman is asked to take pictures of compartments, not to show a pretty picture, but to render a clear area showing a weld made to a bulkhead. Or he should portray damage caused by fire and water in a storage area. He is called upon to shoot inside a boiler, especially before it has cooled off. He must take pictures of every landing and take-off on a carrier.
And what fun taking a snap of each new officer and man that reports aboard. Who hasn't been called upon to take a picture of the "old man" with his new stripe, or with his family? Before we leave this dull picture show, did you know that "cumshaw" and "photography" came from the same word root?
Glamorous? Never! If an eager-beaver photographer in woolens, furs and gloves in the Antarctic, or an artistic fellow lashed to a periscope, or a lens hawk sweating in an oxygen mask 10 miles up happens to grab a pictorial or glamorous shot that he has not been asked to take, he probably will find it appearing in LIFE, or LOOK, or even in OUR NAVY—with a credit line reading, Official Photo, U. S. N.
Thanks to CHINFO, and we hope Admiral Burke, this may soon be changed to read, Official USN Photo, by John J. Jones, PH2. Then another cause for the Good of the Service will not have been underexposed.
Sincerely,
OUR NAVY