Our Navy Magazine - December 1960 -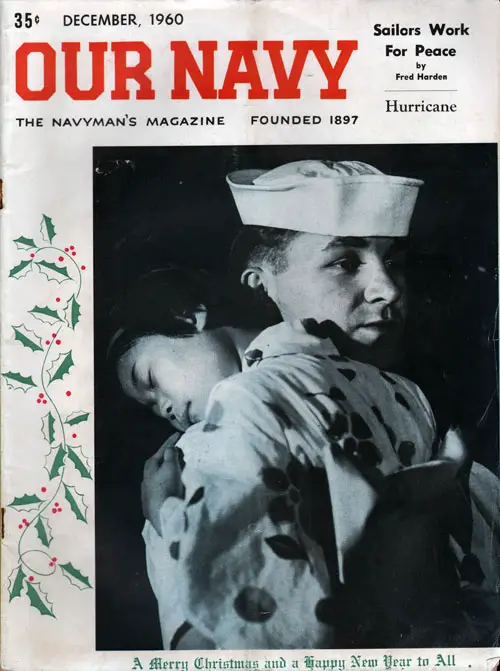 OUR NAVY
The Navy Man's Magazine Founded 1897
Vol. 55, No. 12
December 1960
ON THE COVER: E. F. Zimmerman, AN, holds a sleepy guest at the Yokosuka Naval Base, Japan. Close friendliness between sailors and people of other countries is becoming a new Navy tradition. (See page four).
CONTENTS
December Features
Sailors Work for Peace,
By Fred Harden  5
The Inspirator,
By Robert Igriega 8
Old Joe Fyffe,
By Joe Harrington 12
The Navy Turkey Mystery,
By Bernard Lemon           14
Hurricane!
By W. D. Toole, Jr. 16
Mosquito Boat Navy,
By D. Short 18
The Capsule Catchers 38
News Departments
Atlantic Report 24
Pentagon Report 28
Washington Briefs 31
Pacific Report 34
Inland Report 50
Science and Space Report 54
Regular Features
Pass the Word 2
Ship of The Month: USS Proteus (AS-19) 20
Sports 40
Movies 46
Car Report 53
Salt Shakers 60
Erin Herself 62
Crossword 63
Editorial 64
All photographs are official Department of Defense or Our Navy photos unless otherwise credited. All opinions are those of the editors or contributors. and are not necessarily the official views of the Navy Department or the U. S. Government.
Entire contents copyrighted, 1960, by OUR NAVY, Inc.
Publisher's Letter
It is rare when letters arrive praising our efforts to bring you a better magazine, but the complaints keep on arriving with punctual regularity. Most of the complaints are diverted to the editorial office and usually find their way into the "Pass the Word" section. Criticism of the magazine's policies are deposited on my desk. The one I see most often is that we carry too much advertising.
The cover price of a magazine will not bring a publisher enough money to cover the mechanical costs, which include paper. engravings, printing, editorial material, along with operating expenses such as rent, heat, light, and personnel. Add to these the cost of mailing, selling, returns, etc., and you have the basic expenses. For OUR NAVY this adds up to about $1.00 per copy. Would you want to pay that just for the privilege of reading an advertising free magazine?
Advertising is not only essential for revenue, but many readers purchase magazines strictly for the ads themselves. Take a women's magazine like Vogue, or a man's magazine like Esquire for example. These are bought primarily for the styles they portray. One magazine recently had 150 pages of advertising before the first page of text. Life magazine just broke all magazine records with a $5,000,000.00 advertising billing in one issue.
All reputable companies advertise to create demand for their products. Their ads are designed to protect the buyer from inferior merchandise, but, as in all things, there are exceptions. The Post Office Fraud Section told me re, cently that one of New York's most revered daily newspapers continually accepted "come-on" type advertisers.
This is where you are promised a name brand item for practically nothing. When you order the gift you receive a reply stating that they are temporarily out( of the item, but offer to substitute a much better quality item—whose brand name no one ever heard of—for slightly more money. Suckers are born every minute and these unscrupulous advertisers are ready to "pluck" them.
Advertisers in OUR NAVY are investigated for your protection. There have been a few cases where a bad egg got by us, but we shoved so much trouble in his way that he gladly reimbursed our readers.
Until you are willing to pay a much higher cover price for your magazine, we will welcome legitimate advertisers —and hope you will buy their products.
Merry Christmas,
OUR NAVY