Our Navy Magazine April 1960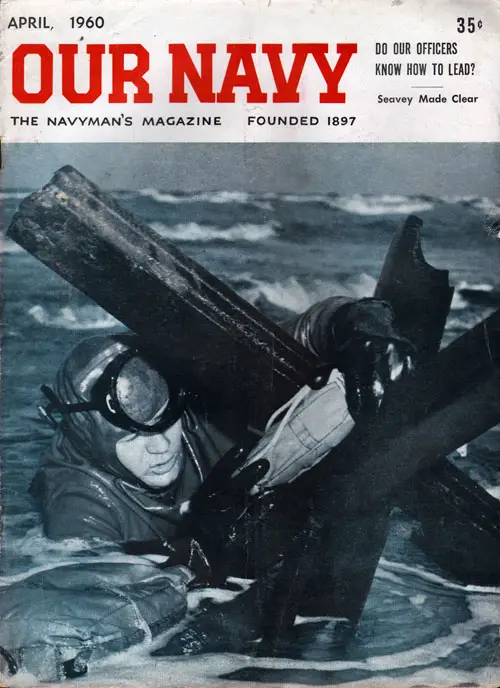 OUR NAVY
April 1960
Vol. 55 No. 4
The Navy Man's Magazine Founded 1897
On the Cover: Swimming in silently from the sea, a frogman attaches a bomb to an anti-boat obstacle on a hostile beach.
CONTENTS
Inside Our Navy 2
Do Our Officers Know How to Lead? 3
The Navy Exchange 6
Seavey Made Clear 8
Bronson's Hard Hat (Part II) 9
The Tunney Fish 10
The Military Plays Cupid . . . And Bungles 12
Lad with A Future 16
Atlantic Report 17
Pacific Report     24
USS Ramsden (DER-382) 31
Washington Briefs 35
Pentagon Report 37
Sports Report 41
Movie Report 44
Car Report 46
Reading Report 48
Crossword Puzzle 53
Master of Mikes and Millimeters (Part II) 56
Salt Shakers 58
Contacts and Swaps 59
The Wind in The Rigging 61
Editorial 64
All photographs are official Department of Defense or Our Navy photos unless otherwise credited. All opinions are those of the editors or contributors, and are not necessarily the official views of the Navy Department or the U. S. Government.
Entire contents copyrighted, 1960, by OUR NAVY, Inc.
Publisher's Letter
IF YOU ARE on the beach and your can of shaving cream goes pfttt . . . or your shipmates are out of Luckies, L&Ms, or Marlboros, you merely drop into any Navy Exchange, or civilian store and your favorite brand is right there.
Not so on ships or overseas. Foreign retail stores, DEs, DDs, or smaller units might carry a few brands, but they couldn't carry them all, for the six major cigarette companies manufacture some 30 different brands.
Naval Supply does maintain numerous well stocked overseas "Ships Stores Ashore," but they cannot do the entire job alone. To help you get your brand of soap, toothpaste, or tax free cigarettes, large national manufacturers employ specialists who handle the complex problems of getting merchandise to you in good condition. Let me introduce you to just one of these men.
Joseph Cahn started with the domestic sales department of Philip Morris back in 1933. Eight years later he joined the Army as a 1st Lt. During the next five and a half years, the Navy transported him to seven Pacific landings. Returning from the wars and back at his desk in New York, Col. Cahn became his company's military expert and eventually was rewarded for his efforts by being made Vice President of their Overseas Division. He is the only VP I ever knew who answers his own phone personally to all callers.
Today Joe works with 19 men all over the world, who have been specially trained to go aboard ships and stations to service your needs. He has been in every country in the world and has flown over 5,000,000 miles.
In addition he has used donkeys, elephants, and shanks-mare to get to some of the places he visits. He speaks three languages, but claims that he can get his laundry back in any country. In between trips Joe visits with his wife and three daughters.
What does he think of the Navy? Well, he doesn't want to knock other branches, but he sure wants to praise the Naval Supply Department for their wide-awake, fully trained merchandising men.
SINCERELY,
OUR NAVY