Our Navy Magazine 1 November 1959 Communication Gang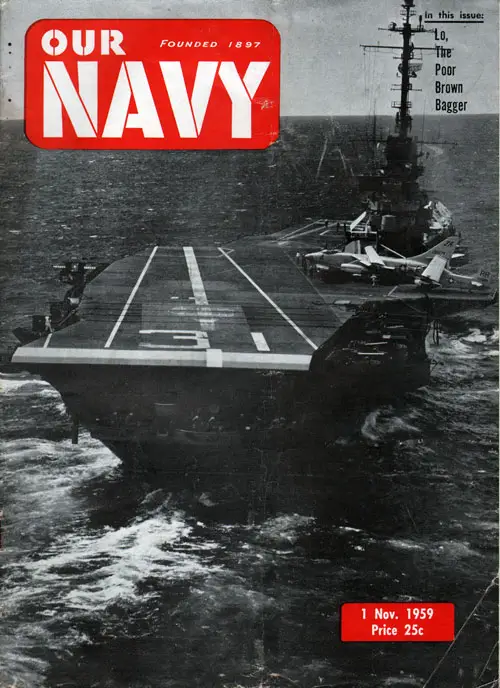 The Voice of all Navymen
1 November 1959
VOL. 54 NO. 11
OUR COVER: Pilot's-eye view of the Bon Homme Richard while coming aboard.
NEWS SECTION
Washington Bulletin
by Harold Helfer 3
Latest from the Pentagon and Capitol Hill.
Bulletin Board of Naval Interest
by Our Navy Reporters 11
With bluejackets ashore and afloat.
Navy Sports Through the Long Glass
by Fred Thornberry 30
Football news from the Fleet.
ARTICLES
Lo, The Poor Brown Bagger
by Charles Kapitzky, J01 25
Humorous story of a family with orders.
The Best Communication Gang
by Ben Haddon, JOC 26
The chips are down in the Cruiser Force.
Night Bailout
by Bernard K. Thomas, Jr. 27
The pilot was out—but the radar man was stuck.
The World's Biggest Sewing Bee
by H. A. Bruno 28
How they put the bags together.
DEPARTMENTS
Speaking of Cars 31
Swaps and Contacts        43
Our Reel Navy    32
Notes of Interest 45
Editorial 48
All photographs are official Department of Defense or Our Navy photos unless otherwise credited. All opinions expressed are those of the editors or contributors, and are not necessarily the official views of the Navy Department or the U. S. Government.
Entire contents copyrighted, 1959, by OUR NAVY, Inc.