Our Navy Magazine - 1 November 1942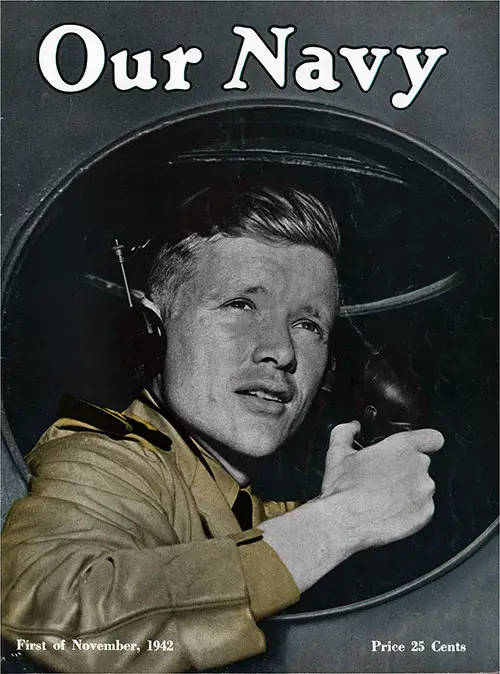 Front Cover, 1 November 1942 Issue of Our Navy Magazine. GGA Image ID # 134dc666bf
Vol. XXXVII No. 11
THE STANDARD MAGAZINE OF THE UNITED STATES NAVY
ON THE COVER
"You may proceed, sirl" The watch officer framed in the porthole of this U.S. Navy examination ship, anchored well outside a United States port, gives orders, hails vessels and determines whether they shall be permitted to enter or leave the harbor. Here the officer is using a public address system to talk to nearby skippers. Official Navy Photo.
Table of Contents : * THE LOG *
Traditions of the Navy
By C. W. Windas
Our Naval Views and Comments
By The Editor
The Importance of Melanesia
By Howard Snyder
Sailors Have Sweethearts
By Clyde Mitchell
Stand by, Davy Jones!
Sailors' Snapshots
By Paul Watson
Scuttlebutt Scandals
By Bozo
Action in the Solomons
Foreign Naval News
By Jay Launer
How to Speak Japanese
By Hallack McCord
What's in a Name?
By Richard A. Shafter
This is Why We Fight
By Doug Wilson
Write Us a Letter
By Clyde Lee Jenkins
For Seventeen Days
Roundup on the War
By Fletcher Pratt
Naval Cancels and Cachets
By Marshall R. Hall
Salt Shakers
By Walt Munson
Bulletin Board of Naval Interest
Sports News
Personnel Information
The Old Timer's Lament
By Harry Dwyer
Book Reviews
Notes of Interest
Lay Aft on the Fantail
The Skipper and the Boot
By Jack Watson
USS Arcturus
Written By and For All Navymen.
EDITOR : Cliff Alderman
ASSOCIATE EDITORS:
Myron Eddy
C. M. Hatcher
R. C. Fay
STAFF PHOTOGRAPHER
CONTRIBUTING EDITORS
A. R. Bosworth
J. E. Jones
Walt Munson
Lillian Thomas
Harry Dwyer
Member Audit Bureau of Circulations
Published the 1st and 15th of each month by OUR NAVY, INC., Owen Watson, president and publisher; Paul R. Watson, treasurer. Office of publication, 210 Orchard Street, East Rutherford, N. J. Editorial and Executive offices, 1 Hanson Place, Brooklyn, N. Y.
Entered as second class matter at the post office, Rutherford, New Jersey, under the act of March 3, 1879. Single copies 25 cents. One year subscription (24 issues) $5.00. Subscribers should notify promptly of change of address; both old and new addresses should be given. Contributions to OUR NAVY'S editorial columns should be addressed to 1 Hanson Place, Brooklyn, N. Y.
Material intended for the 1st of the month issue should he in the hands of the Editor by the 1st of the month preceding date of issue: material for the 15th of the month issue by the 15th of the month preceding.
Assertions or opinions of contributors are those of the individual and do not reflect the official views of the Navy Department or the Government.
Entire contents copyrighted 1942 by OUR NAVY, INC.
More Net Paid Circulation in the Navy than Any Other Publication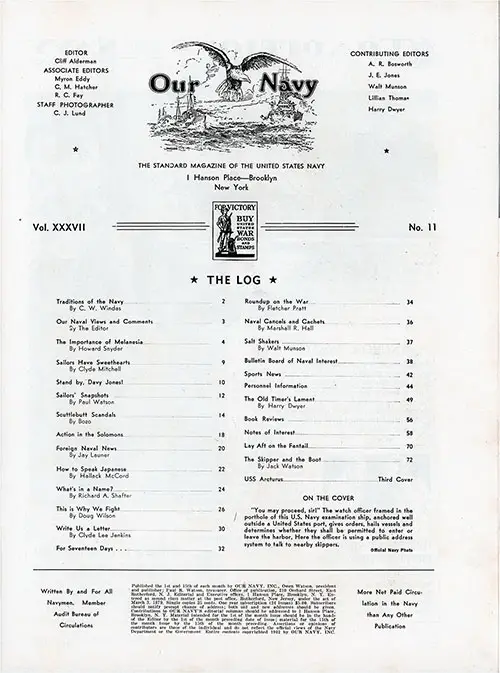 Table of Contents, 1 November 1942 Issue of Our Navy Magazine. GGA Image ID # 134de46b9d