Our Navy Magazine 1 September 1943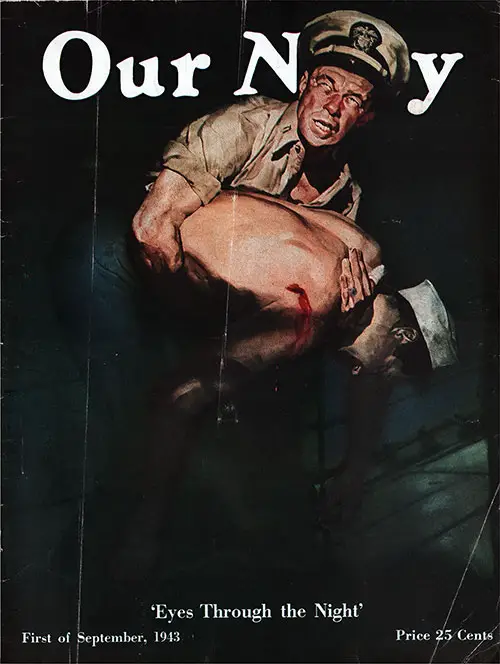 Front Cover, 1 September 1943 Issue of Our Navy Magazine. GGA Image ID # 13590d4258
ON THE COVER
Eternal vigilance is the price of lifel On our cover we show a scene that should strike every Navy man with the importance of the Navy's Night Vision program. See page 4. The original painting was obtained through the courtesy of the General Cable Corporation. Additional data in "Lay Aft on the Fantail."
EDITOR CONTRIBUTING EDITORS A. R. Bosworth
Bruce Baylor Walt Munson Lillian Thomas Harry Dwyer Cedric W. Windas
ASST. EDITOR
R. C. Fay
ASSOCIATE EDITORS
C. M. Hatcher
John B. Penfold
Chester Maury
STAFF PHOTOGRAPHER
C. J. Lund
Robert Buchanan

THE STANDARD MAGAZINE OF THE UNITED STATES NAVY

I Hanson Place—Brooklyn
New York

Vol. XXXVIII No. 7
Table of Contents: * THE LOG *
Eyes Through the Night
By Robert C. Fay
There's Always a Way
By Jack Todd
Tin Fish Away
By William H. Adams
Salty Rhymes
Abandon Ship
By G. B. Savitsky as narrated by Herbert Fowler
Turkey—Enigma of the Middle East
By Howard Snyder
What's in a Name?
By Richard A. Shafter
Foreign Naval News
By Walton L. Robinson
Fly Four
By Chester Maury
Roundup on the War
By Fletcher Pratt
Naval Cancels & Cachets
By Marshall R. Hall
Salt Shakers
This Global War
By Garret Smith
Bulletin Board
Awards, Commendations and Promotions
Personnel Information
Your Beauty Parade
Notes of Interest
Lay Aft on the Fantail
Traditions of the Navy
The Skipper and the Boot
USS LANGLEY
Third Cover
All photographs are Official Navy Photos unless otherwise identified.
Published the 1st and 15th of each month by OUR NAVY, INC., Owen Watson. president and publisher; Paul R. Watson, Gen. Mgr. Office of publication, Editorial and Executive offices, 1 Hanson Place, Brooklyn, N. Y. A request for additional reentry of publication at Brooklyn, New York, with an additional entry at Philadelphia, Penna. is pending.
Entered as second class matter at the post office, Philadelphia, Pa.. under the act of March 3, 1879. Single copies 25 cents. One year subscription (24 issues) $5.00. Subscribers should notify prompt change of address; both old and new addresses should be given,
Contributions to OUR NAVY'S editorial column should be addressed to 1 Hanson Place, Brooklyn, N. Y. Material intended for the 1st of the month issue should be in the hands of the Editor by the 1st of the month preceding date of issue; material for the 15th of the month issue by the 15th of the month preceding.
Assertions or opinions of contributors are those of the individual and do not reflect the official view s of the Navy Department or the Government. Entire contents copyrighted 1943 by OUR NAVY. INC. More Net Paid Circulation in the Navy than Any Other Publication.
Written By and For All Navymen. Member Audit Bureau of Circulations
FIRST OF SEPTEMBER, 1943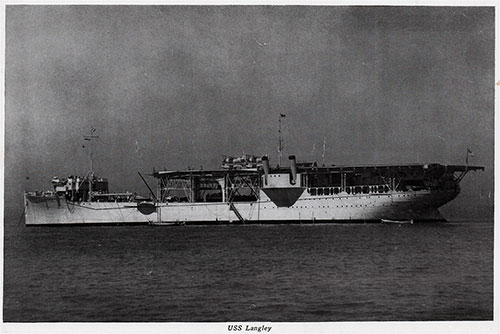 USS Langley (CVL-27) was an Independence-class light aircraft carrier that served the United States Navy from 1943 to 1947, and French Navy as La Fayette from 1951 to 1963. GGA Image ID # 1358773cbc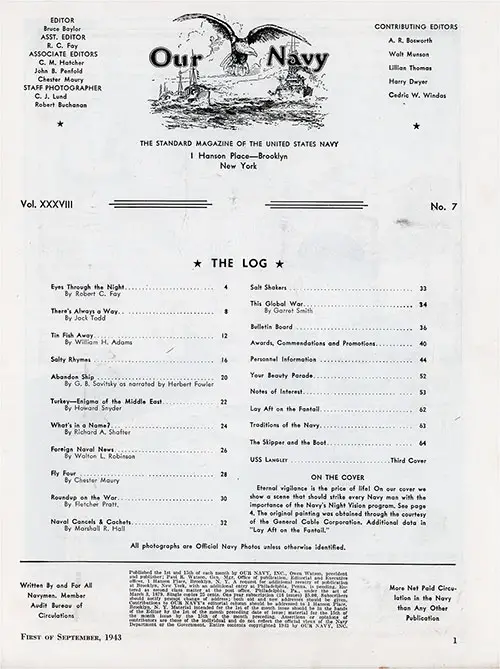 Table of Contents, 1 September 1943 Issue of Our Navy Magazine. GGA Image ID # 1358ab0755