Our Navy Magazine - January 1963 - Cargo Subs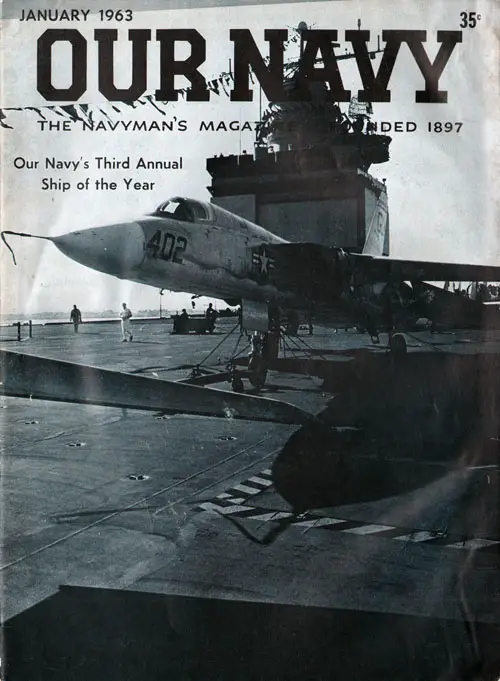 OUR NAVY
The Navy Man's Magazine Founded 1897
Vol. 58, No. 1 January 1963
On The Cover: The unique super structure of the USS ENTERPRISE is framed by the wing of a A5A Vigilante. The antennae protruding from the dome will distort enemy radar.
CONTENTS
January Features
OUR NAVY'S Ship of the Year 4
Ship of the Year Honorable Mention 8
Cargo Subs
BY RAYMOND SCHUESSLER 10
Tiny's Tale
BY T. FITZ GRUBE 12
Ships of the Sky Again? 14
Tranquilizing Men-of-War
BY JAMES MCCORMICK 16
They Brought Then Up Alive
BY CHARLES A. LOCKWOOD AND HANS CHRISTIAN ADAMSON 18
Pentagon Interview
BY HAROLD HELFER 21
Irving Snell—Forgotten Giant of Naval Aviation
BY RICHARD BACK AND ROGER SCHMITT 22
A Navy Without A Motto
CHARLES MICE 39
News Departments
Washington Briefs 20
Yard Activity 24
Atlantic Fleet 26
Fleet 28
Pentagon Report 30
Inland Report 32
Regular Features
Pass the Word 34
Cars 36
Sports 38
Crossword Puzzle 51
Laugh Roundup 52
What It Was? 53
What Is It? 59
Movie Parade 60
Pin-Up 62
Books 63
Editorial 64
All photographs are official Department of Defense or Our Navy photos unless otherwise credited. All opinions are those of the editors or contributors, and are not necessarily the official views of the Navy Department or he U. S. Government.
Entire contents copyrighted, 1963, by OUR NAVY, Inc.
Publisher's Letter
Dear Friends:
During my spare time I have picked up three main hobbies, namely, golf, photography, and target rifle shooting. I have enjoyed each and made some money from each—not a living, but at least enough to help defray some of the expenses.
One of the hobbies that is a life saver for men who have to spend their evenings and week-ends aboard ship or station is stamp or cachet collecting. Like most hobbies, stamp collecting can be both profitable, and a method of saving for a later day. I knew one petty officer in the American Navy, and a radio officer in the U. S. Merchant service. Tie made a trip around the world after he retired on the money he had made from stamps.
I discussed with several philatelists recently the position of the Government in reference to reprinting a 4-cent stamp incorrectly in order to reduce the potential profit of one buyer who had struck a gold mine. A block of stamps were printed incorrectly by the Postal boys due to an upside down color plate. The owner stood to make several hundred thousand dollars, but the Government spent several hundred thousand dollars to reprint the stamps incorrectly just to liquidate the man's profits.
Most collectors thought the Government wrong and felt that it would hurt the hobby in the future. It might be the Government's way of preventing deliberate manipulation of printing plates, but if that were the reason, they should be sensible enough to let the public know of their watchfulness. Regardless, for those men who like to play along with hobbies, stay with them. Some day you may find them useful and profitable.
Cordially,
OUR NAVY