Our Navy Magazine - June 1963 - The Other Nuclear Navy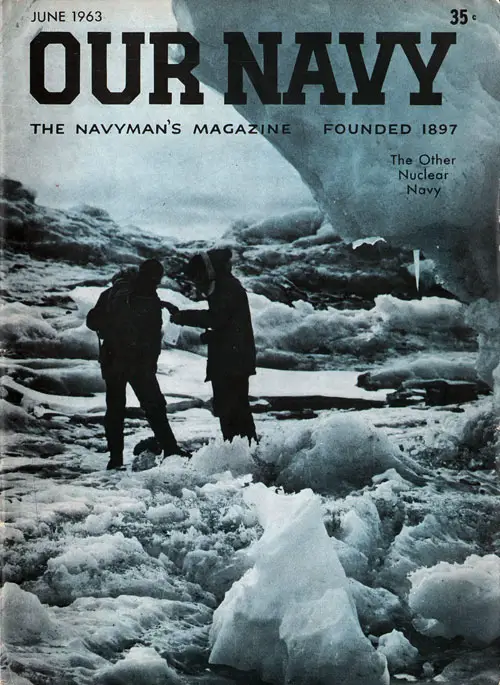 OUR NAVY
The Navy Man's Magazine Founded 1897
Vol. 58, No. 6
June 1963
On The Cover: Antarctic explorers collecting samples of marine life found in the Daley Island region during the summer support season of operation deep freeze.
CONTENTS
June Features
The Other Nuclear Navy
BY JOHN E. KENTON 4
The Wake of the Wahoo
BY FOREST J. STERLING 8
Olympia Restored
BY JOSEPH C. BROCKMEYER 10
Doomed to Die
BY DAVID JACOBSON 12
Tech Training Instructors 14
Ship of the Month 16
Did the Vikings Discover America?
BY RAYMOND SCHUESSLER 20
Over the Fence is Out
BY DON A. KELSO 22
Pentagon Interview
BY HAROLD HELFER 24
The Navy Hook
FRANK L. DE BAUGHN 26
News Departments
Atlantic Fleet 28
Inland Report 34
Pacific Fleet 32
Pentagon Report 36
Washington Briefs 25
Yard Activity 30
Regular Features
Books 67
Crossword Puzzle 55
Editorial 68
Laugh Roundup 40
Movie Parade 66
Pass the Word 42
Pin-Up 52
Sports 38
What Is It? 65
What It Was? 56
All photographs are official Department of Defense or Our Navy photos unless otherwise credited. All opinions are those of the editors or contributors, and are not necessarily the official views of the Navy Department or he U. S. Government.
Entire contents copyrighted, 1963, by OUR NAVY, Inc.
Publisher's Letter
Dear Friends:
In my letter to you last month I touched on the limited use of vending machines on board ships of the Navy. By contrast their use ashore is far from limited.
In the days of iron men and wooden ships, crews were purposely kept aboard to keep them from going over the hill. Since then, the Navy has gradually increased leave and liberty time until today the average man stationed on the beach works just about the same eight hour day as his civilian counterpart.
But many of the 250,000 men stationed ashore, and an even larger number from ships afloat, either have the duty or stay aboard a station. Supplying chow, or snacks for these men in most cases falls under the Navy Exchange program.
As the operation of food and beverage counters at Navy Exchanges are manned mostly by civilians, every 24-hours three civilians have to be paid for each counter. Many snack bars fail to produce enough profit to pay the help.
As the Exchanges are designed to give profit in addition to service, something had to go so civilians are going and vending machines are coming in. This evolution is mushrooming as the profits grow with increased sales.
One of the newest, and largest was recently installed in Aircraft Hanger 34 at the Pacific Missile Range, Point Mugu, California at a cost of 10,000 dollars. It will operate around the clock serving seven different kinds of sandwiches that can be either warmed, toasted or grilled, nine choices of hot canned goods, five pastry selections, four cold drink selections with, or without, ice cubes), real coffee, (not instant) available in seven different mixtures of cream and sugar, and also homogenized milk, chocolate milk, or buttermilk. To make it real easy for you, coin-changers for 50 cents or 25 cent pieces are also available.
So, if you have the 4 to 12, or the 12 to 8, or if you just can't sleep at night, you wont have to settle for a cold drink, or a candy bar, you can enjoy a hot meal from soup to nuts—and even better, you won't have to take any lip from the guy behind the counter.
All I'm waiting for is a vended blond, then my papers will be in BuPers ahead of everybodys. If my wife reads this, I'm just funning.
OUR NAVY