Our Navy Magazine 15 September 1959 The Attack Carrier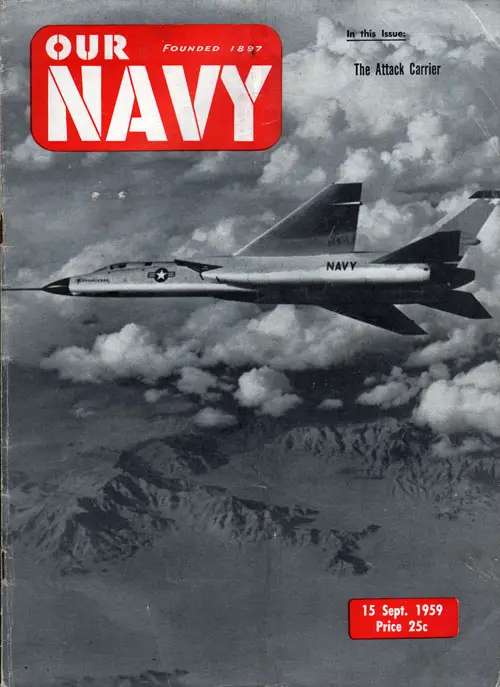 The Voice of all Navymen
15 September 1959
Vol. 54 No. 8
OUR COVER: North America's shiny new A3J Vigilante streaks through the California skies. She is expected to replace the A3D Skywarrior as our biggest carrier-based warplane. Photo courtesy North American Aviation.
NEWS SECTION
Washington Bulletin
by Harold Helfer 3
Latest from the Pentagon and Capitol Hill.
Bulletin Board of Naval Interest
by Our Navy Reporters 10
With bluejackets ashore and afloat.
Navy Sports Through the Long Glass
by Fred Thornberry 30
Who won what, when, where.
ARTICLES
The Panama Canal
by Capt. R. S. Fahle 23
An appeal to improve our vital link.
The Attack Carrier
by Charles Kapitzky, J01 24
In fiction we won the trial; in truth we lost it.
French Frigate Fun
by Steve Libby 26
Keeping amused on a desert island.
FICTION
Make A Swap, Take A Drink
by Lcdr. George D. Cooke 29
And a drink, and a drink, and .. .
DEPARTMENTS
Speaking of Cars 31
Swaps and Tacts 44
Our Reel Navy 32
Notes of Interest 45
Editorial 48
ALL Photographs are official Department of Defense or Our Navy photos unless otherwise credited. All opinions expressed are those of the editors or contributors, and are not necessarily the official views of the Navy Department or the U. S. Government.
Member of Audit Bureau of Circulation.
Entire contents copyrighted, 1959, by OUR NAVY, Inc.