Our Navy Magazine 15 August 1959 Cape Canaveral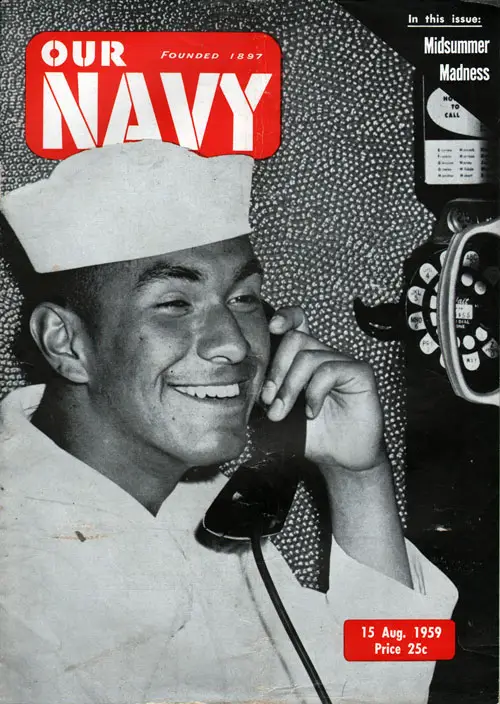 The Voice of all Navymen
15 August 1959
Vol. 54 No. 6
OUR COVER: A kind of telephone madness that happens every month of the year: the dime and the smiling voice.
NEWS SECTION
Washington Bulletin
by Harold Helfer 3
Latest from the Pentagon and Capitol Hill.
Bulletin Board of Naval Interest
by Our Navy Reporter 10
With bluejackets ashore and afloat.
Navy Sports Through the Long Glass
by Fred Thornberry 30
Who won what, when, and where.
ARTICLES
Midsummer Madness
by Lt. Col. Robert H. Rankin 22
Flying by the seat of their pants.
A G.I. Loan for The Fleet Reserves?
by Paul B. Anderson 24
A financial proposal
The Navy at Cape Canaveral
by Capt. Robert F. Sellars 25
Navy's part in a big complex
FICTION
Miracle
by GarGlennan26
The Chaplain takes over
Lesson for The Bull
by A. N. Glennon 29
Four eyes plus four eyes make eight eyes.
DEPARTMENTS
Speaking of Cars 31
Swaps 45
Our Reel Navy 32
Notes of Interest 46
Sound Off 47
Editorial 48
OUR NAVY is not responsible for unsolicited manuscripts. All material paid for at standard rates. All photographs are official Department of Defense or Our Navy photos unless otherwise credited.
All opinions expressed are those of the editors or contributors, and are not necessarily the official views of the Navy Department or the U. S. Government.
Member of Audit Bureau of Circulation.
Entire contents copyrighted, 1959, by Our Navy Inc.