Our Navy Magazine 1 December 1959 Future of the WAVES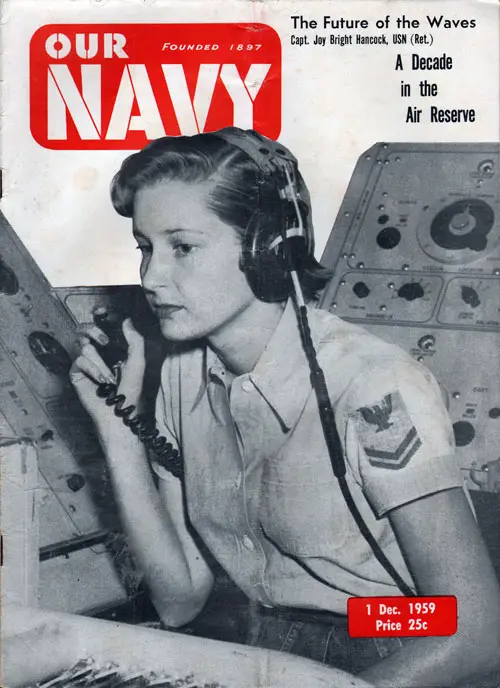 The Voice of all Navymen
1 December 1959
Vol. 54 No. 13
OUR COVER: Mary Lou Baker, TD2, now at NAS Memphis, is shown at the control board of Link Trainer. The soft voice of a woman is a welcome relief to student after the harsher words of airborne instructors.
NEWS SECTION
Washington Bulletin
by Harold Helfer 3
Latest from the Pentagon and Capitol Hill.
Bulletin Board of Naval Interest
by Our Navy Reporters 11
With bluejackets ashore and afloat.
Navy Sports Through the Long Glass
by Fred Thornberry 30
Jacksonville Flyers spin in.
ARTICLES
The Best Bean Soup in The Navy
by Emmett Mourn 21
The all-Navy contest winner's secret.
The Future of the WAVES
by Capt. Joy Bright Hancock, USN (Ret.) 23
Former top Wave speaks with confidence.
In the Air Reserve
by Ed Galing 24
Along our second line of defense.
Red Sweeney
by Doug Wilson 28
Making good on a prayer.
The Right Combination
by William J. Miller, JOCM 32
Sailors save an Air Force man from a Ions
FICTION
Lesson in Humility
by Roscoe W. Davis 26
Whoever this Red Deacon was, he was a sloppy sailor.
At Ease
by E. S. Welch 27
With the men of the Arizona.
Sleeping Beauty-San
by James W. Hanker 29
Kissee make everybody takusan happee.
DEPARTMENTS
Speaking of Cars 31
Notes of Interest 46
Contacts and Swaps 43
Editorial 48
All photographs are official Department of Defense or Our Navy photos unless otherwise =edited. All opinions expressed are those of the editors or contributors, and are mot necessarily the official views of the Navy Department or the U. S. Government.
Entire contents copyrighted, 1959, by OUR NAVY, Inc.