Our Navy Magazine - April 1972 -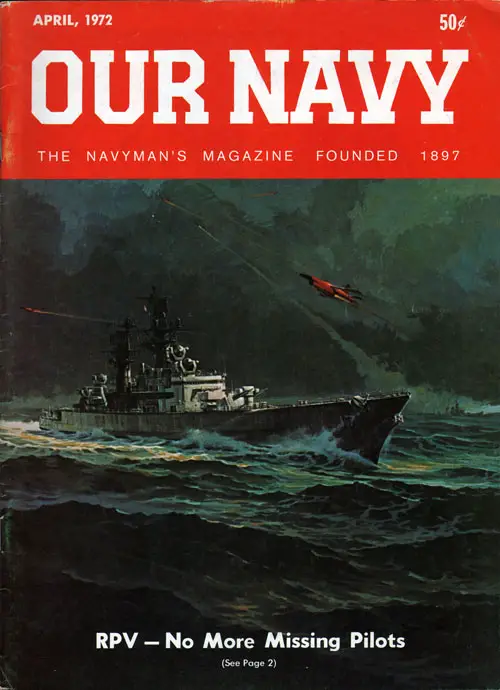 The Cover
An original painting by Teledyne-Ryan artist Robert Watts shows RPVs in action.
OUR NAVY
The Navy Man's Magazine Founded 1897
Vol. 67, No. 4, April 1972
Stanford F. Brent, Editor
Photographic Editor Jack Todd
Washington Correspondent Harold Helfer
Table of Contents
News Department
Pentagon Report
Atlantic Report
Pacific Report
Yard Report
Washington Briefs
Inland Report
Regular Features
Your Scinece IQ—There's Life Out There
By L. MACK
Menser
Ship of the Month USS JOHN F. KENNEDY (CVA-67)
Covers & Cancels
BY DESMOND D. JAGYI
Exclusive Interview—RAdm Samuel L. Gravely
BY HAROLD HELFER
Liberty Port — Miami
BY ELLSWORTH BOYD
Crossword Puzzle
Pass the Word
Laff Lines
Book Report
Editorial
Picture of The Month
April Features
RPV — The Ultimate Pushbutton
By R. P. KISSEL
The "Treaty" Heavy Cruisers
BY RAY YOUNG
A Hot Time in the FAA
BY GEORGE D. SCHULTZ
They Sent A Battleship to My Door
BY PAUL W. TRIER
The Silent War
BY WILBUR H. MORRISON
A Broom and Some Guts
By D. D. HAMMES
Lifeboat Drill
BY EDWARD WITHROW
The First Airplane to Hit The Deck
BY R. DANIEL CLARK
Nuts and Bolts
By JOC ED COPELAND AND RICHARD RAMSEY
How A Female Sailor Can Get Some Work Done
BY CELESTE HEIN
A Big Bite of Beer
By EDWIN R. VARLEY
Advertising Representative
Pabco Representatives 22 East 42nd Street New York, N.Y. 10017
Tel.: 212-682-4500
OUR NAVY is published monthly by Our Navy, Inc., Owen Watson, President; Paul Watson, Publisher and Advertising Manager; Outs OUR J. Lund, Circulation Manager; Office of Publication, Editorial, Advertising and Executive Office, 1 Hanson Place, Brooklyn,
N.Y. 11243, telephone: 212-783-4540. Second Class postage p aid at Brooklyn, N.Y., and at additional mailing offices. Single copies 50 cents. One year's subscription (12 issues) $4.95 ($6.95 foreign). Although every attempt will be made to avoid tosses, OUR NAVY is not responsible for unsolicited manuscripts. All material paid for at standard rates. All photographs are official Department of Defense or Our Navy photos unless otherwise credited. All opinions are those of the editors or contributors, and are not necessarily the official views f the Navy Department or the U.S. Government.
Entire contents copyrighted, 1972, by OUR NAVY, Inc.
APRIL, 1972